How to travel between Marugame and Tokyo
By air
The closest airport to Marugame is Takamatsu Airport. JAL and ANA operate multiple flights per day between Tokyo's Haneda Airport and Takamatsu Airport. Travel duration is 80 minutes. The regular one way fare is around 34,000 yen, but discount tickets are usually available for around 13,000 to 26,000 yen. Furthermore, Jetstar Japan is operating flights between Tokyo's Narita Airport and Takamatsu at considerably lower fares, that typically start around 4000 yen one way.
From Takamatsu Airport, take the bus to Takamatsu Station (40 minutes, 760 yen one way), from where hourly JR limited express trains depart for Marugame (25 minutes, 1070 yen by unreserved seat). Alternatively, take one of the frequent local JR trains which take about 25-40 minutes and cost 550 yen one way.
By daytime trains
Take the JR Tokaido/Sanyo Shinkansen from Tokyo to Okayama and transfer to a JR Nampu or Shiokaze limited express train to Marugame. The entire journey takes around 4 hours and costs about 18,000 yen one way. The trip is fully covered by the Japan Rail Pass if using Hikari and Sakura trains along the Tokaido/Sanyo Shinkansen, but takes about 30-60 minutes longer than if using a Nozomi train. The Japan Rail Pass is not valid on Nozomi and Mizuho trains.
By night train
Daily JR Sunrise Seto overnight trains connect Tokyo with Sakaide Station from where you can take a local train one stop to Marugame Station. The entire journey takes about 9.5 hours and requires advance reservations. The night train carries private compartments (from 20,000 yen per person one way) and carpeted "nobi nobi" floor space compartments (from 14,500 yen per person one way).
Japan Rail Pass holders need to pay a supplement starting from 10,000 yen for using a private compartment on board of the Sunrise Seto. The "nobi nobi" compartments, however, are fully covered by the pass.
By bus
Shikoku Highway Bus and Nishitokyo Bus operate overnight buses between Tokyo's Shinjuku Station and Marugame Station. The one way trip takes about eleven hours and costs 10,900 yen. Online reservations can be made through Willer and Japan Bus Online.
Above fees and schedules are subject to change. For the current yen exchange rate, click here.
Orientation
Central Marugame is compact and walkable. The city's main attractions and Marugame Port are all within a 15 minute walk from Marugame Station. Marugame Port offers ferry connections to Honjima Island, while the other islands off the coast can be reached by a combination of train, bus and ferry from Marugame Station. Please see each island's page for more details about how to get there: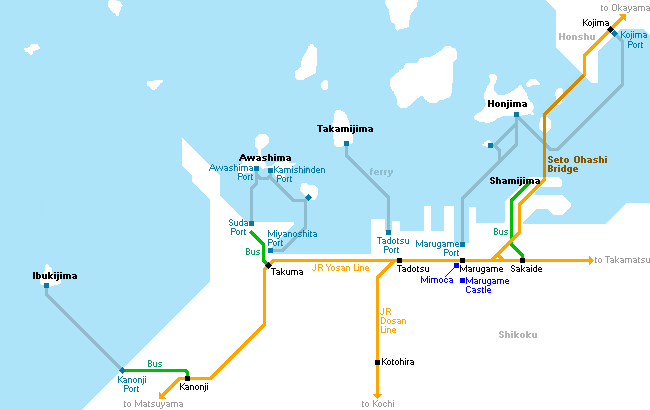 External Links and Resources