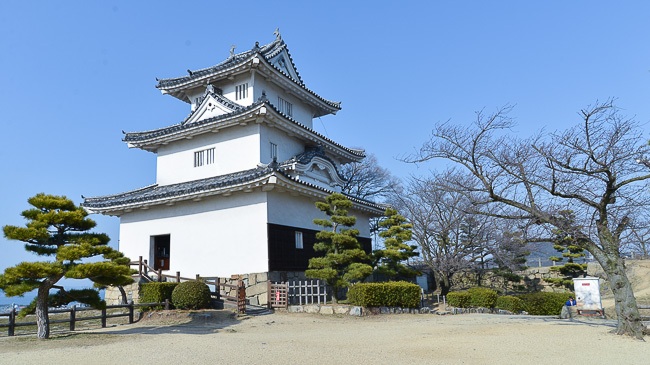 Marugame Castle (Ő█őTĆÚ, Marugamejō), also known as Kameyama Castle, is a hilltop castle in Marugame City. Situated high up on steep stone walls, the castle has a commanding view of the city below and overlooks one of the narrowest parts of the Seto Inland Sea, a feature which afforded it control over the main shipping lanes of the region. Marugame Castle is one of only twelve castles remaining in Japan that have survived the post feudal ages (since 1868) with their keep buildings intact.
Marugame Castle was originally constructed from 1597 to 1602 by Ikoma Chikamasa, the feudal lord who also built Tamamo Castle in nearby Takamatsu. However, due to a new policy by the shogun that limited the number of castles per province to just one, Marugame Castle was torn down again just 13 years after its completion. The castle was rebuilt in 1660 after the province had been split into two. Over the centuries many of the castle buildings were destroyed by fires, and now only the original keep and several of the castle gates remain.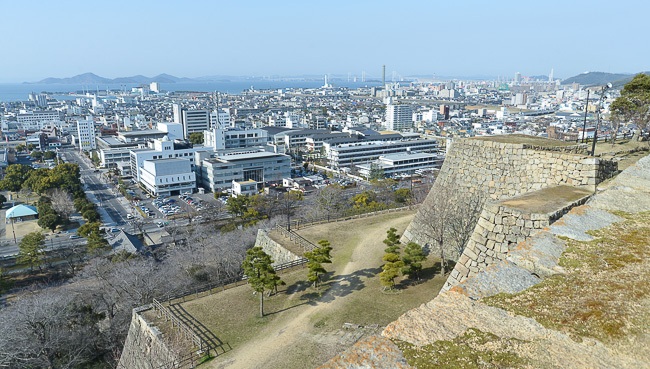 Today the castle sits as the centerpiece of Kameyama Park, a large public park covering the original castle grounds, in the heart of Marugame City. Visitors who wish to explore the castle's small, three story keep must climb a steep road through multiple circles of defense to the top of the hill and will be rewarded with panoramic views out over Marugame and the Seto Inland Sea. The keep can be entered and houses a small museum.
The castle grounds are also one of the region's most famous cherry blossom spots with nearly 1000 cherry trees planted around the walls and castle keep. The blossoms are usually best from late March to early April, and an annual cherry blossom festival is held on the grounds during the first two weeks of April.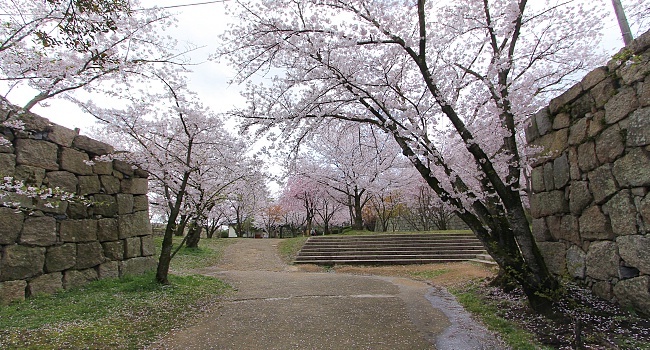 The entrance to Marugame Castle is about a 15 minute walk south of Marugame Station. Several buses also operate between the station and Marugamejo-mae bus stop in front of the castle (5 minutes, 200 yen, multiple buses per hour).
How to get to and around Marugame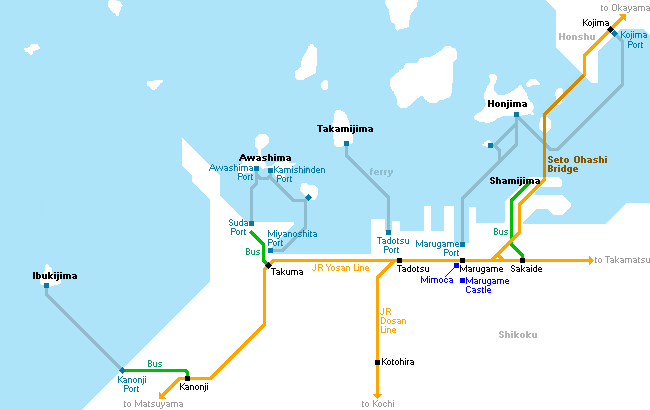 Marugame Castle Keep
Hours
9:00 to 16:30 (entry until 16:00)
Questions? Ask in our forum.