Okayama: Getting there and around
How to travel between Okayama and Kyoto
By shinkansen
Kyoto and Okayama are two major stations along the JR Tokaido/Sanyo Shinkansen. The one way trip costs around 7500 yen and takes approximately one hour by Nozomi train (multiple direct trains per hour) or 90 minutes by Hikari train (one direct train per hour).
The Japan Rail Pass is valid on Hikari, Kodama and Sakura trains but not on Nozomi and Mizuho trains, while the JR Kansai Wide Area Pass can be used on unreserved seats on any train between Shin-Osaka and Okayama (but not between Kyoto and Shin-Osaka) and is a good value for a side trip from Kyoto to Okayama.
By local trains
The one way trip between Kyoto and Okayama by local trains along the JR Tokaido and Sanyo Main Lines costs 3740 yen, takes about three hours and requires at least one transfer of trains along the way.
By bus
Ryobi Bus operates highway buses between Kyoto (JR Kyoto Station) and Okayama (JR Okayama Station). The one way trip takes about 3.5 hours and costs 3650-4050 yen depending on the date of travel. Online reservations can be made through Japan Bus Online.
Above fees and schedules are subject to change. Be sure to check current yen exchange rates.
Getting around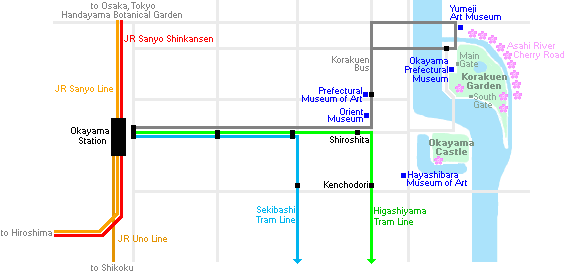 Okayama's garden, castle and museums are all located within a 15 minute walk from each other in an area about 1.5 kilometers east of Okayama Station.
There are two tram lines in Okayama, the Higashiyama Line and the Sekibashi Line, which both depart frequently from in front of Okayama Station. The most useful stop for travelers is Shiroshita (5 minutes, 100 yen) on the Higashiyama Line, from where all of Okayama's attractions can be reached on foot.
Inside central Okayama, there is a flat fare of 100 yen per tram ride, but the fare increases outside of the city center. Take a ticket when boarding through the rear door, and pay the fare when getting off through the front door. Fares can also be paid by the local Hareka smart card or by Suica, Icoca and the other major IC cards. In addition, a one day pass is available for 400 yen for unlimited tram rides on one calendar day.
Okayama also has a number of bus companies operating within the city. By far the most convenient bus line for the average tourist is the Korakuen Bus which connects Okayama Station with Korakuen Garden and also stops at the Prefectural Museum of Art along the way. Buses operate every 30 minutes, and the fare is 100 yen per ride.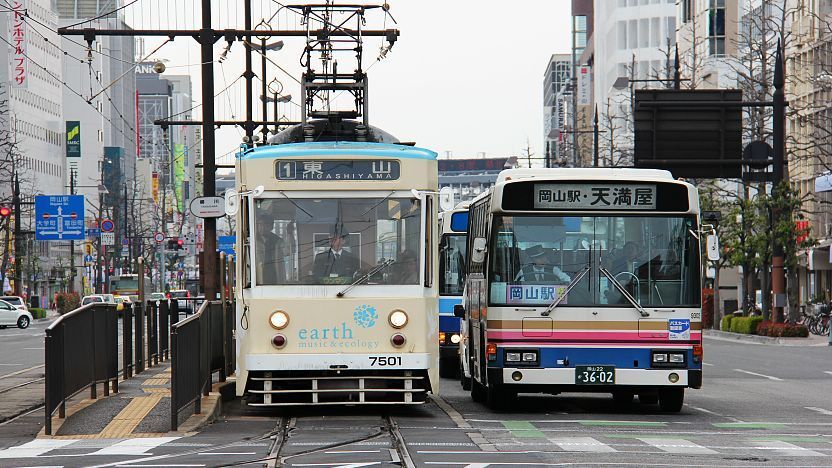 Questions? Ask in our forum.