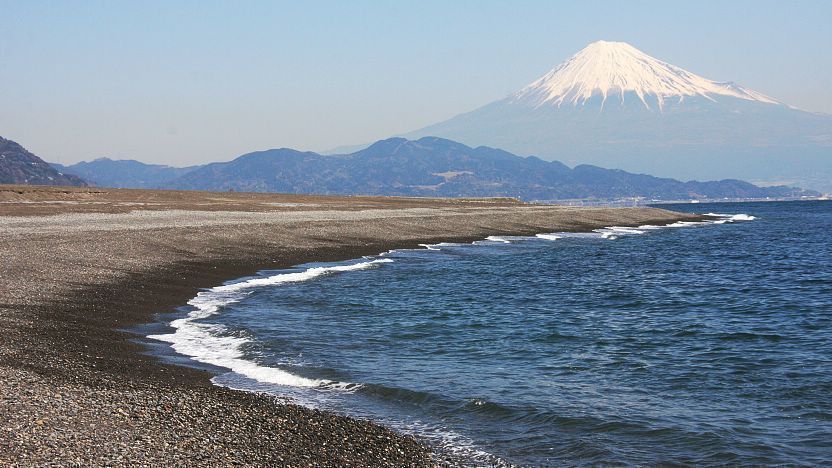 The Miho Peninsula extends from Shizuoka City into Suruga Bay, and is known for its views of Mount Fuji in conjunction with the pine tree lined Miho Beach. The beach extends for about three kilometers along the peninsula's eastern coast, and is made of small stones rather than sand. An attractive walking and cycling trail follows the tree lined beach. Areas for swimming can be found on the peninsula's northern side.
Among the many pine trees lining the beach is the Hagoromo-no-Matsu. A legend is associated with the tree about a fisherman who once found a robe belonging to a heavenly maiden hanging on the tree's branches. The second generation Hagoromo-no-Matsu lived for over 600 years before withering. It was replaced by the third generation tree, another majestic pine tree nearby in 2010, and felled in 2013 except for the base of its trunk which was left standing.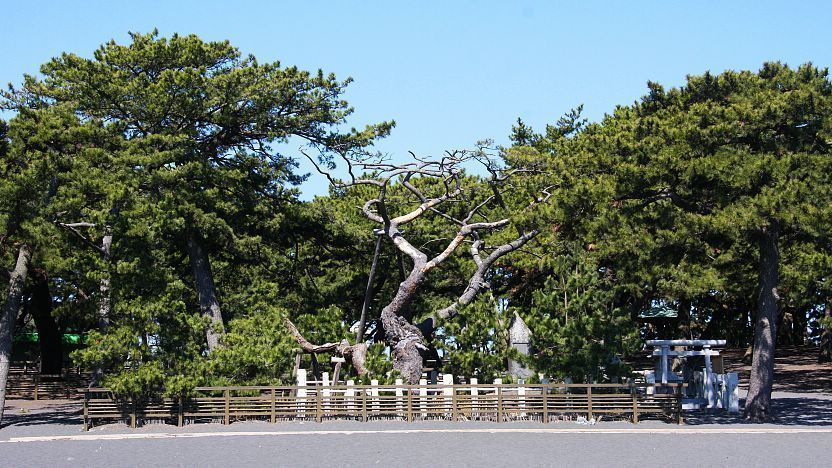 Shizutetsu buses run from JR Shimizu Station to the end of the Miho Peninsula. The closest bus stop to the Hagoromo-no-Matsu tree is Sekaiissan Miho-no-Matsubara Kaminomichi Iriguchi bus stop (25 minutes, 370 yen one way from Shimizu Station, departures every 10-30 minutes).
Alternatively, the S-Pulse Dream Ferry's water buses travel once or twice per hour from the Ejiri Pier at the Kashi-no-Ichi Market to the Hinode Pier beside the S-Pulse Dream Plaza and the Miho Pier before returning to Ejiri Pier. The fare is 400 yen per ride, and it takes about 20 minutes to walk from the Miho Pier to Miho Beach.
How to get to and around Shizuoka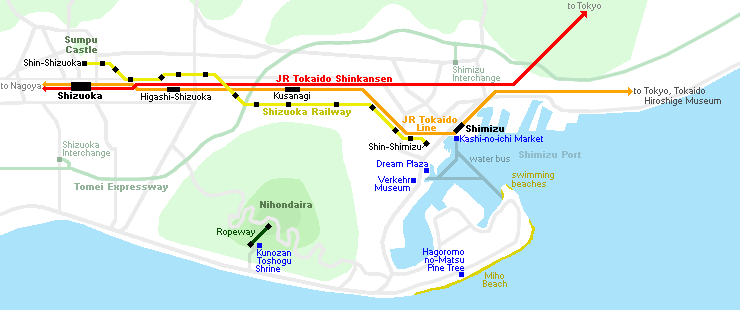 Questions? Ask in our forum.