How to travel between Shizuoka and Tokyo
By shinkansen
Direct, 1 hour, about 6000 yen one way, three connections per hour
Tokyo and Shizuoka are connected with each other by the JR Tokaido Shinkansen. The ride takes about 60 minutes by Hikari or 90 minutes by Kodama. Nozomi trains do not stop at Shizuoka Station. The regular one way fare is 5830 yen by unreserved seat or around 6300 yen by reserved seat. The Japan Rail Pass is valid on both the Hikari and Kodama trains.
By highway bus
Direct, about 3 hours, around 3000 yen one way, multiple connections per day
The one way trip between Tokyo and Shizuoka by highway bus takes about three hours and costs 2930 yen one way. Some buses also serve Shimizu Station (2780 yen one way).
By local trains
1 transfer, 3 hours, 3350 yen one way, multiple connections per hour
By local trains, the one way trip between Tokyo and Shizuoka takes about three hours and typically involves a transfer at Atami Station. The regular fare is 3350 yen, however, with a Seishun 18 Kippu you could theoretically do the trip for as little as 2370 yen.
Above fees and schedules are subject to change. For the current yen exchange rate, click here.
Orientation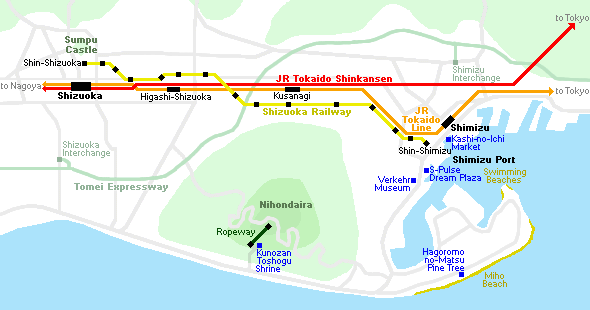 Shizuoka is centered around JR Shizuoka Station along the JR Tokaido Shinkansen and the JR Tokaido Line. Local trains along the JR Tokaido Line run frequently between Shizuoka Station and the secondary city center around Shimizu Station (10 minutes, 240 yen one way). The two city centers are, furthermore, connected by a parallel running train line operated by Shizuoka Railways (Shizutetsu) between Shin-Shizuoka and Shin-Shimizu Stations (20 minutes 300 yen one way).
Shizuoka also has an extensive bus network, operated by Shizutetsu, that provides access to attractions not along the train lines. A combined 1-day pass for the Shizuoka Railway and most of the convenient Shizutetsu buses is available for 1200 yen. Another 1-day pass that further includes the use of the Airport Liner Bus (for access to/from Shizuoka Airport) is available for 2000 yen.
Water buses by the S-Pulse Dream Ferry company provide transportation around Shimizu Port.