Narita: Getting there and around
How to travel between Tokyo and Narita
This section explains how to travel between Tokyo and the city of Narita, as opposed to Narita Airport. For details on airport access, please visit our Narita Airport page.
By Japan Railways (JR)
Hourly, direct rapid trains run along the JR Sobu Line between Tokyo Station and Narita Airport in each direction, stopping at Narita Station along the way. The one way trip from Tokyo Station to Narita Station takes 70 minutes and costs 1170 yen. Seat reservations are not possible.
The JR Narita Express (NEX) also runs between Tokyo and Narita Airport, however, except for some early morning and evening services, they do not stop at Narita Station. Those that do, take 60 minutes and cost around 3000 yen one way. Seat reservations are mandatory.
By Keisei Railway
The Keisei Main Line connects Tokyo's Keisei Ueno Station and Nippori Station on the Yamanote Line with Keisei Narita Station before continuing to Narita Airport. The one way ride from Ueno to Narita Station takes around 70 minutes and costs 850 yen. One transfer of trains may be required along the way. Seat reservations are not possible.
How to travel between Narita and the airport
By train
It takes ten minutes to travel between Narita Station and Narita Airport by JR (1-2 trains/hour, 200 or 240 yen one way depending on the terminal) or Keisei (3 hours/hour, 270 yen).
Above fees and schedules are subject to change. Be sure to check current yen exchange rates.
Getting around
The airport is located about ten kilometers outside of central Narita City. JR and Keisei, the two railway companies that serve the airport, each have a station in the city center, a 1-2 minute walk from each other: JR Narita Station and Keisei Narita Station.
Many hotels around Narita Airport offer their guests complimentary shuttle buses to/from the airport and to/from Narita Station in the city center. Furthermore, there are some paid buses that connect the hotels with major sightseeing spots, such as the Aeon shopping mall and Naritasan Temple.
Narita also has a network of regular city bus lines, which is operated mainly by Chiba Kotsu. The network is centered around Keisei and JR Narita stations and provides connections to some of the sightseeing spots, including Boso no Mura and the Aeon shopping mall.
More outlying attractions, such as Sawara, Katori Shrine and the National Museum of Japanese History can be accessed by train. Alternatively, visitors could consider renting a car for a day of sightseeing around the airport. All major car rental companies have outlets at Narita Airport.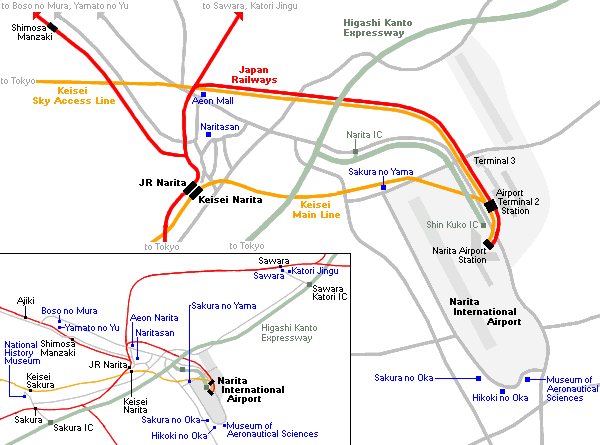 Questions? Ask in our forum.