Dinosaur Museum
Japan's leading dinosaur museum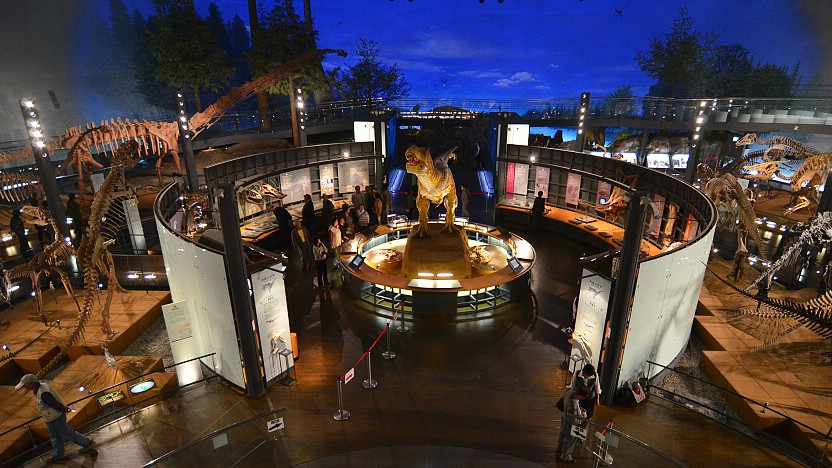 The Fukui Prefectural Dinosaur Museum (•ŸˆäŒ§—§‹°—³"Ž•¨ŠÙ, Fukui Kenritsu Kyōryū Hakubutsukan) is an excellent museum dedicated to dinosaur research and education. It is recognized as one of the top dinosaur museums in the world, and is the largest of its kind in Japan. The museum is located in Katsuyama City, Fukui Prefecture, the center of dinosaur research in Japan and home to the country's largest and most prolific excavation site, found just a few kilometers from the museum.
The Fukui Dinosaur Museum spans four floors. The main floor's large open space houses the museum's principal Dinosaur World exhibition where more than 40 dinosaur skeletons are on display together with good English explanations. They include examples of the local Fukui-raptor and Fukui-saurus, which were found nearby, as well as several life-size animatronic dinosaurs, including an life-like Tyrannosaurus Rex that greets visitors at the entrance.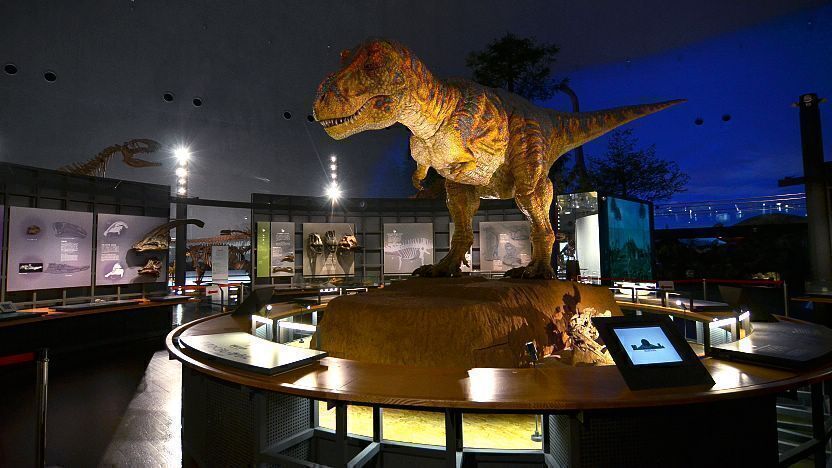 The smaller Earth Sciences exhibition on the same floor displays hands-on exhibits, videos and familiar objects to teach visitors about the earth and how life emerged on this planet. Overlooking the Dinosaur World exhibition from a balcony, the History of Life corner displays more fossils and life size dinosaur models to illustrate the evolution of life from one celled organisms to the emergence of mankind. One of the highlights of the exhibition is the display on how dinosaurs evolved into birds.
The museum also includes a hands-on zone where visitors are encouraged to pick up and hold real fossils, as well as a research laboratory where you can watch scientists and technicians clean fossils and do research from behind a glass window. There is also a movie theater, room for special exhibitions, a restaurant and a museum shop. Several more dinosaur models are placed outside around the museum grounds, and visitors may participate in outdoor excavation activities in spring and fall.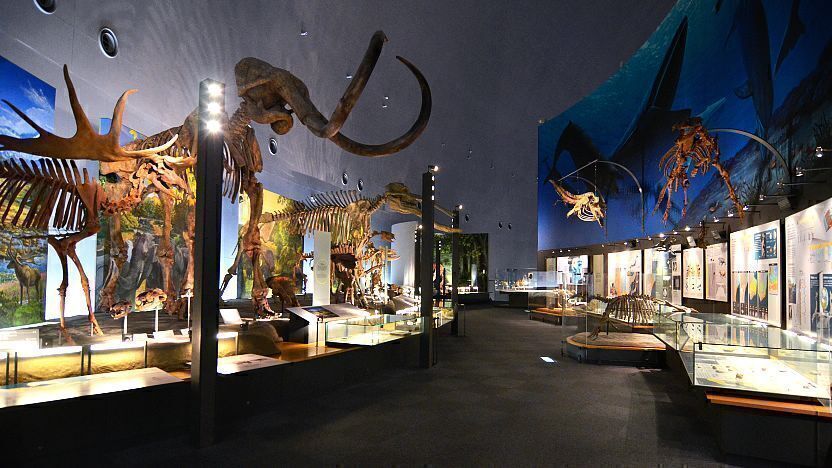 Take the Echizen Railway from Fukui Station to its terminal station, Katsuyama Station (one hour, 770 yen one way, 2 trains/hour) and transfer to a community bus for the museum. Get off at the Kyoryu Hakubutsukan-mae (‹°—³"Ž•¨ŠÙ'O) bus stop in front of the museum (15 minutes, 300 yen, 1-3 buses per hour). Alternatively, a taxi ride takes about ten minutes and costs around 1800 yen from the station to the museum.
Hours
9:00 to 17:00 (entry until 16:30)
Closed
2nd and 4th Wednesdays each month except in August (closed on the following day instead if Wednesday is a
national holiday
), from December 29 to January 2 and a few days in late January (see
official website
for closing calendar).
Admission
730 yen (permanent exhibition)
Separate admission fee for special exhibitions
Questions? Ask in our forum.
Kofuyuden Beniya

An elegant, historical ryokan since Meiji Era in Awara Onsen Fukui. 17 luxurious Japanese rooms. Each room has a private hot spring bath. Fully rebuilt in 2021.

View site

Sponsored

Haiya Ryokan

A historical onsen ryokan with thoughtful hospitality. Established in Meiji Era. Spacious rooms & beautiful garden await your arrival. Free pick-up available.

View site

Sponsored