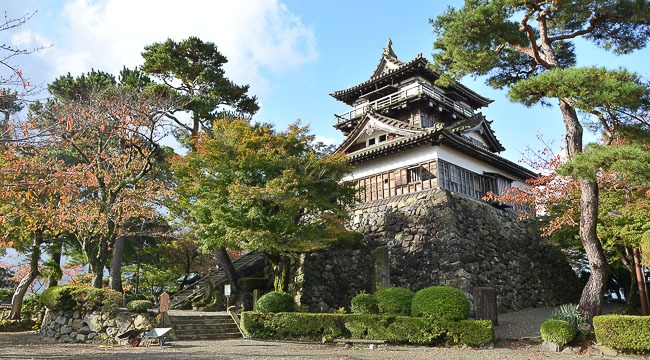 Maruoka Castle (Ő█ë¬ĆÚ, Maruokajō), is one of just twelve castles remaining in Japan that have survived the post feudal ages with their castle keeps (donjon) intact. The relatively small, 3-story keep was considered by some to be the oldest in the country, but recent studies have revealed that this is not the case, dating the keep's construction to the early 1600s. The castle is also known by the nickname "mist castle" which comes from a legend about thick mist hiding the fortification from approaching enemies.
Maruoka Castle stands on top of a small hill in the plains north of Fukui City. The interior of the wooden structure is preserved and unfurnished save a few information displays and a diorama of the castle on the lowest floor. A set of extremely steep wooden stairs lead up to the floors above, which visitors can scale with the aid of ropes hung from the ceilings. Those who make it all the way to the top are rewarded with panoramic views of the surrounding plains and the castle park below.
The castle keep is the only major structure left standing. The former castle grounds surrounding the keep are now a public park with a small museum that displays some arms, armor, and household items related to the former lords of Maruoka Castle. The grounds also feature over 400 cherry trees that typically bloom from early to mid April. An annual cherry blossom festival is held during the first three weeks of April during which the trees are lit up in the evenings by over 300 paper lanterns.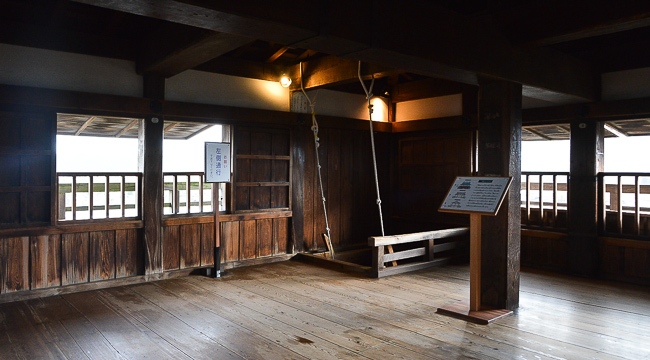 Take a bus from Fukui Station bound for Maruokajō (Ő█ë¬ĆÚ) and get off at the final stop (50-60 minutes, 670 yen, 2 buses/hour). The castle is a short walk from the bus stop.
By rental car, the castle is about a 30 minute drive from Fukui Station. Free parking is provided next to the castle.
Hours
8:30 to 17:00 (entry until 16:30)
Admission
450 yen (includes entry to the castle keep and nearby museum)
Questions? Ask in our forum.