Tojinbo
Spectacular cliff along the Sea of Japan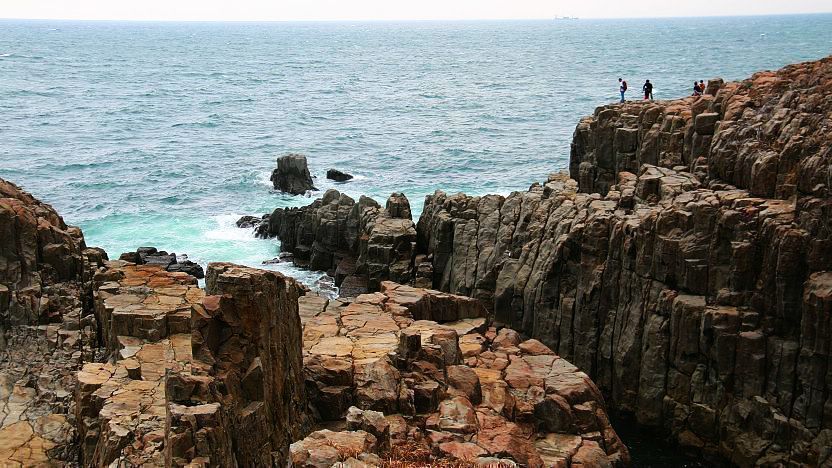 Tojinbo (東尋坊, Tōjinbō) is a one kilometer long stretch of rugged basalt cliffs along the Sea of Japan coast north of Fukui City. The rocky coastline has been carved out by the waves, leaving deep chasms and precipitous bluffs that tower up to 30 meters above the water below. The coarse, pillar-shaped rocks look like bundles of hexagonal and pentagonal rods and are a rare geologically formation that can be seen in only a few other spots in the world.
Tojinbo can be explored via trails which lead along the rocky embankment to various chasms and promontories. Visitors are free to walk right up to the unmarked edges of the bluffs. Watch your step and take heed as Tojinbo is named after a monk who, legend has it, fell to his untimely death along the cliffs. It is also possible to appreciate the towering bluffs from 30-minute long pleasure boat cruises; however, the boats do not run when waves are high.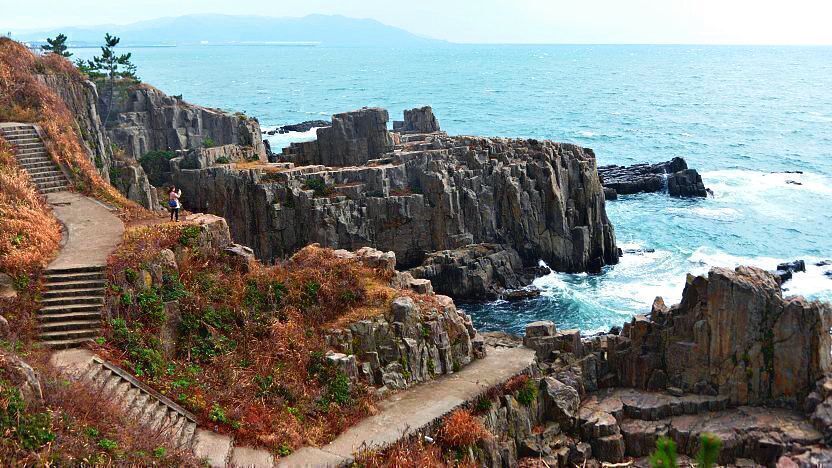 The touristy approach from the bus stop and parking lot to the cliffs is lined by many restaurants, food stands and souvenir shops, many of which offer local crabs and other seafood. About halfway along the approach stands the aging, 55 meter high Tojinbo Tower, which offers visitors a 360 degree panoramic view of the area, but note that you cannot see the cliffs from the tower.
The coastal trails extend north beyond Tojinbo and feature views of the seaside scenery and wildlife from various lookout points and rest huts. At the other end of the trail is a small fishing village and a red pedestrian bridge to Oshima Island. Visitors can hike around the small island to a shrine and additional rock formations.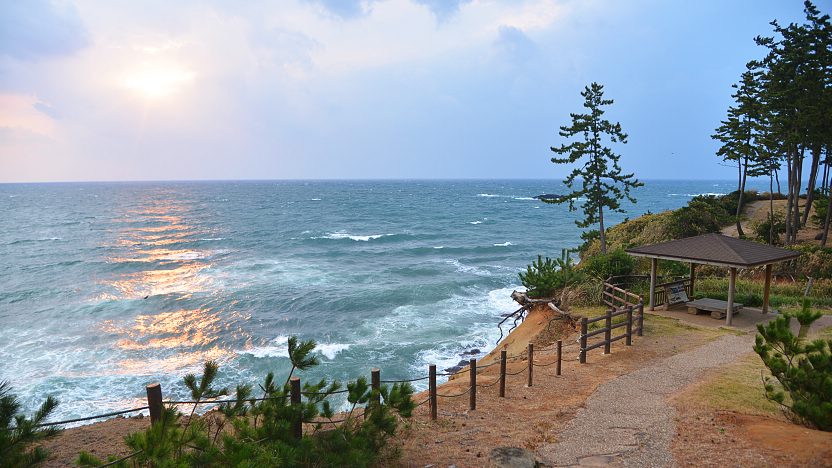 By Echizen Railway and bus from Fukui Station
Take the Echizen Railway from Fukui to Mikuniminato Station, the terminal station on the Mikuni Awara Line (50 minutes, 770 yen one way, 1-2 trains/hour). At Mikuniminato, take a bus to Tojinbo (5 minutes, 200 yen one way, hourly buses).
By bus from Awara Onsen Station
Hourly buses operate between Awara Onsen Station and Tojinbo (40 minutes, 790 yen one way or 1200 yen for a 2-day pass). Awara Onsen can be reached by local JR train from Fukui in 20 minutes and for 330 yen one way. Note about four of these buses per day continue to Eiheiji Temple. The one way trip between Tojinbo and Eiheiji takes 100 minutes and costs 1540 yen.
By car
A rental car is a convenient way to explore Tojinbo, and there are numerous paid parking lots in the area. Rental car outlets can be found around Fukui Station from where it is about a 45 minute drive to the cliffs.
Sightseeing Cruises
Hours
9:00 to 16:00 (until 15:30 from November to March)
Closed
December 29 to January 31
Questions? Ask in our forum.
Haiya Ryokan

A historical onsen ryokan with thoughtful hospitality. Established in Meiji Era. Spacious rooms & beautiful garden await your arrival. Free pick-up available.

View site

Sponsored

Kofuyuden Beniya

An elegant, historical ryokan since Meiji Era in Awara Onsen Fukui. 17 luxurious Japanese rooms. Each room has a private hot spring bath. Fully rebuilt in 2021.

View site

Sponsored