Akan Mashu National Park: Access and Orientation
How to travel between Akan Mashu National Park and Tokyo
By air
JAL, ANA and Air Do operate flights between Tokyo's Haneda Airport and both Memanbetsu Airport and Kushiro Airport. Flight duration is 1.5 hours. The regular one way fare by JAL and ANA is around 47,000 yen, however, discount tickets are typically available for between 13,000 and 26,000 yen. Air Do's rate are typically 20 percent lower. With an air pass, foreign tourists can fly for even less.
See the orientation section below for details on how to get from the airports into Akan Mashu National Park.
Above fees and schedules are subject to change. For the current yen exchange rate, click here.
Orientation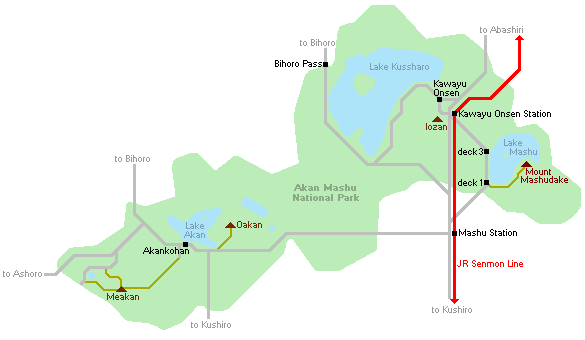 Akan Mashu National Park consists of two distinct sections. The western portion contains Lake Akan, while the eastern portion contains Lake Mashu, Lake Kussharo, Iozan (Sulfur Mountain) and the hot spring resort of Kawayu Onsen.
Because public transportation is infrequent and inconvenient, a rental car is recommended for accessing and exploring Akan Mashu National Park. By car, the park can be reached within 1-2 hours from Bihoro, Kushiro or Abashiri. Car rental outlets are available at the airports, in Kushiro and in Abashiri.
Akan Bus runs a few buses per day between Kushiro and Lake Akan in the park's western portion year round, as well as a few infrequent bus lines around Kawayu, Lake Mashu and Lake Kussharo. Regular bus service between the park's western and eastern portions is offered only during some weeks in summer and autumn. Akan Bus also operates a few sightseeing bus tours.
Bus service improves slightly during some weeks in winter (January 25 to March 8, 2020) and summer (no increase of buses in summer 2020 because of the coronavirus) when additional, infrequent bus services for tourists are operated around Lake Mashu and Lake Kussharo.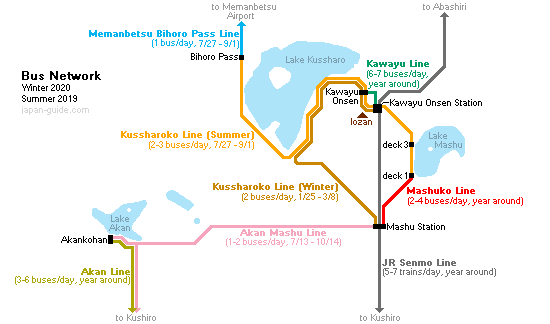 The JR Senmo Line, which connects Kushiro and Abashiri, traverses the eastern portion of Akan Mashu National Park, stopping at Kawayu Onsen Station along the way. It takes around two hours to reach Kawayu from either Kushiro or Abashiri by local train, and there are about 4-7 trains per day.
Two airports serve the area: Kushiro Airport is most convenient for accessing Lake Akan, while Memanbetsu Airport can be an alternative to Kushiro Airport for accessing the park's eastern part.
From Kushiro Airport, there are direct buses to Lake Akan (one hour, 2190 yen one way, 3-4 buses per day). In order to reach Akan's eastern portion, take the airport bus to Kushiro Station (50 minutes, 950 yen) and catch the JR Senmo Line to Kawayu Onsen (100 minutes, 2100 yen, 4-7 trains per day).
From Memanbetsu Airport, take a bus into Abashiri (25 minutes, 920 yen), from where you can take the JR Senmo Line to Kawayu Onsen (2 hours, 1890 yen, 4-7 trains per day). There are also a few sightseeing bus lines from Abashiri and Bihoro into Akan Mashu National Park.
Questions? Ask in our forum.