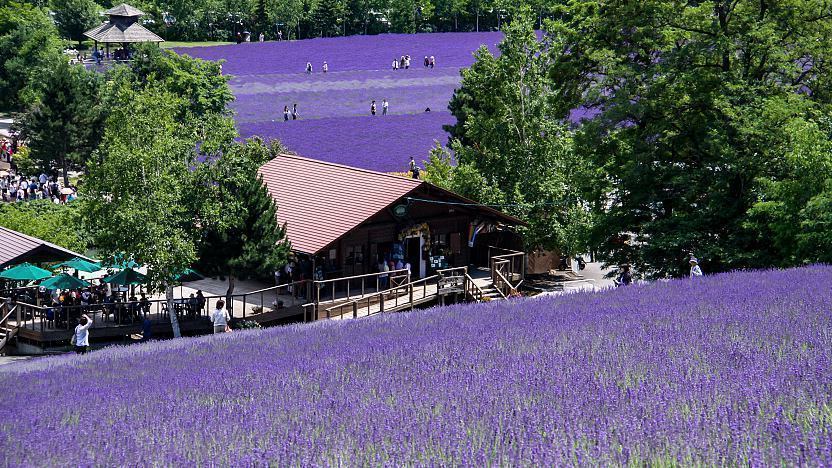 Lavender has been cultivated in Hokkaido since the 1940s. When the arrival of lower priced, imported lavender led to a decrease in demand for Hokkaido's lavender in the 60s and 70s, the local lavender's main function shifted from agricultural product to tourist attraction.
Nowadays, Furano's lavender fields attract large numbers of visitors to the region every summer, when the plants are in full bloom. The majority of lavender usually starts blooming in late June and reaches its peak from around mid July to early August. Less numerous, later flowering varieties of lavender remain in bloom into mid August.
Many other flowers make Furano an attractive destination also outside of the lavender season. The viewing season takes place between June and September, although some flowers also bloom earlier and later than that. Flowers include rape blossoms, poppies and lupins from June, lilies from July and sunflowers, salvias and cosmos from August and September.
There are numerous flower fields of various sizes all across Furano. The best spot to view the lavender is Farm Tomita, whose lavender and flower fields with the Tokachi mountain range as backdrop are spectacular. The popular farm is free to enter and besides the flower fields has cafes and shops that sell a wide range of lavender related products. The farm naturally gets rather busy during the peak season.
In 2008, Farm Tomita opened a second farm, Lavender East to the public. Located about four kilometers east of Farm Tomita, Lavender East has by far the most spacious of all lavender fields in Furano, covering 14 hectares. Besides a shop, cafe and observation deck, the farm offers paid 15 minute rides on the "Lavender Bus" through the lavender fields.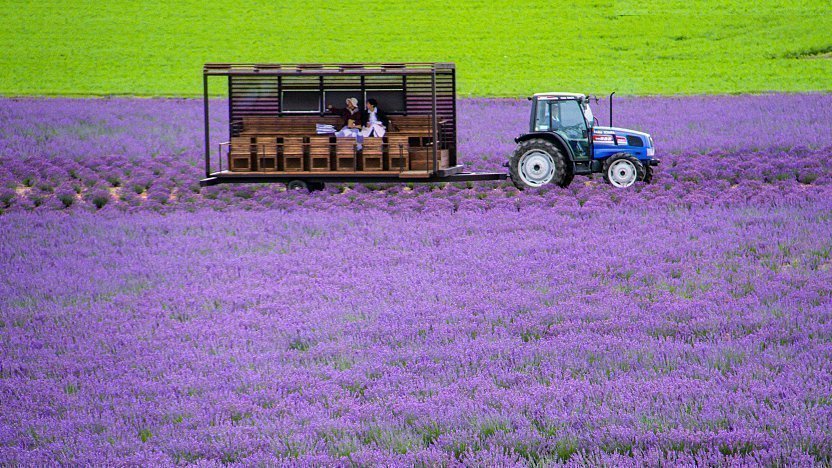 Another popular farm for lavender and other flowers is the Flower Land Kamifurano. The farm's hillside location affords beautiful views of the Tokachi mountain range in combination with the flower fields. Among the attractions are rides through the fields on tractor pulled carts and hands on experiences such as lavender cutting and flower pressing.
An attractive way to travel between Furano, Biei and some of the lavender farms while enjoying the scenery, is the Furano-Biei Norokko train. The train operates on selected days during summer and stops at the temporarily constructed Lavender-Batake Station, a five minute walk from Farm Tomita.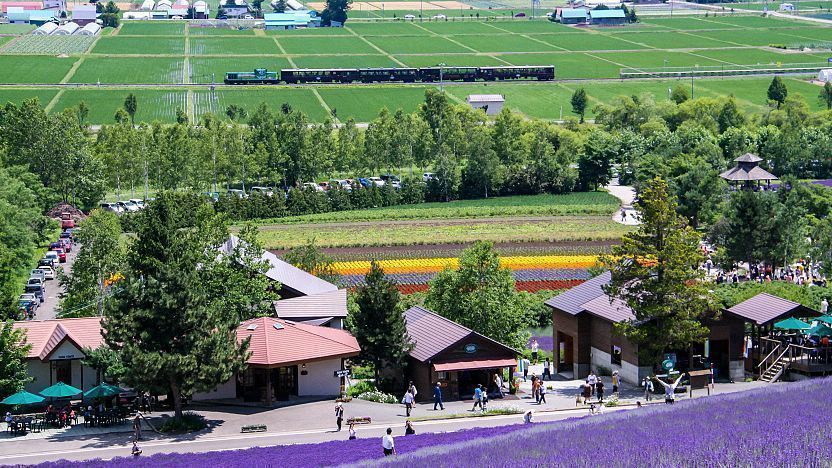 Lavender and flower fields are spread across Furano, and many of them are not easily accessible without private transportation. A rental car is the easiest way to get around. Alternatively, there are some sightseeing buses that visit some of the sights during the summer months.
Farm Tomita
On selected days during summer, the Furano-Biei Norokko trains stop at the seasonally constructed "Lavender-Batake Station" (20 minutes, 300 yen from Furano or 35 minutes, 540 yen from Biei), from where the farm can be reached in a 5-10 minute walk. Farm Tomita is also served by some sightseeing buses from Furano and Asahikawa.
Outside of summer, access by public transportation in non-existent.
Farm Tomita - Lavender East
Lavender East is located about four kilometers east of Farm Tomita, about an hour's walk or a 5-10 minute car ride away. Access by public transportation is not provided.
Flower Land Kamifurano
Flower Land Kamifurano is located three kilometers uphill, a five minute taxi ride or about a 50-60 minute walk from Kamifurano Station (20 minutes, 440 yen from Furano or Biei).
Farm Tomita
Hours
Depends on shops and cafes; typically open 8:30 to 17:30 during summer; shorter hours outside summer
Closed
No closing days (some shops close during winter)
Farm Tomita - Lavender East (open only in July)
Hours
9:00 to 16:30 (hours may change depending on weather)
Admission
Free (lavender bus: 200 yen)
Flower Land Kamifurano
Hours
9:00 to 18:00 (July to August)
9:00 to 17:00 (May to June, September to October)
9:00 to 16:00 (March to April and November)
Closed
December to February
Admission
Free (except rides and activities)
Questions? Ask in our forum.