The Nishizawa Keikoku (É╝ŲîkĺJ) near Kofu is one of the most beautiful valleys of the Chichibu-Tama-Kai National Park, a national park which covers more than 1250 square kilometers of forested mountains, hills, gorges and some rural towns in the prefectures of Yamanashi, Saitama, Nagano and Tokyo.
A hiking trail leads up the narrow Nishizawa Valley along a picturesque mountain stream and past several waterfalls. After about 90 minutes, you reach the valley's highlight, the Nanatsugama-Godan-no-Taki, a beautiful five tiered waterfall. A separate, more leveled trail leads back from the waterfall to the bus stop.
The trail through the valley is steep at times, and sturdy shoes are recommended. A visit to the Nishizawa Keikoku is particularly beautiful during the autumn leaves season, which usually reaches its peak in late October and early November.
The trailhead to the Nishizawa Gorge is a one hour bus ride (900 yen one way, 4 buses/day) from Yamanashishi Station along the frequently running JR Chuo Line (15 minutes, 240 yen one way from Kofu). Yamanashishi Station can be also reached from Tokyo's Shinjuku Station by limited express train in about 80 minutes (3890 yen one way) or by local trains in about 2.5 hours (2310 yen, at least one transfer required along the way).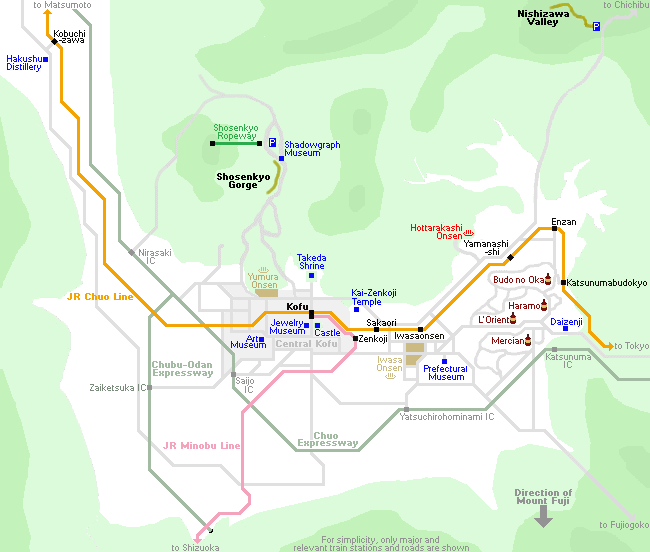 Questions? Ask in our forum.