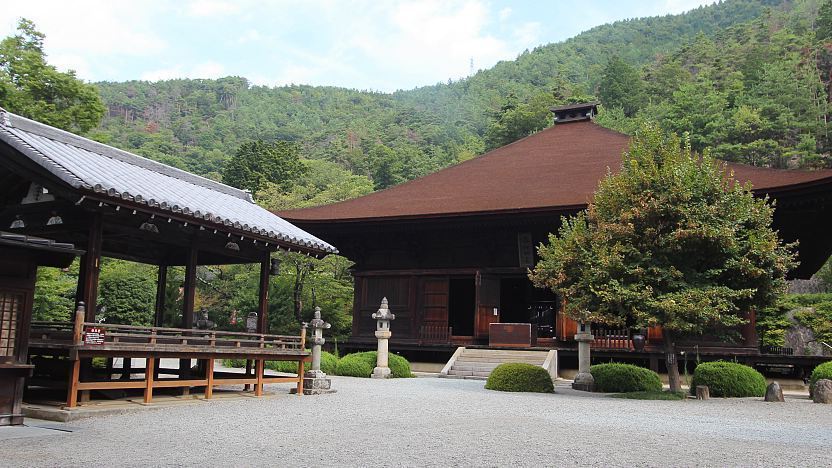 Daizenji (ĹňĹPÄŤ) is a temple in Katsunuma near Kofu. It is known colloquially as the "grape temple" because grape cultivation purportedly started here in the 8th century around the time when the temple was established. Within the grounds are a multitude of impressive artifacts including its beautiful main hall. The complex is nestled on a vineyard-covered hillside overlooking the Kofu Plain.
The main hall dates back to the Kamakura Period (1192-1333) and is a designated national treasure. It stands at the top of a long flight of stairs. The Buddhist monk Gyoki is said to have established the temple after being met by the Yakushi Buddha holding a cluster of grapes. Inside the main hall stands a statue of the grape-bearing Buddha, although this is a copy of the original which is kept out of public view.
The Buddha is enshrined in a special altar that was presented to the temple centuries ago as a gift from the powerful Takeda clan that ruled this area for generations. Flanking the altar are twelve heavenly general statues in place to guard the Buddha that also date back to the Kamakura Period.
At the bottom of the long flight of stairs in the temple's lower grounds, visitors can enter one of the precinct buildings to view a nice Japanese garden behind the building. In the temple's lower grounds also stand its large Sanmon Gate which dates back to the 18th century and a garden in which grapes are grown.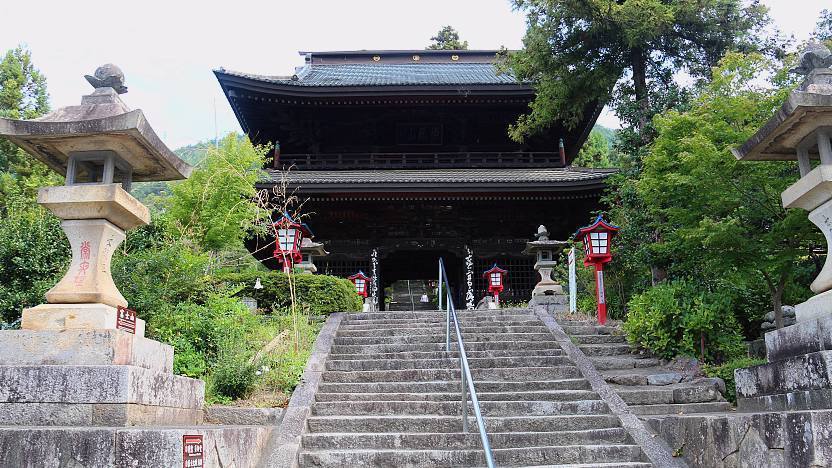 There is a bus from Enzan Station to the temple (35 minutes, 300 yen one way), but it only operates three times per day. Enzan Station can be reached from Kofu Station in 20 minutes and for 330 yen along the JR Chuo Line. Alternatively, Daizenji can be reached from Katsunumabudokyo Station by taxi in about ten minutes (around 1000-1500 yen one way) or on foot in about 45 minutes.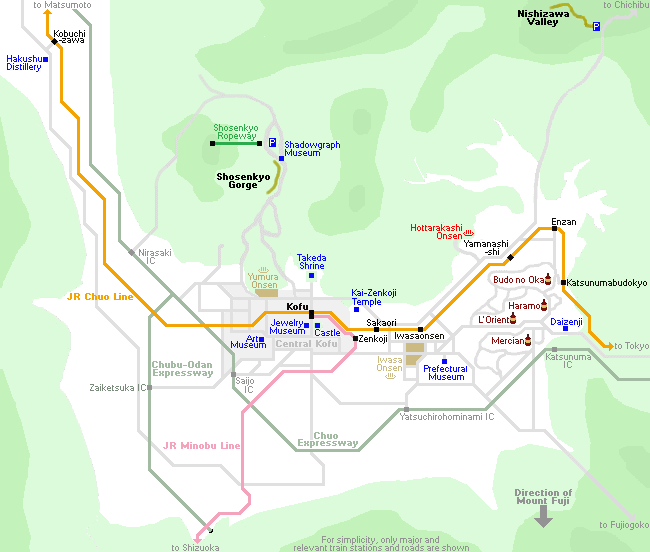 Hours
9:00 to 16:30 (until 16:00 from December to March)
Admission ends 30 minutes before closing time
Typical Visit Duration
30-45 minutes
Questions? Ask in our forum.