Kusatsu Kokusai Ski Resort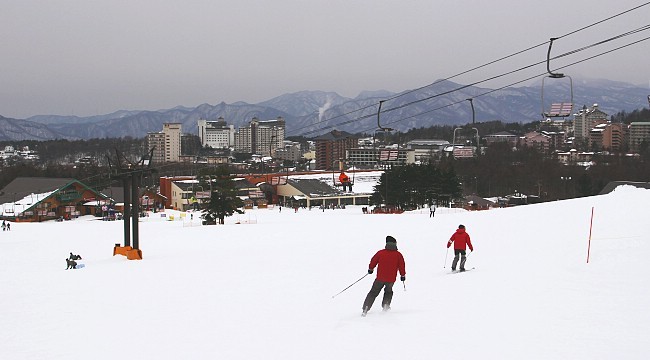 Mount Shirane erupted on January 23, 2018 around Kagamiike Pond near the Hon-Shirane summit. The volcano's alert level was raised to level 3. In case of possible further eruptions, there is a danger of falling rocks within a 2-kilometer radius of the Kagamiike Pond, which includes the higher areas of the Kusatsu Ski Resort. The lower areas of the ski resort remain open for business.
Kusatsu Kokusai Ski Resort (草津国際スキー場, Kusatsu Kokusai Skījō) is located on the slopes of Mount Shirane above the town of Kusatsu Onsen. The resort is essentially one long trail from top to bottom that, at eight kilometers, is one of Japan's longest continuous runs. The upper half of Kusatsu Kokusai has a few medium and advanced diversions from the main trail, while toward the base of the mountain the trail opens up to a wide field suitable for beginners.
The resort is just a short walk from some of Kusatsu's famous hot spring baths, where it is popular to take a long hot soak after a day of hitting the slopes. In the summer, the resort offers mini golf, grass cart and mountain boarding at its base. A network of hiking trails leads up the mountain toward Mount Shirane, and the resort's ropeway can be used to bypass part of the trail.
An hourly, free shuttle bus runs between the Kusatsu Onsen Bus Terminal and the ski resort (5 minutes one way). Alternatively, the resort is a 15-20 minute walk from central Kusatsu.
How to get to and around Kusatsu Onsen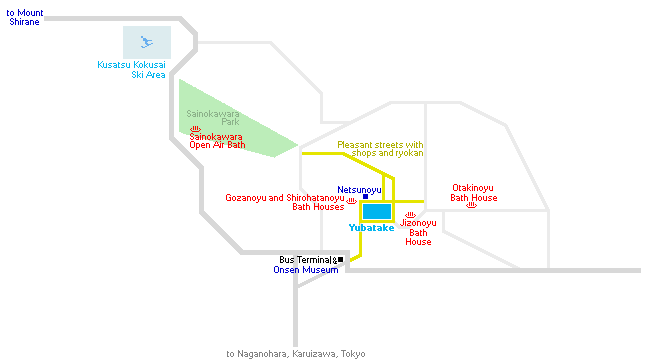 Hotels
around Kusatsu Onsen