Kusatsu Onsen: Getting there and around
How to get to Kusatsu Onsen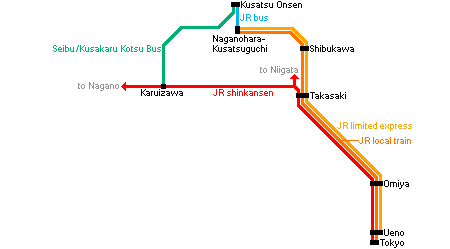 By train and bus via Naganohara
Trains travel as far as Naganohara-Kusatsuguchi Station, from where there are JR buses to Kusatsu Onsen (30 minutes, 710 yen). The train journey is covered by the Japan Rail Pass, JR Tokyo Wide Pass, JR East Nagano Niigata Area Pass, JR East Tohoku Area Pass and JR East South Hokkaido Pass, but the bus ride is covered only by the Japan Rail Pass, JR East Nagano Niigata Area Pass and JR East Tohoku Area Pass.
There are various ways to get from Tokyo to Naganohara-Kusatsuguchi Station. The most convenient is by direct limited express train from Tokyo's Ueno Station, requiring 2.5 hours and costing about 5000 yen one way. But there are only around three round trips per day.
Alternatively, you can do the whole trip by local trains, which takes about four hours, requires a transfer of trains at Takasaki and cost 3080 yen one way. Faster and more expensive is taking the shinkansen to Takasaki and transfer there to a local train to Naganohara-Kusatsuguchi.
By train and bus via Karuizawa
Take the Hokuriku Shinkansen from Tokyo to Karuizawa (70 minutes, around 5500 yen) and then a bus (Seibu Bus or Kusakaru Kotsu) from Karuizawa to Kusatsu Onsen (80-100 minutes, 2240 yen). JR passes are not valid on the buses between Karuizawa and Kusatsu.
By highway bus
There are multiple JR highway buses from Tokyo (Busta Shinjuku) to Kusatsu per day. The one way trip costs around 3500-4000 yen depending on date of travel and takes about four hours. JR passes are not valid on these buses. In addition, a few other bus companies operate buses between Shibuya (Mark City) and Kusatsu (4.5 hours, 3600 yen one way), which can be reserved online via Willer.
Above fees and schedules are subject to change. Be sure to check current yen exchange rates.
Getting around
Kusatsu is a compact, small town with the Yubatake (hot water field) in its center. Most attractions and ryokan in the town center are easily accessible on foot. Mount Shirane is located about a 30 minute bus or car ride outside the town center.
Map of central Kusatsu: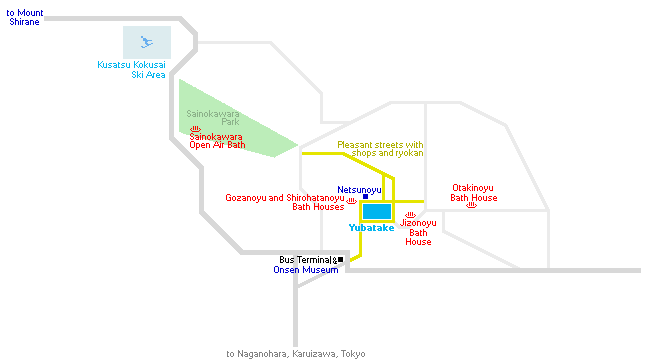 Map of the Mount Shirane area: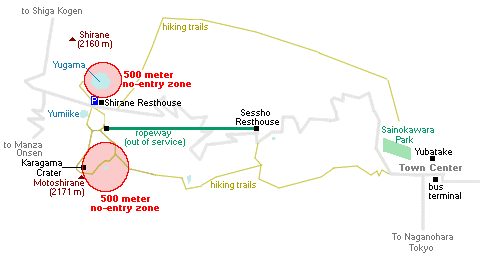 Questions? Ask in our forum.
Hotels around Kusatsu Onsen
Top rated in Kusatsu Onsen
powered

by