Hot Springs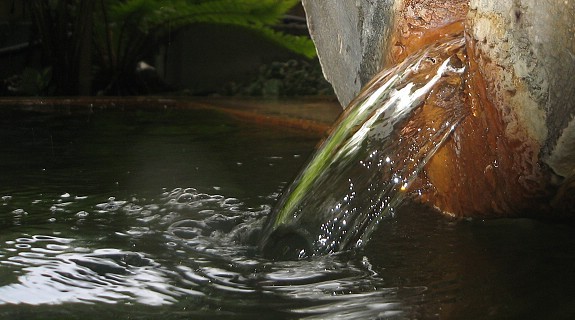 Okuhida is famous for its hot springs, and especially so for its rotemburo (outdoor baths) with views of the surrounding Northern Japan Alps. Five onsen towns have developed along Okuhida's valleys, each with its own unique character and hot spring water, as they are fed from different hot spring sources.
The towns offer a variety of baths, many of which have both segregated and mixed gender bathing, best enjoyed by staying overnight at a ryokan with hot spring baths. Public bath houses and several ryokan also open their baths to non-staying guests during daytime for typically 500 to 2000 yen. Below is an introduction of each town and a short selection of recommended baths open to the public.
Hirayu Onsen
Hirayu is the oldest and largest of Okuhida's onsen towns and is said to have been discovered in the 1560s by Takeda Shingen's troops as they crossed through the Okuhida region. Today the town has many ryokan, ranging in size from small family run places to large complexes. Its hot spring waters are said to cure neuralgia, sensitivity to cold and skin disease. Hirayu is the regional transportation hub.
Hirayu no Mori
Hours: 10:00 to 21:00 (private bath: 12:00 to 15:00)
Closed: No closing days
Fee: 500 yen (private bath: 1000 yen for 45 minutes)
Hirayu no Mori is a modern public bath in central Hirayu with indoor and a large number of outdoor baths, all of which are gender separated. Private baths are also available. While primarily a bath house, Hirayu no Mori also offers some lodging facilities, including cottages with private baths.
Hirayu Minzokukan
Hours: 6:00 to 21:00
Closed: Wednesdays
Admission: Free (suggested 200 yen donation)
The Hirayu Minzokukan is unique in that it is a museum with its own hot spring bath, called Hirayu no Yu. The museum consists of a few traditional straw roofed farm houses that display tools and daily items from the rural region. The baths are outdoor and gender separated without shower facilities.
Shin-Hirayu Onsen
Shin-Hirayu Onsen is the second largest onsen town in Okuhida and lies on the eastern side of the Takahara River opposite Fukuji Onsen, at the base of Mount Yakedake.
Okuhida Garden Hotel Yakedake
Daytime Hours: 12:00 to 21:00
Closed: No closing days
Admission: 500 yen
This large hotel opens its baths to non staying guests during the day. The baths, which are filled with water tinted yellow by a high sulfur content, include segregated indoor baths and a large, mixed gender, open air bathing area with cave and waterfall baths. Special towels (which are provided) must be worn in the mixed gender outdoor baths.
Shin-Hotaka Onsen
Shin-Hotaka Onsen is far back in the valley at the base of the Hotaka Mountains, which contains Japan's third highest peak. Many of the baths offer nice views of the surrounding Northern Alps.
Suimeikan Karukaya
Daytime Hours: 8:00 to 20:00
Closed: No closing days
Admission: 800 yen
Suimeikan Karukaya is a ryokan with a huge, mixed gender outdoor bath with panoramic views of the mountains. Hot water replenishes the bath via a waterfall. There are also three private baths available for a small fee (shorter opening hours), as well as a women's only bath. Entrance fees should be paid at the ryokan reception desk.
Yarimikan
Daytime Hours: 10:00 to 14:00
Closed: Irregular closing days
Admission: 500 yen
The Yarimikan is a ryokan which allows non staying guest to use their baths during the day. There are a number of outdoor baths (two mixed gender, and one women's only) that have views of Mount Yarimidake and the river that flows alongside the ryokan. Indoor baths and private baths are also available, but are restricted to staying guests of the ryokan.
Fukuji Onsen
Fukuji Onsen (also sometimes written as Fukuchi Onsen), established about 40 years ago, is a relatively new onsen town. Yet this town has some of the more atmospheric, traditionally styled ryokan in Okuhida. While appearing quite old, most of the ryokan are relatively new, but are made from reclaimed materials from old farmhouses giving them a traditional, rustic feel. Some of the ryokan open up their baths to day trip visitors, and there is also a small morning market held in the town.
Tochio Onsen
This town is comprised mainly of small minshuku that are not of much interest to day trip bathers as their baths are generally only open to their staying guests; however, the minshuku are some of the more economical places to stay when visiting the region.
Ratings:

best of the best

best of Japan

outstanding