Kinugawa Onsen: Getting there and around
How to travel between Kinugawa Onsen and Tokyo
Kinugawa Onsen is located about 130 kilometers north of Tokyo and about 30 minutes away from Nikko by train. It is connected with Tokyo and Nikko by Tobu Railway: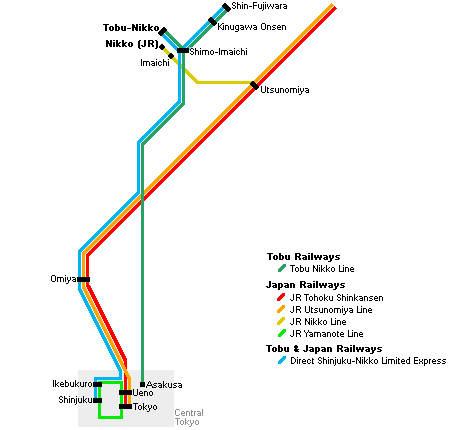 By Tobu Railway from Asakusa Station
The Tobu terminal station in Tokyo for trains to Kinugawa Onsen is Tobu Asakusa Station, which can be accessed by subway (Ginza and Asakusa Subway Lines). Travelers have the option between the fast and expensive limited express trains and slower but cheaper express and local trains.
There are one or two limited express trains per hour between Asakusa and Kinugawa Onsen, which take about two hours and cost around 2500-3000 yen one way. Some connections require a transfer at Shimo-Imaichi Station. By express and local trains, the one way journey costs only 1580 yen, but takes at least half an hour longer and requires one to three transfers of trains along the way.
Tobu offers various passes, which include the round trip from Tokyo to Kinugawa Onsen as well as unlimited use of trains between Kinugawa Onsen and Nikko and buses in the Kinugawa Onsen area. Note that the passes do not cover the supplement fee required on limited express trains (around 1000 yen one way). The Japan Rail Pass and other JR passes are not valid on these Tobu trains.
By limited express from Shinjuku Station
Direct "Kinugawa" limited express trains, cooperated by Japan Railways (JR) and Tobu Railway, connect JR Shinjuku Station with Kinugawa Onsen Station. The one way journey takes about two hours and costs 4080 yen. All seats are reserved and there are three trains per day.
Because the trains between Shinjuku and Kinugawa partially use the tracks of Tobu Railway, the Japan Rail Pass does not fully cover the expenses of the journey. In contrast, the JR Tokyo Wide Pass, JR East Nagano Niigata Area Pass, JR East Tohoku Area Pass and JR East South Hokkaido Pass are valid for the entire trip.
By Japan Railways
There are no routes to Kinugawa Onsen that are completely covered by the Japan Rail Pass. Instead take the Tohoku Shinkansen to Utsunomiya (50 minutes, multiple trains per hour) and transfer to the JR Nikko Line to Imaichi Station (35 minutes, 1 train per hour). From there it is a ten minute walk to Shimo-Imaichi Station where you can take a Tobu train to Kinugawa Onsen (20 minutes, 260 yen, 2-3 trains per hour).
Alternatively, stay on the JR Nikko Line to Nikko Station and walk about 200 meters to Tobu Nikko Station. From there, trains depart for Shimo-Imaichi Station where you can transfer to a train bound for Kinugawa Onsen. The trip takes about 30 minutes longer than via the above route, but transferring between trains is easier.
By hotel shuttle bus
Some ryokan and hotels in Kinugawa Onsen offer staying guests free or inexpensive shuttle bus rides to/from Utsunomiya Station along the Tohoku Shinkansen or even to/from Tokyo. Advance reservations are required.
Above fees and schedules are subject to change. For the current yen exchange rate, click here.
Getting around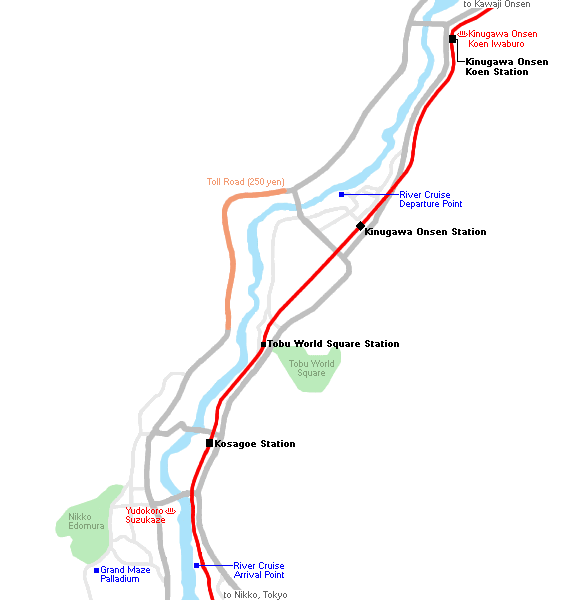 Kinugawa Onsen is located in a narrow valley along the Kinugawa River. The town is served on its length by four Tobu Railways train stations, with Kinugawa Onsen Station as its central station and transportation hub. Most of the major ryokan are located between Kinugawa Onsen and Kinugawa Koen Stations, and are a short walk or taxi ride away from either one.
Transportation around Kinugawa Onsen is provided by Tobu buses, with the main bus terminal in front of Kinugawa Onsen Station. The most relevant bus line connects the station with the town's two largest theme parks, Tobu World Square and Nikko Edomura. Buses depart every 20-30 minutes and are covered by the Nikko All Area Pass.
Another bus of interest is a free shuttle bus, which operates between Nikko Edomura and Fujiya Kanko Center near Nikko's Toshogu Shrine. There are 4-5 round trips per day, but buses only operate on days when Edomura is open. The one way trip takes 35 minutes, and some buses stop at JR Nikko Station along the way.
A few smaller onsen towns are located farther up the valley from Kinugawa Onsen. Kawaji Onsen is less than ten kilometers past Kinugawa Onsen, and the remote, rustic Yunishigawa Onsen and Okukinu Onsen are located in side valleys further beyond Kawaji Onsen.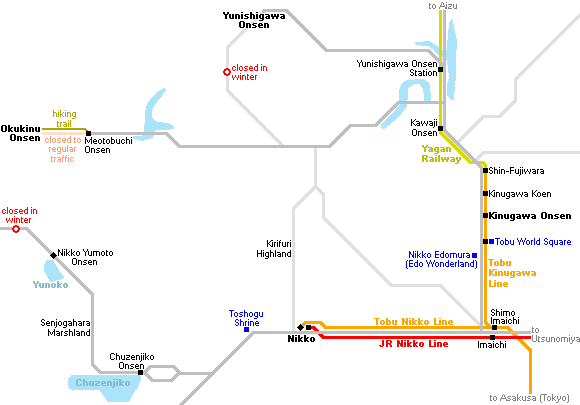 Questions? Ask in our forum.
Hotels
around Kinugawa Onsen
Top rated in Kinugawa Onsen
powered

by