Fukuoka: Getting there and around
How to travel between Fukuoka and Kyoto
By shinkansen
Kyoto and Fukuoka (Hakata Station) are connected with each other by the JR Tokaido/Sanyo Shinkansen. By direct Nozomi trains, the one way journey takes about three hours, while the journey by Hikari and Sakura trains takes about 30 minutes longer and requires a transfer of trains at Shin-Osaka or Okayama Station.
The regular one way fare from Kyoto to Fukuoka is 15,400 yen by non-reserved seat on any train, around 16,000 yen by reserved seat on Hikari and Sakura trains and around 16,500 yen by reserved seat on a Nozomi train. The Japan Rail Pass is valid on Hikari and Sakura trains, but not on Nozomi trains.
By air
JAL, ANA, Peach and Jetstar Japan operate numerous flights per day between Osaka near Kyoto (Kansai Airport and Itami Airport) and Fukuoka. Flight time is about 75 minutes. The regular one way fare is around 26,000 yen by JAL and ANA; however, their discount tickets and the fares by Peach and Jetstar are typically available for around 4,000 to 15,000 yen. Fukuoka Airport is Japan's most easily accessible airport, as it can be reached in only five minutes by subway from Hakata Station.
By bus
Multiple companies, including Willer Express, operate overnight buses between Kyoto and Fukuoka. One way fares vary greatly based on travel date and bus type between around 4,000 and 10,000 yen. Online reservations can be made at Willer.
By ferry
Meimon Taiyo Ferry operates daily overnight ferries between nearby Osaka (Osaka Nanko Port) and Kitakyushu (Shin-Moji Port). The one way journey takes 12 hours and costs around 7,000 yen in the cheapest class. From Shin-Moji Port, there is a free shuttle bus to Kokura Station from where Fukuoka can be reached in about 70 minutes and for 1,310 yen by local trains or 15 minutes and 2,160 yen by shinkansen (unreserved seat; the cost for a reserved seat is over 1,000 yen more expensive). Please visit our ferry page for more details.
Above fees and schedules are subject to change. Be sure to check current yen exchange rates.
Getting around
Fukuoka is served by Japan Railways (JR), Nishitetsu Railways, three subway lines and a bus network. The city's main station is Hakata Station with direct connections to Honshu and across Kyushu, including Nagasaki, Kumamoto and Kagoshima.
The local railway company Nishitetsu is useful for visiting Dazaifu. Nishitetsu trains depart from Tenjin Station (also known as Nishitetsu Fukuoka Station) in the central entertainment and shopping district of Tenjin. Most city buses in Fukuoka are also operated by Nishitetsu.
The subway connects Hakata Station, Tenjin Station and Fukuoka Airport with each other and provides access to many of the city's tourist attractions. Fukuoka Airport is one of Japan's most centrally located airports, only a five minute subway ride from Hakata Station.
The 100 Yen Bus is a convenient, frequently running bus line that loops through the city center between Hakata and Tenjin Stations, passing by Canal City and the food stalls of Nakasu Island. Buses run at least once every 10 minutes, and the fare is 100 yen per ride.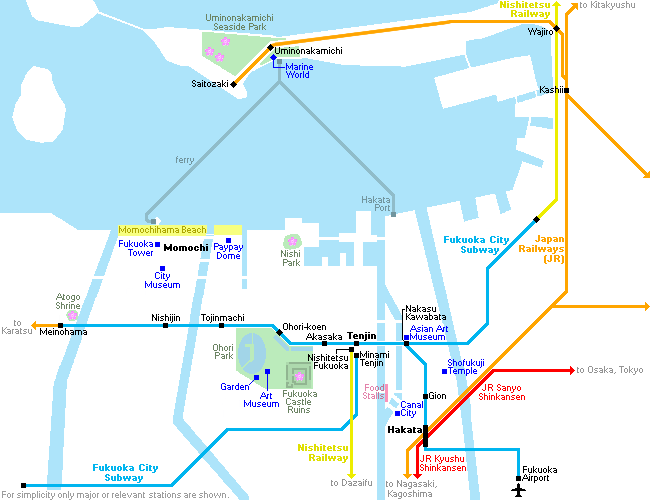 Special Tickets
Prepaid Cards
Prepaid cards provide no savings over regular tickets, but can be more convenient to use. There are three prepaid cards in Fukuoka: Sugoca (by JR Kyushu), Nimoca (by Nishitetsu Railways) and Hayakaken (by Fukuoka Subways), but all of them can be used on all trains, subways and buses in the greater Fukuoka region. Seven other IC cards from other major cities of Japan, including Suica, can also be used. The cards can be purchased through ticket machines at all railway and subway stations.
Fukuoka Tourist City Pass (1500 or 1820 yen)
This pass for exclusive use by foreign tourists is valid on one calendar day on virtually all trains and buses in Fukuoka, including the subway, JR and Nishitetsu. In addition, it provides free or discounted admission to some tourist sights. The 1500 yen version is valid only in Fukuoka City, while the 1820 yen version also includes the Nishitetsu train to nearby Dazaifu. Sales locations include the tourist information desks at Hakata Station and Fukuoka Airport, and the ticket offices of the Hakata and Tenshin subway stations and bus terminals.
1-Day Subway Pass (640 yen)
Unlimited use of Fukuoka's subway lines on one calendar day. The ticket costs 640 yen and is sold through vending machines at all subway stations.
Questions? Ask in our forum.