Naoshima: Getting there and around
Above fees and schedules are subject to change. For the current yen exchange rate, click here.
Getting around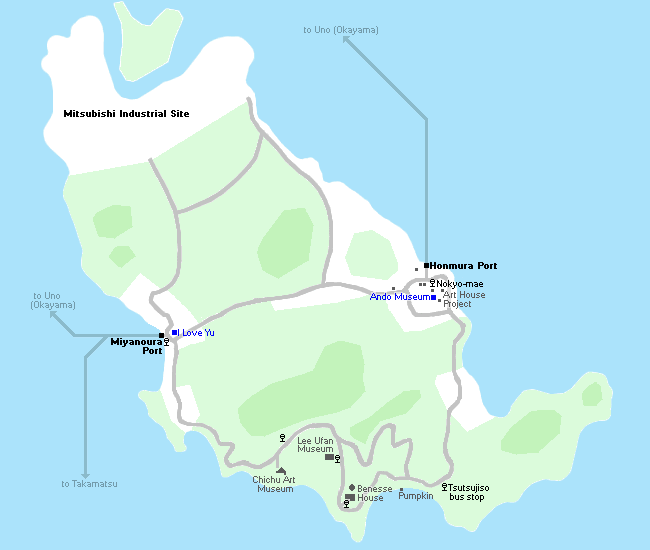 Naoshima has two public ferry ports: Miyanoura and Honmura.
Most tourists enter Naoshima through Miyanoura Port on the island's west coast. Miyanoura is served by ferries to/from Takamatsu, Uno and Inujima. The ferry terminal at Miyanoura Port serves as the information center and transportation hub of the island. It also provides coin lockers and bicycle rentals. Honmura Port on the island's east coast is conveniently located near the Art House Project, but has only infrequent ferry connections to/from Uno.
Naoshima's museums and art installations are found along the southern coast of the island. One or two buses per hour run from Miyanoura Ferry Terminal via Honmura (10 minutes, 100 yen) to the Tsutsujiso bus stop at the east gate of the Benesse House complex (15 minutes, 100 yen), from where free shuttle buses continue to the Benesse House (3 minutes), the Lee Ufan Museum (5 minutes) and the Chichu Art Museum (7 minutes).
Complimentary buses for guests staying overnight at the Benesse House additionally operate once or twice per hour between Miyanoura Port, Honmura, the Benesse House and the Chichu Art Museum.
Rental bicycles are a pleasant alternative for exploring the island, although some of the roads traverse moderate hills. Bicycles are available from the Miyanoura ferry terminal for 500 yen per day and electric assisted bicycles for 1500 yen per day. Passionate walkers could also consider walking between the ferry terminal and the sights, however, distances are considerable, and most visitors will prefer travel by bus or bicycle.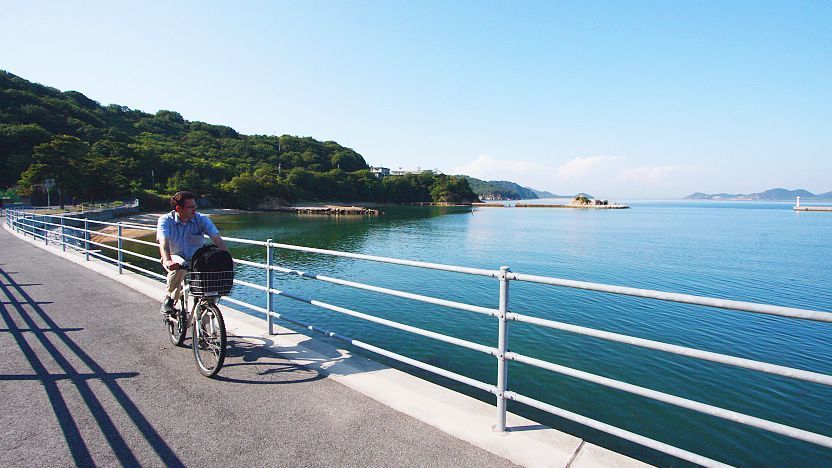 Questions? Ask in our forum.