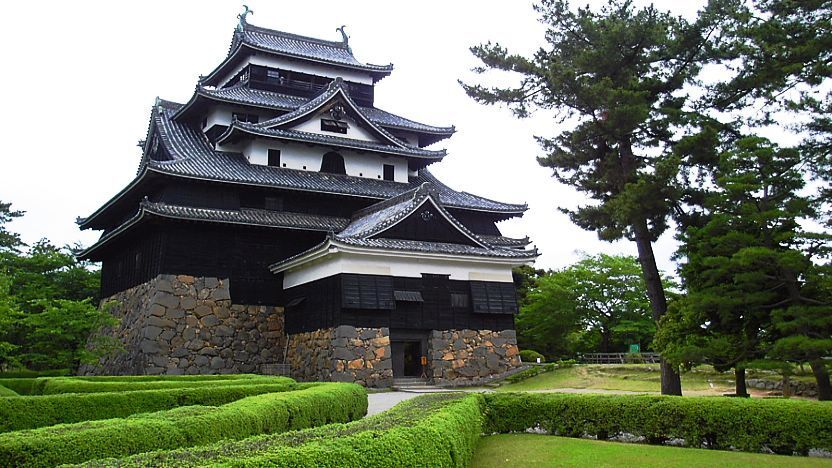 Matsue Castle (Ć╝Ź]ĆÚ, Matsuejō) is one of only a dozen original castles in Japan, meaning that its main tower has survived to this day through fires, earthquakes and the anti-feudal demolitions of the Meiji Period. It is sometimes called the "black castle" after its darkly-colored, austere exterior.
Matsue Castle was completed in 1611, a few years after the last decisive battle of feudal Japan. In 1638, the fief and castle were reassigned to a branch of the Matsudaira clan, relatives of the ruling Tokugawa. Perched atop a hill and surrounded by a moat and thick walls, the castle was built to withstand a war, though, thanks to the timing of its construction, it never actually saw a battle. Major renovation works were undertaken in the 1950s to further preserve it, and the interior of the main keep now houses a museum displaying period arms and artifacts.
In addition to touring the castle's main keep and grounds, visitors can also enjoy a river boat cruise around the castle moat. The boats, which depart every 20-30 minutes from a handful of departure points around the castle, are driven around the moat and narrow canals that form the Horikawa River by boatmen and boatwomen who share about the history of the area (in Japanese only, although audio recordings in other languages are also available).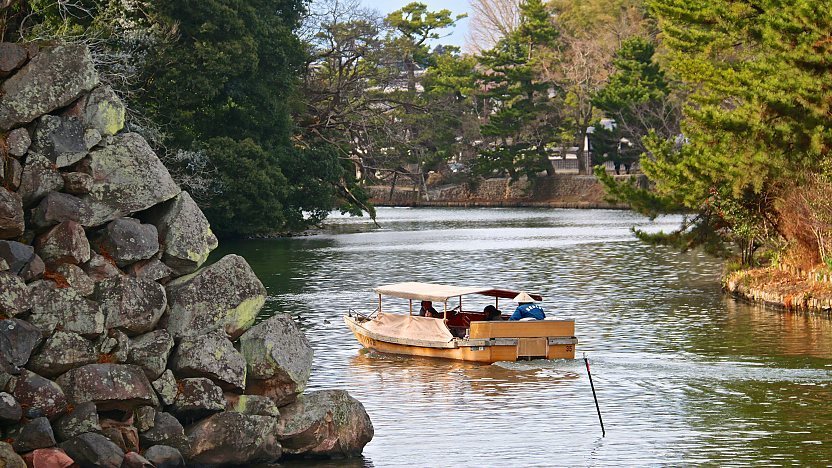 Matsue Castle can be reached in a 30 minute walk from JR Matsue Station or in a 15 minute walk from Ichibata Dentetsu's Matsue-Shinjiko-Onsen Station. The castle is also connected with both train stations by the "Lake Line" loop bus.
Matsue Castle
Hours
8:30 to 18:30 (until 17:00 from October to March)
Admission ends 30 minutes before closing time
Castle Moat Boat Cruise
Hours
9:00 to 17:00 (March to June and mid August to early October)
9:00 to 18:00 (July and mid August)
9:00 to 16:00 (Mid October through February)
Departures every 20-30 minutes.
Admission
1500 yen for a one day pass (1200 yen for foreign tourists)
Questions? Ask in our forum.