Kamuiwakkayu Falls
A hot waterfall in the middle of nature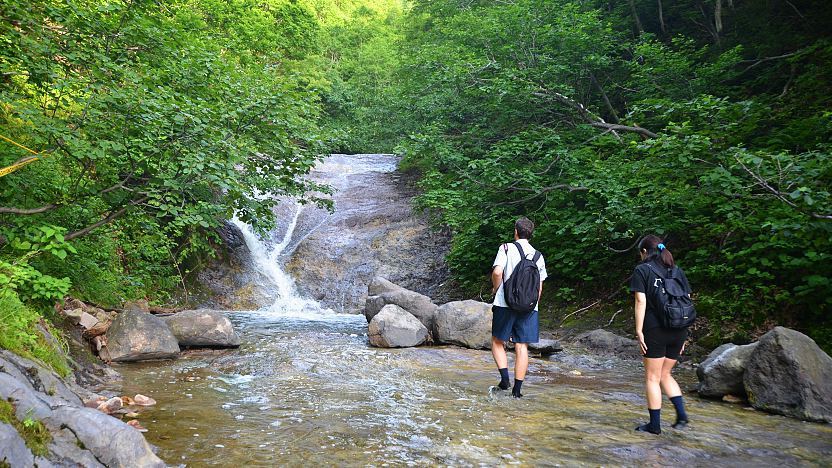 Kamuiwakkayu Falls (カムイワッカ湯の滝, Kamuiwakkayu-no-taki) used to be one of Japan's ultimate hot spring destinations. However, the upper, most spectacular section of the river has been closed to the public due to the danger of falling rocks. Consequently, it is now possible to walk only a 140 meter long lower section of the river.
In the past, visitors could hike up the mountain stream for about half an hour, wading through the water and climbing minor waterfalls along the way, as the water temperature would steadily increase. At the top a hot spring bath in the natural basin at the base of the waterfall would be the reward. Today, only the lukewarm lower 140 meters of the river are open to the public.
Besides a public toilet, there are no facilities available around the river.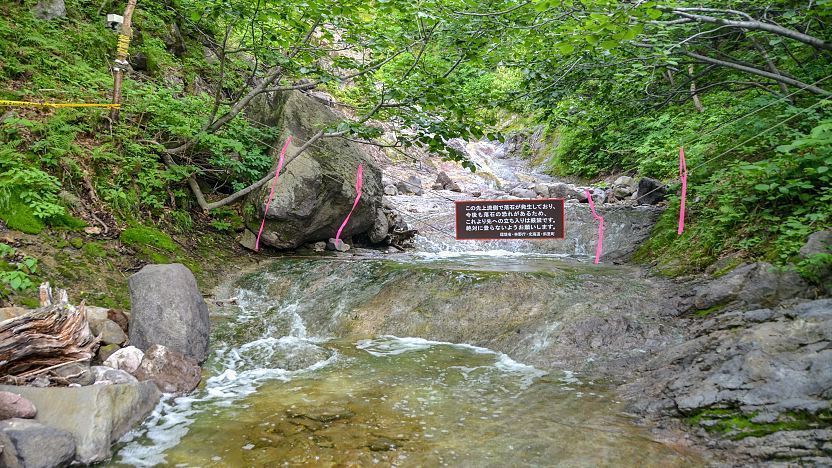 A ten kilometer dirt road connects the Shiretoko Five Lakes with the trailhead to the Kamuiwakkayu Falls. It is open only from early summer until late autumn.
By car or motorcycle
In 2022, access to the trailhead is possible from June 1 until October 2, except from August 6 to 15 and from September 30 to October 2 when the road is closed to cars and motorcycles between the Shiretoko Five Lakes and the trailhead, and shuttle buses are running instead.
By bus
Shuttle buses operate between Utoro, Shiretoko Nature Center, Shiretoko Five Lakes and the trailhead to Kamuiwakkayu Falls during selected periods (August 6 to 15 and September 30 to October 2, 2022). The journey takes about one hour and costs 1980 yen for a round trip from Utoro or about 45 minutes and 1300 yen from the Shiretoko Nature Center. The trailhead is a ten minute walk from the bus stop. There is no public transportation during the rest of the year.
By bicycle or on foot
In 2022, the ten kilometer road between the Shiretoko Five Lakes and the trailhead can be used by cyclists and pedestrians from June 1 until October 2. The average pedestrian will require 2-3 hours one way to reach the trailhead from the Shiretoko Five Lakes.
How to get to and around Shiretoko National Park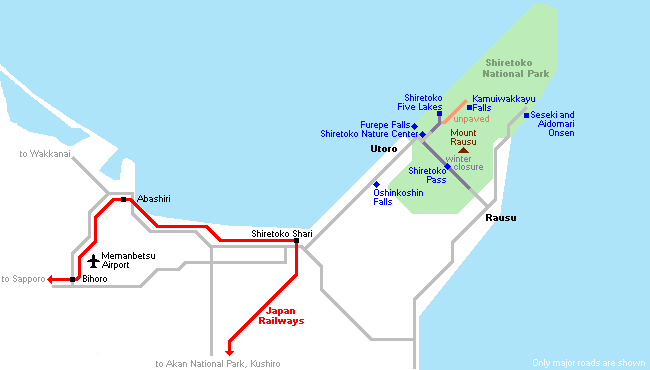 Questions? Ask in our forum.