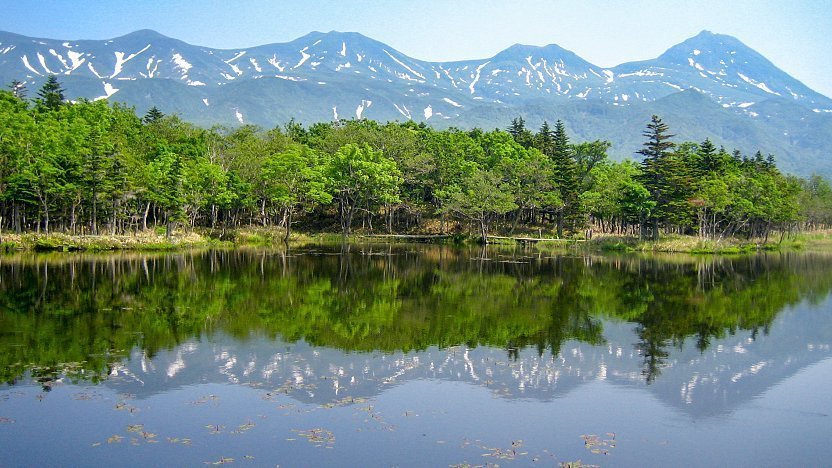 The Shiretoko Five Lakes (知床五湖, Shiretoko Goko) are a set of five small lakes formed long ago by the eruption of nearby Mount Io and fed by underground springs. Looking like the result of a god's five fingerprints, the five lakes offer beautiful views of the surrounding mountains and wilderness, and provide visitors an easy way to experience Shiretoko's unspoiled nature.
An 800 meter long, wooden elevated boardwalk leads from the parking lot to the first lake, which allows visitors to enjoy views of the lake, the Sea of Okhotsk and the surrounding mountains without damaging the fragile ecosystem. The boardwalk is free to use, wheelchair accessible and open for the entire season from late April to late November.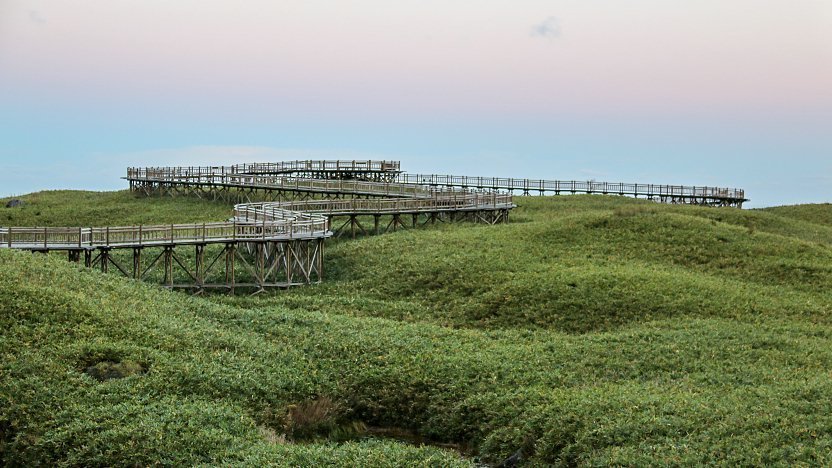 Apart from the elevated boardwalk, there are three kilometers of regular nature trails that lead around the picturesque five lakes and take about 90 minutes to walk. Due to the large numbers of visitors, access to the nature trails is being regulated as follows:
May 10 to July 31:
During the peak of bear activity from May to July, access to the nature trails is only possible by joining a tour group led by a licensed, Japanese speaking nature guide. Tours take about three hours and depart every ten minutes. They cost around 5000 yen per person, and a maximum of ten people per tour are allowed. Reservations can be made on the day if space allows, however it is recommended to reserve in advance via the park's English website.
From park opening to May 9 and from August 1 to park closure:
The nature trails can be walked on an individual basis without guides; however, there is a short lecture, an admission fee of 250 yen per person and a limit on how many hikers can enter. There are two, one-way hiking courses: a three kilometer (90 minute) course to all five lakes and a 1.6 kilometer (40 minute) course to just the first and second lakes. Note that some or all of the trails may get closed in case of bear sightings.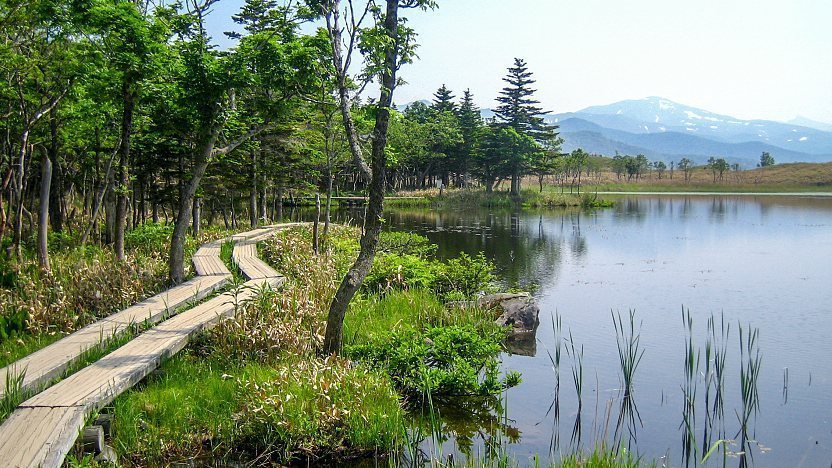 The road to the Shiretoko Five Lakes is closed in winter from late November to late April.
By car
From Utoro, take the main road into the national park for about five kilometers until you reach the Shiretoko Nature Center. Turn left and drive for about ten kilometers until you reach the parking lot (500 yen parking fee) of the Shiretoko Five Lakes visitor center at the end of the paved road.
By bus
Shari Bus operates infrequent buses between JR Shiretoko Shari Station and the five lakes (85 minutes, 2000 yen one way) from late April to October. Additional buses operate between Utoro and the five lakes (25 minutes, 700 yen).
How to get to and around Shiretoko National Park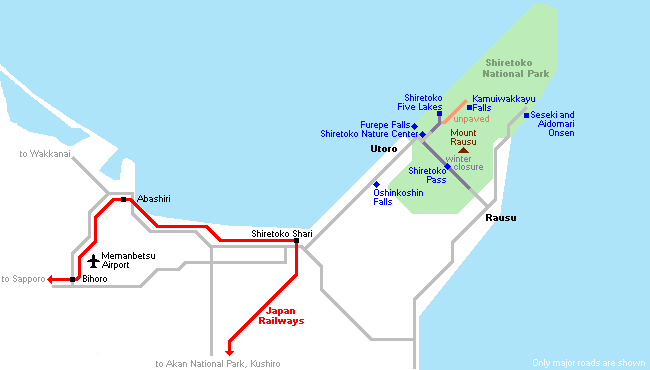 Questions? Ask in our forum.