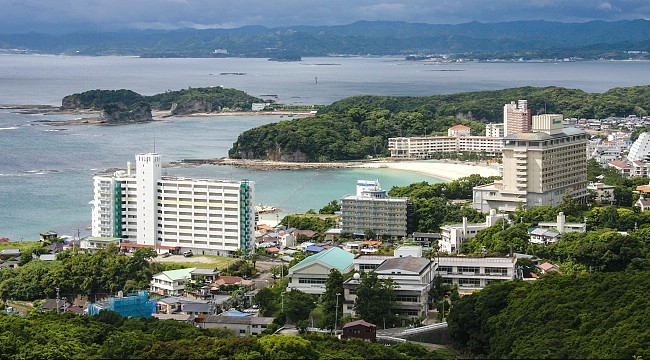 Shirahama (白浜) is a well developed onsen (hot spring) resort 100 kilometers south of Osaka. Its popularity as an entertainment destination and its proximity to Osaka caused Shirahama to become one of Japan's three biggest onsen resorts, along with Beppu on Kyushu and Atami on the Izu Peninsula.
The name Shirahama is Japanese for "white beach", and refers to the resort's other major attraction, a 500 meter long sand beach. Many large hotels are situated around the beach so that visitors will be just a few steps from the water. Nightly fireworks are held during summer.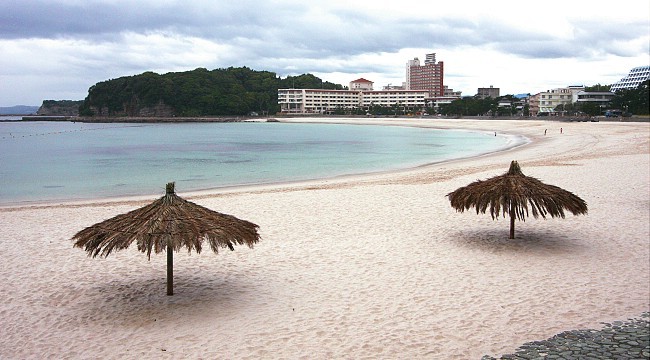 The appearance of beach culture and amusement parks may be a relatively recent phenomenon, but Shirahama's status as a travel destination is not. First mention of the town's hot springs was recorded over a thousand years ago. Shirahama is even ranked with Kobe's Arima Onsen and Matsuyama's Dogo Onsen as one of Japan's three oldest onsen.
Six bath houses with hot spring baths are open to the public, most of which have only indoor facilities. However, two outdoor baths, the coastal Sakinoyu and the Shirasuna on the sand beach, are of particular interest to visitors.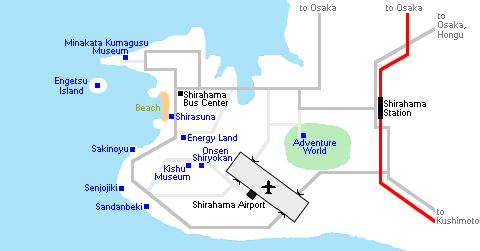 Hot Springs
Shirasuna
Hours: 10:00 to 15:00 (until 19:00 from July 1 to September 15)
Closed: Mondays
Admission: 100 yen (free from October to April)
This beach-side onsen has a large bath that can accommodate about 100 people. Because the bath is in plain view to pedestrians, bathing suits must be worn, contrary to regular onsen etiquette.
Sakinoyu
Hours: 8:00 to 17:00 (Jul-Aug 7:00 to 19:00; Apr-Jun, Sep until 18:00)
Closed: Wednesdays
Admission: 420 yen
Sakinoyu is an outdoor bath that is located right along the seashore, and it affords a view out across the water. It dates back over a thousand years and is mentioned in some of Japan's most ancient texts.
Rock Formations
Sandanbeki
Hours: 8:00 to 17:00
Admission to caves: 1300 yen
Sandanbeki consists of three steep cliffs with a large network of caves at water level. An elevator is taken down to the caves, which has a shrine inside and a network of tunnels.
Senjojiki
Senjojiki is Japanese for "One Thousand Tatami Mats", which describes the appearance of these flat, sheet-like rocks. The Senjojiki are located along the coast, and visitors can walk out onto them.
Engetsu Island
This uniquely shaped rock formation is situated off the western coast of the city. In the evenings of some days of the year, the setting sun can be seen through the hole in the middle of the rock.
Museums
Minakata Kumagusu Museum
Hours: 9:00 to 17:00 (admission until 16:30)
Closed: Thursdays (except Jul 20 to Aug 31), Jun 28-30, Dec 29-Jan 1
Admission: 400 yen
This museum hosts information and displays on Minakata Kumagusu, a renowned writer and scientist from Wakayama Prefecture. He was a naturalist and folklorist who devoted his life to the pursuit of knowledge.
Kishu Museum
Hours: 10:00 to 16:00
Closed: Wednesdays and Thursdays (following day if it is a public holiday)
Admission: 500 yen
On display at this small museum are a series of prints as well as examples of personal artifacts of pre-modern Japan. The Kishu Museum takes its name from the old name for Wakayama Prefecture.
Onsen Shiryokan
Hours: 10:00 to 17:00
Closed: No closing days
Admission: Free
This museum focuses on Japanese hot springs, with many videos and sculptures put on display to explain the science and history of onsen. Unfortunately, most of it is difficult to understand without knowledge of Japanese.
Amusement Parks
Energy Land
Hours: 9:00 to 17:30 (admission until 16:00)
Closed: Tuesdays (except public holidays)
Admission: 1800 yen
An amusement park that offers interactive op art and a few computer generated movie rides. Somewhat out of date but enjoyable nonetheless, particularly for kids.
Adventure World
Hours: 9:30 to 17:00 (until 21:00 in August)
Closed: The 2nd and 4th Wednesday of every month; every Wednesday from December to February
Admission: 4100 yen
A large amusement park with a Ferris wheel and roller coasters as well as animal parks. A particular rarity, the amusement park has panda bears in one their zoo sections.