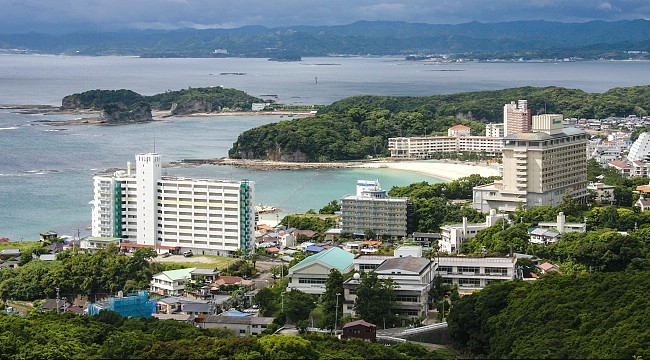 Shirahama (白浜) is a well developed onsen (hot spring) resort 100 kilometers south of Osaka. Its popularity as an entertainment destination and its proximity to Osaka caused Shirahama to become one of Japan's three biggest onsen resorts, along with Beppu on Kyushu and Atami on the Izu Peninsula.
The name Shirahama is Japanese for "white beach", and refers to the resort's other major attraction, a 500 meter long sand beach. Many large hotels are situated around the beach so that visitors will be just a few steps from the water. Nightly fireworks are held during summer.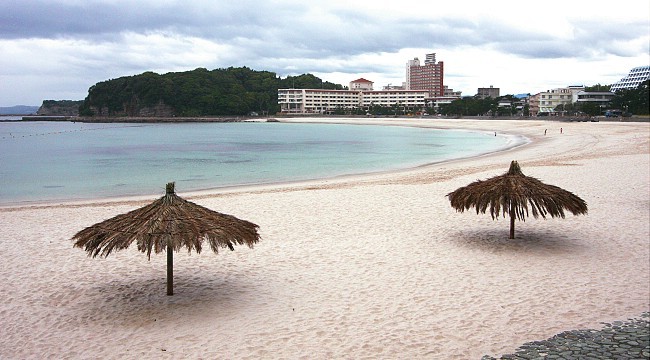 The appearance of beach culture and amusement parks may be a relatively recent phenomenon, but Shirahama's status as a travel destination is not. First mention of the town's hot springs was recorded over a thousand years ago. Shirahama is even ranked with Kobe's Arima Onsen and Matsuyama's Dogo Onsen as one of Japan's three oldest onsen.
Six bath houses with hot spring baths are open to the public, most of which have only indoor facilities. However, two outdoor baths, the coastal Sakinoyu and the Shirasuna on the sand beach, are of particular interest to visitors.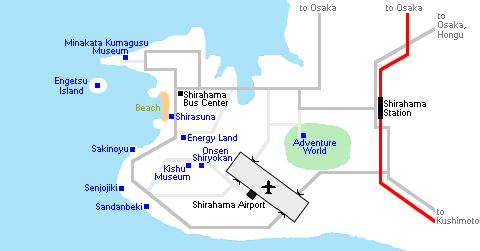 Hot Springs
Rock Formations
Museums
Amusement Parks
Shirahama is a major station on the JR Kisei Line, connected to Osaka by hourly limited express trains. The town is also the site of Nanki-Shirahama Airport with direct flights to Tokyo's Haneda Airport.
Shirahama Station is located a ten minute, 340 yen bus ride outside the town center. Several buses per hour connect the station with Shirahama Bus Center next to the beach in central Shirahama. There are also buses from Shirahama Station to Adventure World (15 minutes, 300 yen) and to Sandanbeki (20 minutes, 470 yen).
From Nanki-Shirahama Airport, you can reach central Shirahama and JR Shirahama Station in about 15 minutes by bus.
How to get to and around Kumano