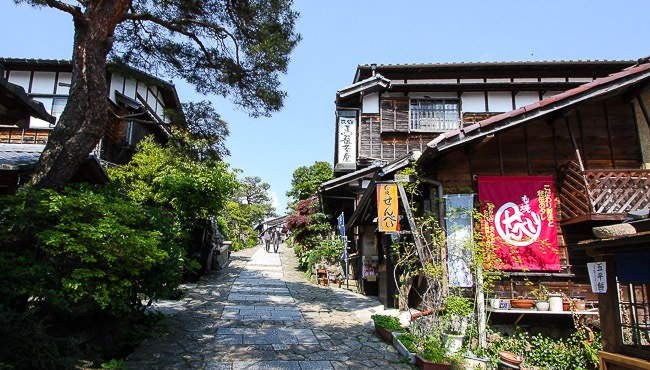 Magome ("nāÄ) is a post town in the Kiso Valley, which served travelers of the Nakasendo, a major route connecting Tokyo with Kyoto during the Edo Period.
The town has been beautifully restored with a broad stone walkway lined with carefully tended foliage. Magome's embellished preservation contrasts with the rugged authenticity of neighboring Tsumago. The two towns are connected by the Magome-Tsumago Trail, a route which was part of the Nakasendo.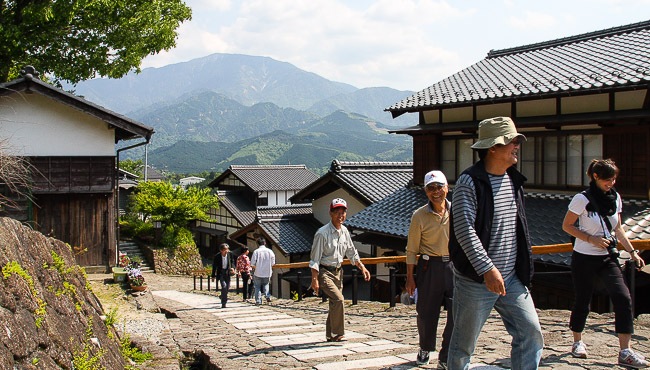 While exploring Magome, visitors will surely come across the name Shimazaki Toson. Born in Magome in 1872, Toson is a highly regarded figure in Japanese literature. In his novel Yoakemae (Before the Dawn), he famously describes life in the area during the early years of the Meiji Restoration. Its often quoted first line reads "The whole of the Kisoji lies in the mountains."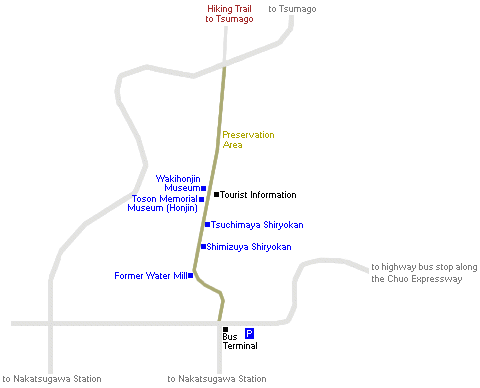 Honjin/Toson Memorial Museum
Hours: 9:00 to 17:00 (until 16:00 from December to March)
Closed: Wednesdays from December to February
Admission: 550 yen
The Honjin was the principal inn of a post town. Toson's father was the last person to oversee Magome's Honjin, and Toson himself was born there. Today, it serves as a memorial to the artist.
Wakihonjin Museum
Hours: 9:00 to 17:00
Closed: December 25 to March 1
Admission: 300 yen
The Wakihonjin was the secondary inn of a post town. This small museum is located where Magome's former Wakihonjin once stood. Inside there are displays pertaining to Magome's history as a Nakasendo post town.
Tsuchimaya Shiryokan
Hours: 9:00 to 17:00
Closed: irregular closure in winter
Admission: 200 yen
On the second floor, above a souvenir shop and restaurant, this small museum also focuses on Toson and has on display items of his family and the early Meiji Period.
Shimizuya Shiryokan
Hours: 9:00 to 17:00 (8:30 to 16:30 from December to March)
Closed: irregular closure
Admission: 200 yen
A small museum that features hanging scrolls, pottery, clothing, and other goods that articles that belonged to residents of Magome.