How to travel between Hirosaki and Tokyo
By train
Take a Hayabusa train along the Tohoku Shinkansen from Tokyo to Shin-Aomori (3.5 hours) and transfer to a local train to Hirosaki (30-40 minutes). The entire one way trip takes around 4.5 hours, costs about 17,500 yen and is fully covered by the Japan Rail Pass, JR East Tohoku Area Pass and JR East South Hokkaido Pass. Seat reservations are mandatory on Hayabusa trains between Tokyo and Shin-Aomori. There is about one connection per hour.
By air
JAL operates multiple flights per day between Tokyo's Haneda Airport and Aomori Airport. Flight duration is 85 minutes. The regular one way fare is around 36,500 yen, however, discount tickets are typically available for around 15,000 yen. A bus runs between Aomori Airport and Hirosaki (Hirosaki Station and Bus Terminal), which takes one hour and costs 1000 yen.
By bus
Konan Bus operates daytime highway buses between Tokyo (Ueno Station) and Aomori, which stop along the way at Hirosaki (Hirosaki Bus Terminal). The one way journey takes 9.5 hours and costs 5500-6500 yen. It also operates overnight buses from Tokyo (Tokyo, Shinjuku and Ueno Stations) to Aomori and Goshogawara, which stop at Hirosaki Station along the way (5000-6500 yen, 9.5 hours).
Additional, more expensive overnight buses leave for Hirosaki and Goshogawara from Shinagawa Bus Terminal and Hamamatsucho Bus Terminal in Tokyo. They are operated by Konan Bus and Keikyu Bus and cost about 10,000 yen one way and offer more comfortable seats.
The discount bus operator Willer Express runs buses between Tokyo and Aomori, which stop at Hirosaki along the way (from around 4500 yen, 10.5 hours). If used effectively, the Japan Bus Pass can reduce the cost for the bus trip to around 3000 yen.
Above fees and schedules are subject to change. For the current yen exchange rate, click here.
Orientation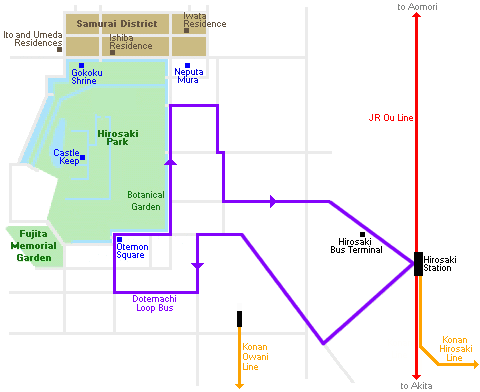 Hirosaki's main attractions are all located close to or within Hirosaki Park, which lies a 10-15 minute bus ride or a 30 minute walk west of Hirosaki Station.
The Dotemachi Loop Bus is a convenient, tourist-oriented bus line that stops at Hirosaki Station and many of Hirosaki's attractions, including Hirosaki Park. It operates every ten minutes in clockwise direction. One ride costs 100 yen, while a day pass for unlimited rides on one calendar day is available for 500 yen.
In addition to the Dotemachi Loop Bus, there are a few other 100 yen loop bus lines, but they operate considerably less frequently. Furthermore, there is a network of regular city buses, that are less easy to use and more expensive, but can be faster than the loop buses.
Rental bicycles are another convenient means of getting around. From mid May to late November, bicycles can be rented for 500 yen per day between 9:00 and 16:00 from Hirosaki Station, Neputa Mura and Otemon Square.