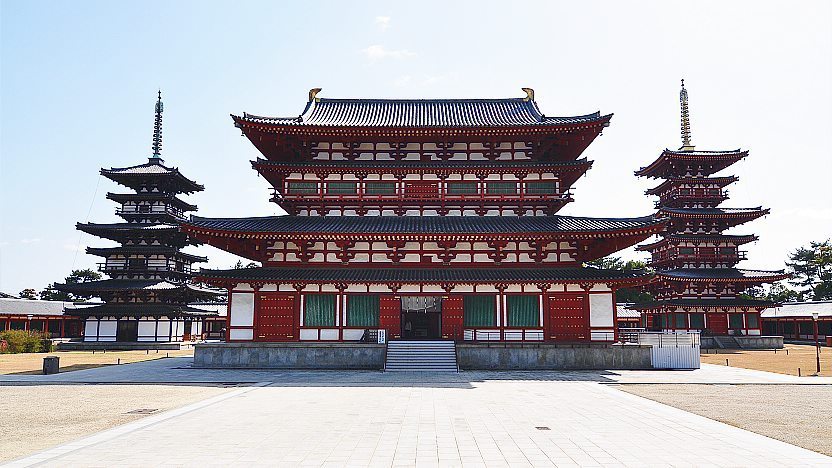 Yakushiji (–๒ŽtŽ›) was constructed by Emperor Tenmu in the late 7th century for the recovery of the emperor's sick wife. One of Japan's oldest temples, Yakushiji has a strictly symmetric layout, with the main hall and lecture hall standing on a central axis, flanked by two pagodas.
The main hall was rebuilt in the 1970s after being destroyed by fire and houses a Yakushi trinity, a masterpiece of Japanese Buddhist art. The East Pagoda is the temple's only structure to have survived the many fires that have beset the temple over the years, and dates from 730. It appears to have six stories, but is in fact only truly three-storied, like the West Pagoda.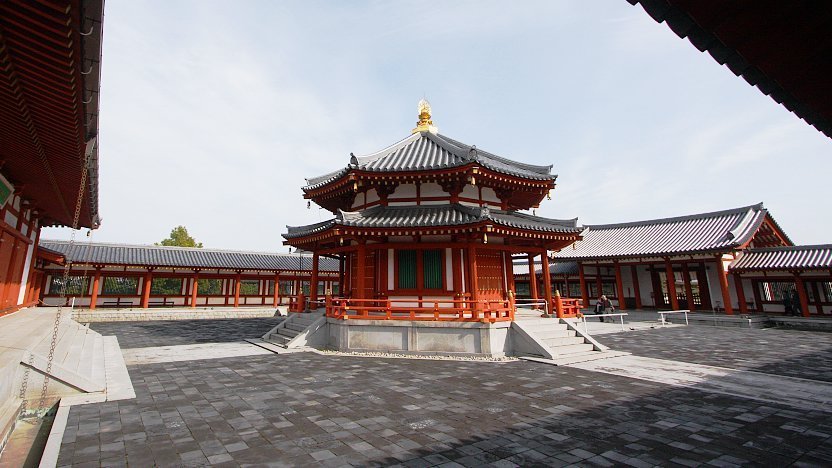 The Genjo-sanzoin Garan is a recently built complex located slightly north of the main complex area. Constructed in 1991, the complex is dedicated to the Chinese monk Genjo-sanzo, who lived in the 7th century and is famous for his extensive travels to India and Central Asia. Yakushiji is the head temple of the Hosso Sect of Japanese Buddhism, upon which Genjo-sanzo's teachings had a profound influence.
The main building at Genjo-sanzoin Garan is a central octagonal hall, in which some of Genjo-sanzo's remains are enshrined. Behind the octagonal hall is a building displaying works of Hirayama Ikuo, one of Japan's most celebrated painters who passed away in 2009. The paintings depict scenes of Genjo-sanzo's journeys, which have inspired Hirayama's work. Unfortunately, however, the complex is closed about half the year (see admission details below).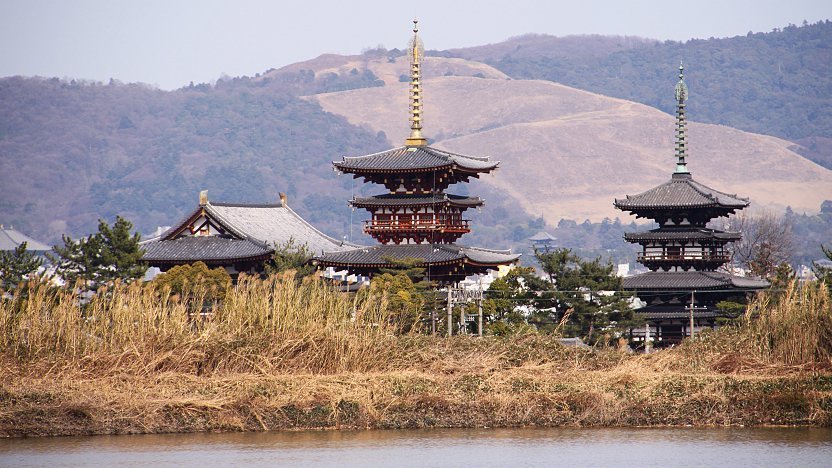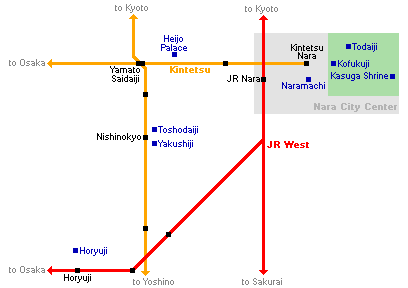 By train
The temple is located right beside Nishinokyo Station, which can be reached from Kintetsu Nara Station by taking the Kintetsu Nara Line to Yamato-Saidaiji Station and transferring to the Kintetsu Kashihara Line. The entire trip takes about 25 minutes and costs 260 yen.
By bus
Bus number 72, 78 and 98 provide three connections per hour from Kintetsu Nara Station (20 minutes, 270 yen) and JR Nara Station (15 minutes, 270 yen) to Yakushiji Temple. The closest bus stop to get off are Yakushiji (–๒ŽtŽ›), served by buses 72 and 78, and Yakushiji Chushajo (–๒ŽtŽ›'"Žิ๊), served by bus 98.
When returning to central Nara, you can catch bus number 72 or 77 from Nishinokyoeki bus stop (ผƒm‹ž‰w) twice per hour or bus number 97 from Yakushiji Chushajo bus stop once per hour.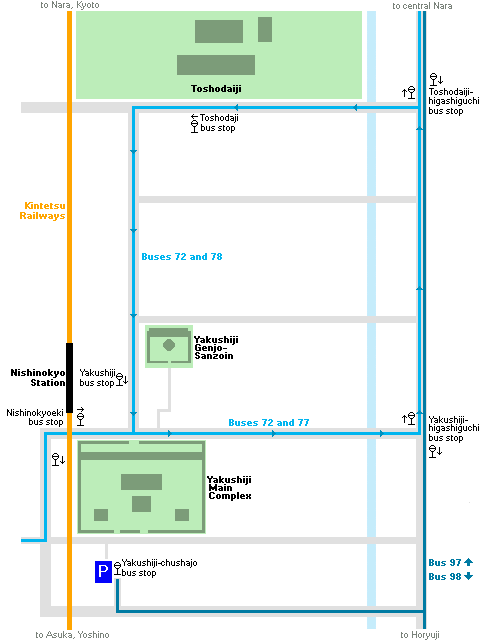 Hours
8:30 to 17:00 (entry until 16:30)
Closed
Main temple: No closing days
Genjo-sanzoin Garan is closed from mid January through February, from July to mid September (except Obon in mid August) and in December
Admission
1100 yen (800 yen when Genjo-sanzoin Garan is closed)
Questions? Ask in our forum.