Orientation and Transportation
How to travel between Nara and Kyoto
Two railway companies, JR and Kintetsu, provide train connections between Kyoto and Nara:
By Japan Railways (JR)
Direct, 45 minutes, 720 yen one way, two connections per hour
Miyakoji rapid trains operate every 30 minutes between Kyoto Station and JR Nara Station. The one way trip takes 45 minutes, costs 720 yen and is covered by the Japan Rail Pass. For the same fare, the trip could also be made by twice-hourly local trains in 75 minutes.
By Kintetsu Railways
0-1 transfers, 35-45 minutes, 640-1160 yen one way, multiple connections per hour
Twice-hourly limited express trains take about 35 minutes and cost 1160 yen for the one way trip from Kyoto Station to Kintetsu Nara Station. Alternatively, there are hourly direct express trains that take 45 minutes and cost 640 yen one way. There are additional connections by express trains if you do not mind transferring once at Yamato-Saidaiji Station. The Japan Rail Pass is not valid on Kintetsu trains.
Above fees and schedules are subject to change. For the current yen exchange rate, click here.
Getting around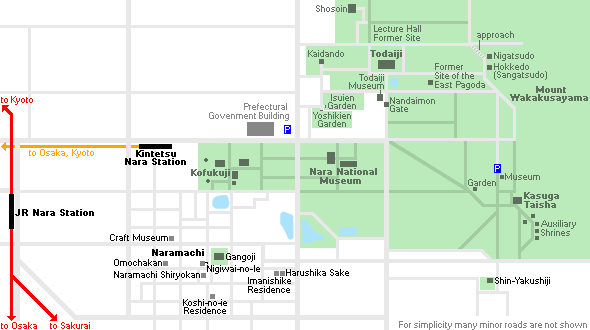 Nara is served by two railway companies, Kintetsu Railways and JR West. The Kintetsu station is an underground station just a few steps from Kofukuji and Nara Park, while the JR station is a 15-20 minute walk west of Kofukuji and the park. A network of buses, operated by Nara Kotsu, connects the two stations with all sites of interest. All major IC cards are accepted on the trains and buses around Nara, including Suica and Icoca.
Many of Nara's main attractions are found in the centrally located Nara Park and can be visited on foot. The great temples Toshodaiji, Yakushiji and Horyuji, however, stand several kilometers outside of central Nara and are best accessed by bus or train.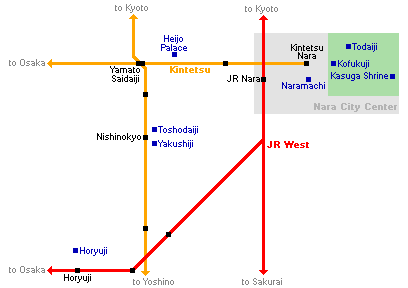 Passes and Tickets
The Nara Bus Pass provides unlimited use of Nara Kotsu buses around Nara. It comes as a 1-Day Pass for 500 yen that covers central Nara and the Toshodaiji/Yakushiji area, a 1-Day Pass Wide for 1000 yen that additionally covers the Horyuji area, and a 2-Day Pass for 1500 yen that additionally covers the Asuka area. The pass is on sale at the bus ticket offices across the street from Kintetsu Nara Station and inside JR Nara Station.
A sort of an extension of the Nara Bus Pass' 1-day wide version is the 1-Day and 2-Day Kintetsu Rail Pass, which is available to foreign tourists only. In addition to the buses around Nara (as far as Horyuji), it also covers unlimited rides on Kintetsu local, rapid and express trains between Osaka, Nara and Kyoto. The 1-day pass costs 1500 yen while the 2-day pass costs 2500 yen.
Questions? Ask in our forum.