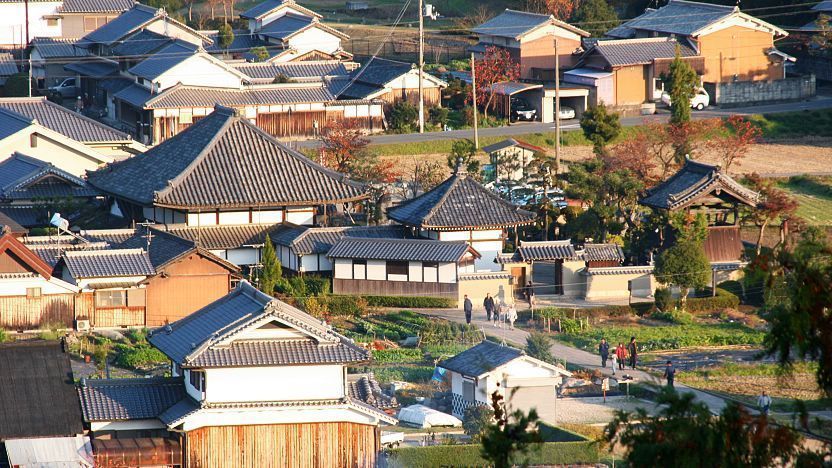 Founded in 596, about 60 years after the introduction of Buddhism to Japan, Asukadera (ö˛ĺ╣ÄŤ) was constructed as Japan's first full-scale temple. It was originally a large complex, but now it consists of a handful of buildings that date back only a few hundred years. Its main object of worship, however, is the oldest known Japanese statue of Buddha and dates back to 20 years after the temple's founding.
The temple was built at the behest of Soga Umako, a member of the powerful Soga clan. The clan had supported Buddhism since its introduction, and defeated the rival Mononobe clan who opposed the foreign religion. When the emperor and the capital city were moved out from the Asuka region, so did the religious establishment attached to the temple, establishing itself in the new capital of Nara as Gangoji Temple. For this reason, Asukadera is also referred to as the "original Gangoji".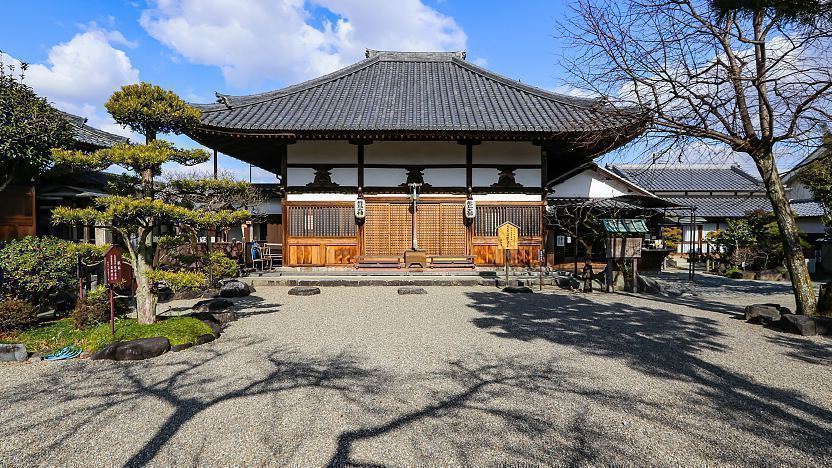 The original buildings of Asukadera were lost in fires, and the present buildings date back to 1632 and 1826. There was previously a pagoda, a large auditorium and other buildings. The current temple complex is made up of a couple of modest buildings, and is nestled in a quiet residential area. The highlight of the temple is the Asuka Great Buddha statue on display in the temple's main hall. It is the oldest known Japanese statue of Buddha in existence.
The Asuka Great Buddha was made in 609 by a master sculptor whose family had emigrated from the Korean peninsula. The seated figure is about three meters high, and required about 15 tons of copper and 30 kilograms of gold to create. The sculpture naturally reflects a strong influence from the Asian mainland. For those who have an interest in Japanese sculpture, the Asuka Great Buddha provides a fascinating glimpse into the genesis of the art form.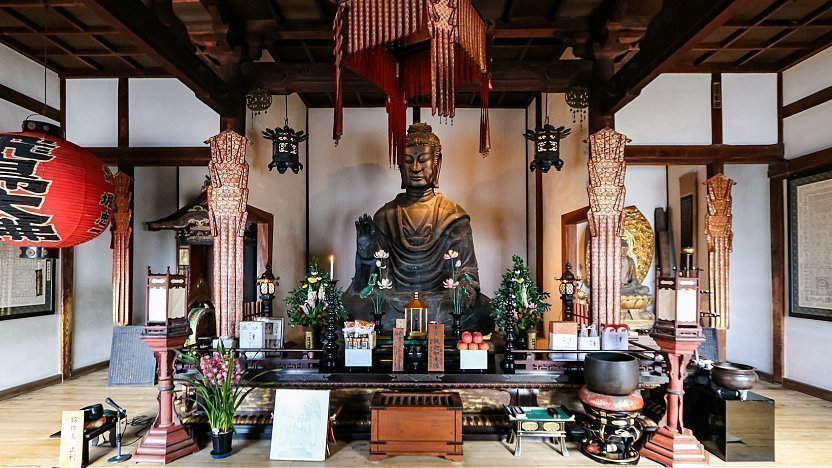 Asukadera Temple is located beside the Asuka Daibutsu-mae bus stop, which can be reached on the Kame Loop Bus from Kashiharajingu-mae Station (22 minutes, 260 yen, one bus per hour). The temple can also be reached by rental bicycle in about 15 minutes from Kashiharajingu-mae Station.
How to get to and around Asuka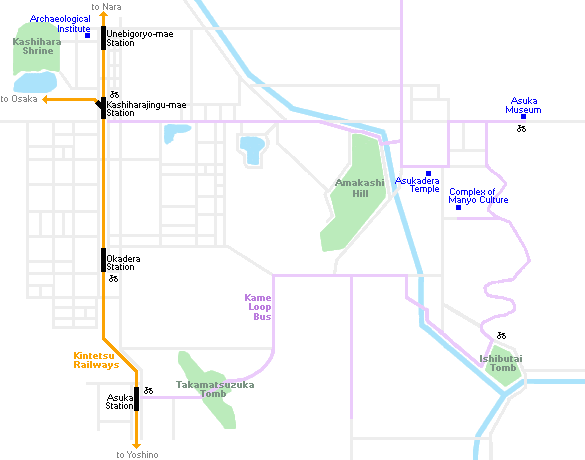 Hours
9:00 to 17:30 (until 17:00 from October to March)
Admission ends 15 minutes before closing
Admission
350 yen (temple interior)
Questions? Ask in our forum.