Ago Bay
Island dotted bay, famous for pearl cultivation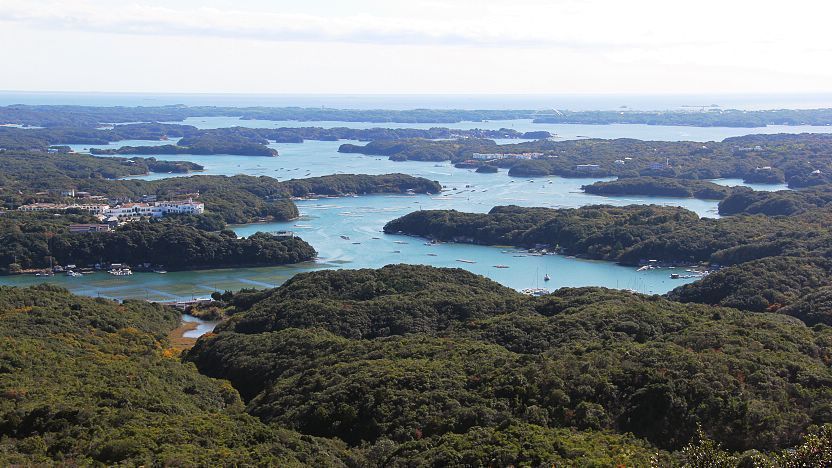 Ago Bay (‰p‹ñ˜p, Agowan) is a scenic, island dotted bay with a rugged coastline, located at the southern tip of the Shima Peninsula. The bay is famous for pearl cultivation with many oyster rafts floating in the water. The art of pearl cultivation was first mastered by Mikimoto Kokichi in 1893. Mikimoto was born and grew up on the Shima Peninsula, not far from Ago Bay.
One hour sightseeing boat cruises of Ago Bay are offered on a large pirate ship, which make a round course in the deeper waters of the bay. Passengers have the option between regular seats and seats in a special room with classic interior at a small surcharge.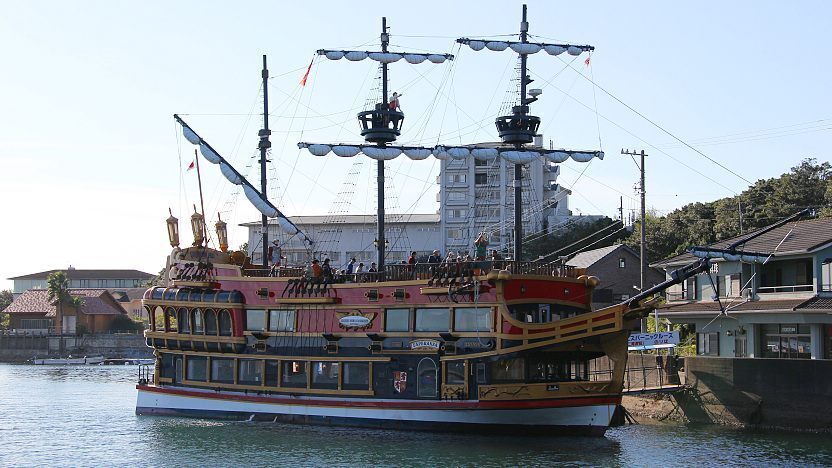 Transport hub and departure point of sightseeing boat cruises is Kashikojima, the largest island in Ago Bay. The boat piers and Kashikojima Station, the terminal station of the Kintetsu Railway Line, are all located within walking distance of each other on Kashikojima.
One of the best places to get a view of Ago Bay is the Yokoyama Observation Deck on the slopes of Mount Yokoyama. Visitors can enjoy panoramic views of the southern islands dotting the bay from 200 meters above sea level. Travelers without their own car can reach the observation deck in a 30-45 minute walk (one way) from Shima-Yokoyama Station.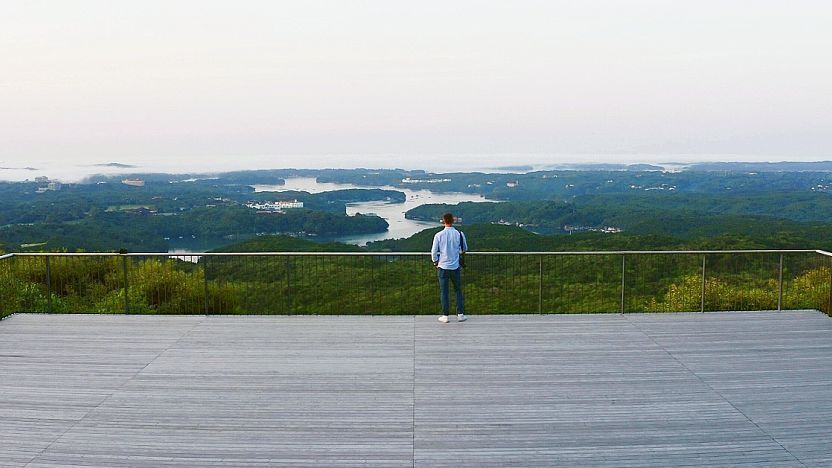 Kashikojima Station is the final station of the Kintetsu Shima Line, providing convenient access to Ago Bay. From Iseshi Station, the trip to Kashikojima takes 45 minutes and costs 1340 yen by limited express train or 70 minutes and 820 yen by local train. From Toba, it takes 30 minutes and costs 1080 yen by limited express train or 40 minutes and 560 yen by local train. Limited express trains connect all the way to Nagoya, Osaka and Kyoto.
How to get to and around the Shima Peninsula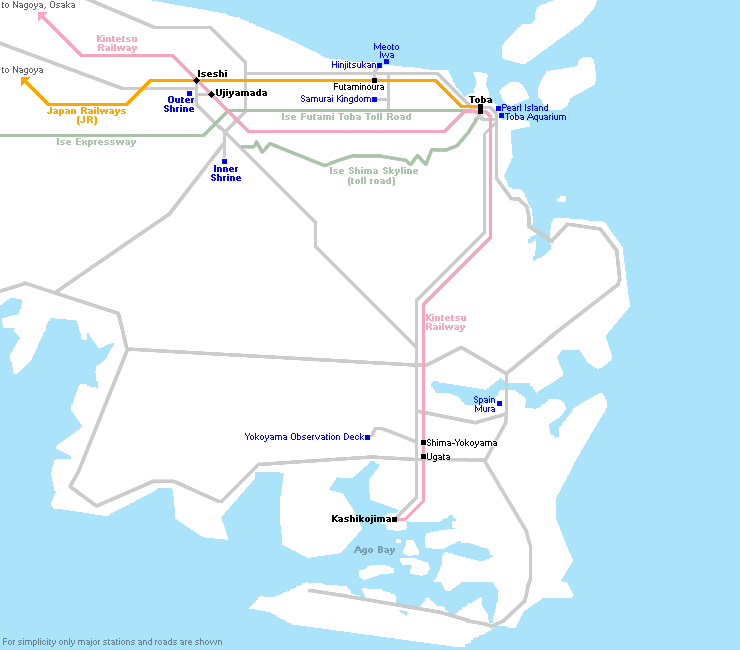 Sightseeing Cruises
Hours
Departures every hour from 9:30 to 15:30
Admission
1700 yen (additional 400 yen for the special room)
Questions? Ask in our forum.
Glamp Ocean Iseshima

A village of luxurious glamping domes commanding far reaching horizon. Opened in 2020. Savor barbeque dinner and breakfast with fresh seafoods by the beautiful private seashore. Bar, pool, shower available.

View site

Sponsored
Top rated in Ise Shima
powered

by