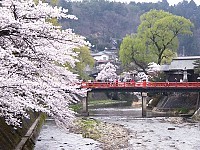 Nakabashi
Bridge
Approximately 10 minutes on foot from Takayama Station.
The iconic Nakabashi Bridge is perhaps the most recognizable landmark of
Takayama
. It is widely featured on pictures on the
Takayama Festival
, as festival floats are carried over it. During spring, the area around the bridge looks particularly photogenic with
cherry blossoms
in bloom.