Matsumoto: Getting there and around
How to travel between Matsumoto and Takayama
By highway bus
There are multiple highway bus round trips per day between Matsumoto and Takayama, taking 2.5 hours and costing 3500 yen one way. A round trip ticket costs 5800 yen, and the return trip has to be made within seven days of the outward journey. Note that JR East Nagano Niigata Area Pass holders can purchase a round trip ticket for only 4500 yen at Narita Airport, Haneda Airport, Tokyo Station or Matsumoto Bus Terminal.
By JR trains
Take the JR Shinano limited express from Matsumoto to Nagoya (2 hours, one train per hour) and transfer to the JR Hida limited express to Takayama (140 minutes, one train per hour). The one way fare is around 11,000 yen.
Above fees and schedules are subject to change. For the current yen exchange rate, click here.
Getting around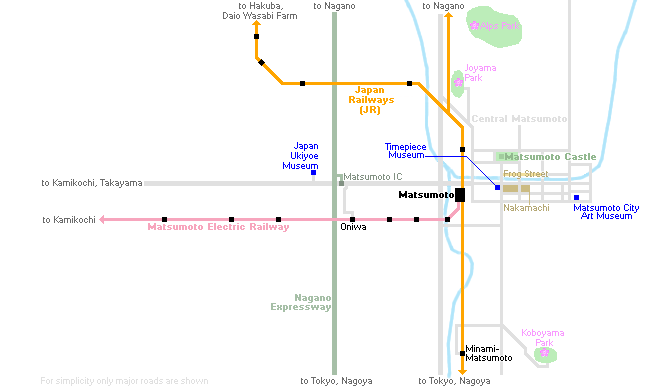 Central Matsumoto can be explored on foot. The castle is about a 15 minute walk from Matsumoto Station. Alternatively, bicycles can be rented for free from multiple locations across the city, including the M Wing Building near the station, the Matsumoto City Museum next to the castle and selected shops and hotels.
The Town Sneakers are four tourist oriented loop bus lines, which cost 200 yen per ride or 500 yen per day (the one day pass also includes a 10% discount on admission to Matsumoto Castle). Buses on each of the loop lines operate approximately every 30 minutes. Besides the "Town Sneaker" buses, there also exists a regular network of city buses.
Questions? Ask in our forum.