How to travel between Sado Island and Tokyo
Sado Island lies about 50 kilometers off the coast of Niigata Prefecture. The island can be accessed by ferry via two port towns: Ryotsu is the main port with connections to Niigata City around the year, while the smaller port town of Ogi has connections to Naoetsu outside of winter.
Flights between Niigata and Sado Island were discontinued in spring 2014.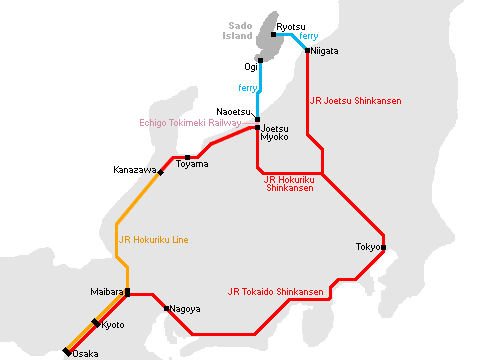 By ferry from Niigata to Ryotsu
From Tokyo, take the JR Joetsu Shinkansen to Niigata Station (2 hours, 10,500 yen, covered by Japan Rail Pass). Alternatively, daytime and overnight highway buses make the one way trip in about 5.5 hours and for 5,700 yen. Discount bus companies, such as Willer Express, have fares from around 3,000 yen.
From Niigata, Sado Kisen operates car ferries (departures every 3 hours) and high speed jetfoils (departures every 1-2 hours depending on the season) to Ryotsu on Sado Island. The one way journey by car ferry takes 2.5 hours and costs 2,380 yen per person and around 17,000 yen for an average sized car. By jetfoil it takes one hour and costs 6,390 yen. The ferry terminal in Niigata is located next to the Toki Messe complex, a 15 minute bus ride from Niigata Station (210 yen one way).
By ferry from Naoetsu to Ogi (no service in winter)
From Tokyo, take the JR Hokuriku Shinkansen to Joetsu Myoko Station (around two hours, about 9000 yen one way) and transfer to a local train to Naoetsu Station (15 minutes, 240 yen one way). The journey is fully covered by the JR East Nagano Niigata Area Pass, but the Japan Rail Pass does not cover the non-JR section between Joetsu Myoko and Naoetsu. From Naoetsu, Sado Kisen operates 1-3 car ferries per day to Ogi on Sado Island. The one way journey takes 2.5 hours and costs 3,780 yen per person and about 20,000 yen for an average size car. Note that the ferry does not operate from late November through February (expect for a few days over New Year).
Above fees and schedules are subject to change. For the current yen exchange rate, click here.
Orientation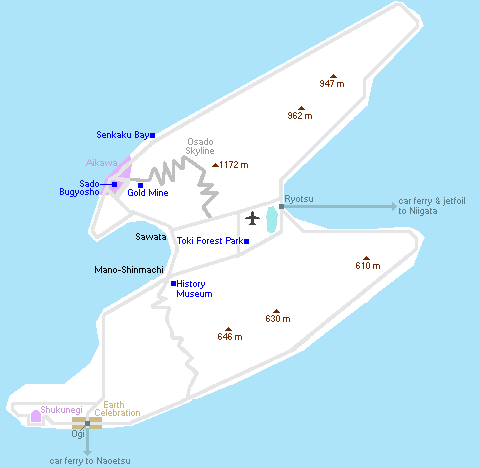 Sado Island is made up of two mountain ranges: the Osado Mountains (Large Sado Mountains) on the northern half of the island and the Kosado Mountains (Small Sado Mountains) on the southern half. Between the two ranges lies the Kuninaka Plain and Ryotsu Town, the largest town on the island.
If you want to visit various places across Sado Island, a rental car is the most convenient way for getting around. Most rental car outlets are found around Ryotsu Port. Road conditions are generally good along the major roads.
There are no trains on Sado. Instead, the island is covered by a dense network of bus lines. Unfortunately, service along most of the bus lines is infrequent and slow. The map below shows some of the major bus lines on Sado: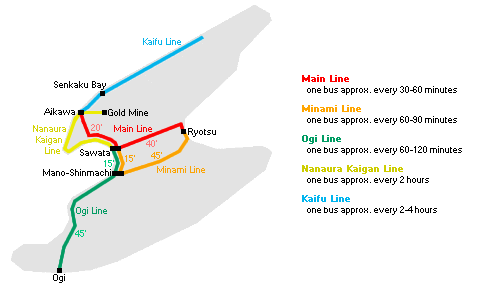 External Links and Resources