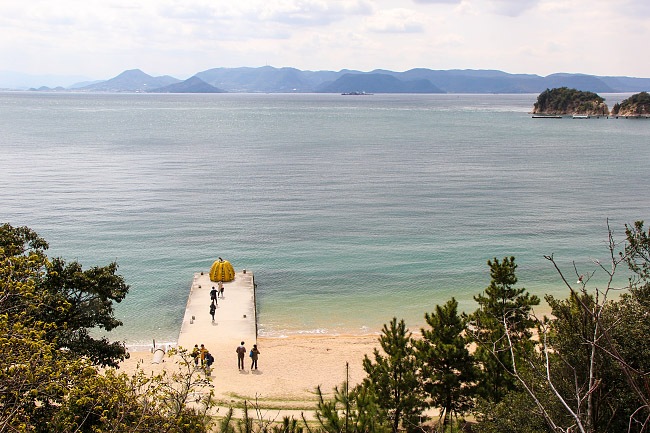 While 2016 may not go down in the books as one the best years ever, for travel in Japan, at least, it wasn't too bad at all. Despite a lousy opening winter snow season, this year saw improvements in tourism infrastructure, a new Shinkansen line opening, the third successful Setouchi Triennale art festival, amongst many others.
So, once again, 'tis the season for a bit of reflection, and here at Japan Guide we like to look back on the year and share our favorite travel highlights from our own journeys across Japan. In 2016, I was happy to finally make it to Shikoku, climb one of the country's most legendarily fun mountain peaks, and after hitting 34 of Japan's 47 prefectures this year, whittle down my to-visit list to just 3 (2017, here I come—still have to catch up to Raina!).
Here are my top 10 Japan travel highlights from 2016:
#10: Exploring the Kiso Valley
Tucked away amongst the grand slopes of the Central Japanese Alps, the Kiso Valley is one of those few places that can truly convey the atmosphere that time has stopped. Despite gaining some popularity in the last several years, the dark wooden buildings and lack of modern distractions of the faithfully-preserved Edo Era post towns that dot the valley still manage to create that magic that transports visitors into the past. The hiking trail between the towns, which is in fact a section of the former Nakasendo trade route that connected Tokyo and Kyoto is also a great way to experience the rural mountainous heart of the Chubu Region.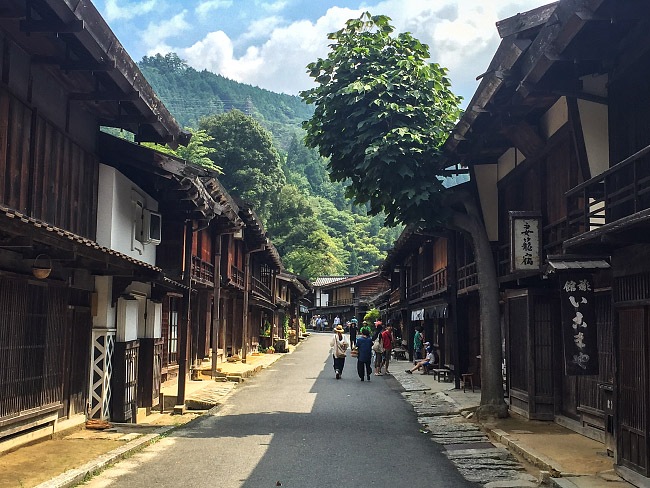 #9: Snow Monsters of Mount Zao
Honshu's 2016 winter sports season was unquestionably one of the least snowy in at least a decade. With extraordinarily high temperatures and frequent rain ruining snow conditions south of Hokkaido throughout much of season, snow bunnies and powder hounds (including this one) already started setting their sights on 2017 as early as February.
Despite the overall disappointment, however, there were of course at least a few moments of snowy bliss to enjoy, including some impressive juhyo snow monsters this year at the top of the winter paradise of Mount Zao. The hoarfrost-covered pine trees that accumulate a thick layer of snow, contorting them into wild lumbering shapes by their peak in mid-February, were a nice consolation this season.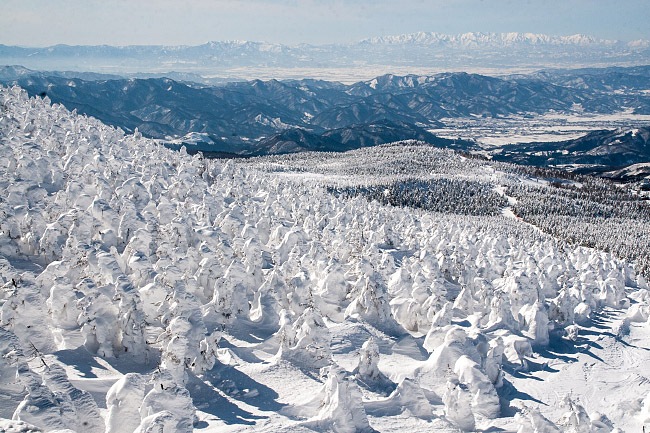 #8: Cherry Blossoms on Tokyo's Meguro River
While Japan's cherry blossom season always offers a host of amazing, far-flung sites to enjoy the trees, this year I was lucky enough to have the opportunity to do some hanami (sakura viewing) a little closer to home, in the heart of urban Tokyo. While the nation's capital sports dozens of great cherry blossom spots, the Meguro River hugely stood out for me this year. With over 800 closely-planted trees lining a nearly four-kilometer stretch of the river, at full bloom (usually at the very beginning of April), the blossoms overflow over the banks and make an unforgettable sight.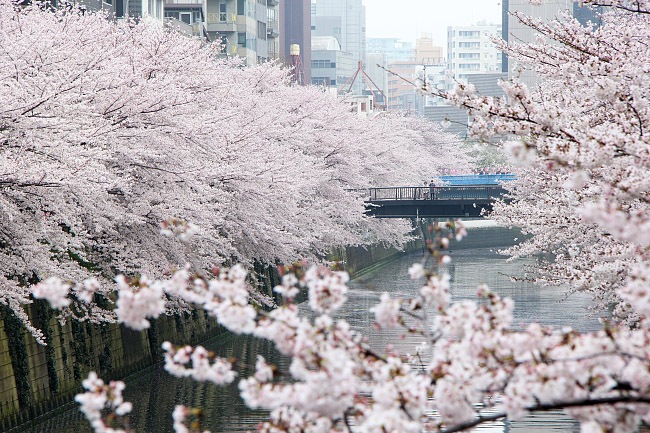 #7: Sukagawa Taimatsu Akashi in Fukushima
Everybody loves a festival, and in Japan, the good people of the Tohoku Region really know how to throw a party, hosting some of the country's most impressive spectacles each summer.
Move beyond the biggest matsuri (Japanese festivals), though, and it's easy to find that some of the lesser-known ones are just as memorable. In the city of Sukagawa in Fukushima Prefecture, each November the town celebrates a fire festival called the Taimatsu Akashi to memorialize the burning of the town's old feudal castle. Throughout the day, giant two-storey pillars of straw are carried around the town and carried to the top of the highest hill in town, where at night they are all set on fire to the music of driving taiko drums.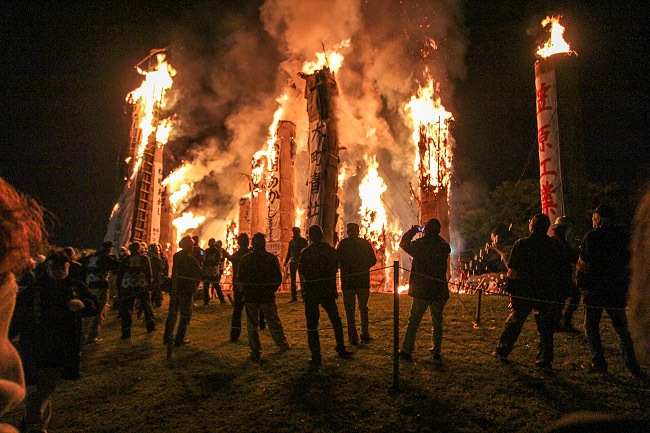 #6: Biking the Shimanami Kaido
For my first trip to the island of Shikoku this spring, I decided to get myself there in style. Like many other travelers to Shikoku, my girlfriend and I decided to rent a bicycle from the port city of Onomichi and rode our way into Ehime Prefecture along the 70-kilometer bicycle trail of the Shimanami Kaido.
The incredibly scenic route meanders across a network of interconnected islands dotting the Seto Inland Sea between Honshu and Shikoku, offering some amazing views of the sea, islands, and titanic suspension bridges.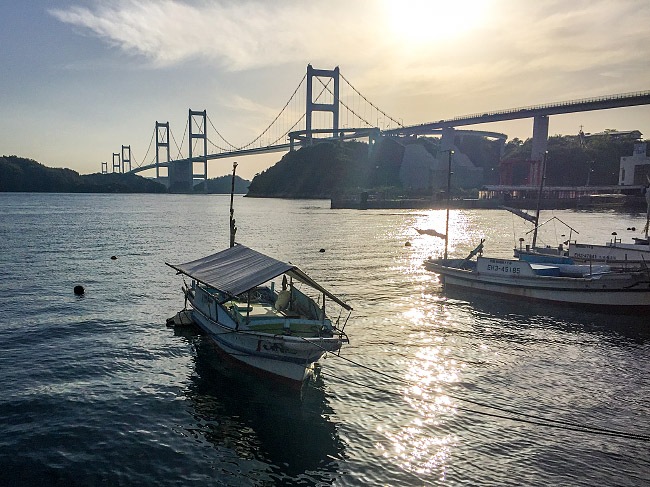 #5: Autumn Colors in Shiobara Onsen
Japan's koyo, or autumn colors, seem to make their way onto my highlights lists every year... and this year is no exception! But a particular highlight of this year's season that stood out for me was the colors in the lovely hot spring town of Shiobara Onsen in Tochigi Prefecture. Usually around early November, the slopes of the surrounding mountains here burst into beautiful reds and yellows, as I found on my koyo report there last month. Definitely worth a visit!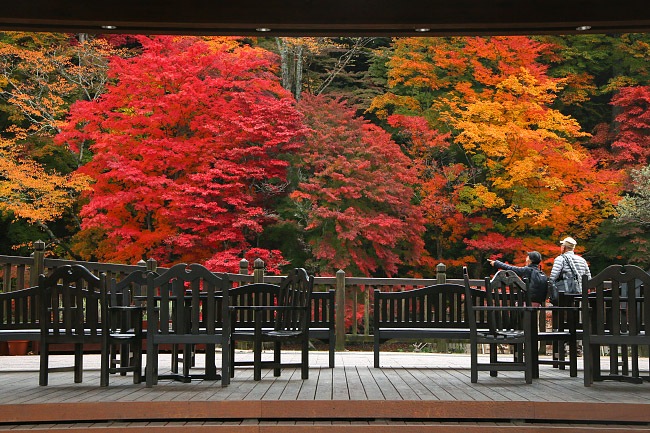 #4: Katsuo no Tataki in Kochi
No travel highlights list for any travel in Japan should truly be complete without mentioning food. Though there were many contenders this year, my top food experience for the year has to go to the surprisingly delectable katsuo no tataki of Kochi City in Shikoku. By far the city's most famous dish, the meal consists of bonito (also known as skipjack tuna) broiled over a straw fire until the outside is lightly grilled, after which it is sliced and served with spring onions, ginger, garlic and salt or soy sauce and vinegar and citrus. I could go back to Shikoku just to eat this again.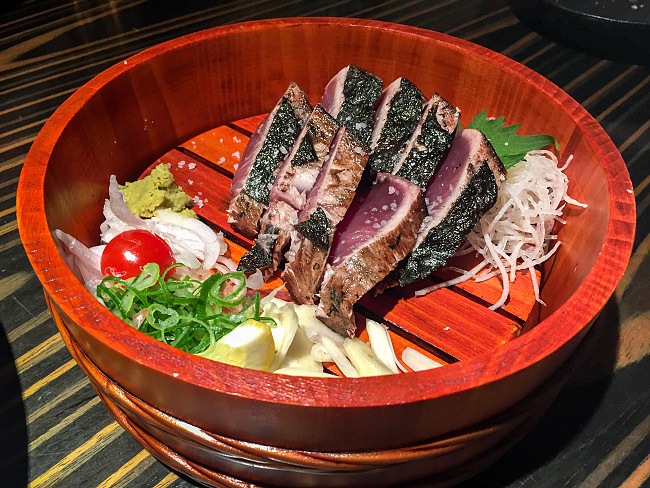 #3: Nara's Todaiji at Obon
Cheeky sacred deer notwithstanding, the monolithic Great Buddha statue that sits within Todaiji Temple is the crown jewel of Japan's ancient capital of Nara, drawing throngs of visitors every year. But should you find yourself approaching the great hall on New Year's Eve or, as I did this year, on August 15th at the height of Obon season, you will be treated to rare sight. A large window directly in front of the buddha's face, which is closed year round, is opened on only these two evenings each year, accompanied by lantern light and the droning chants of the temple's priests. The otherwordly experience was unforgettable.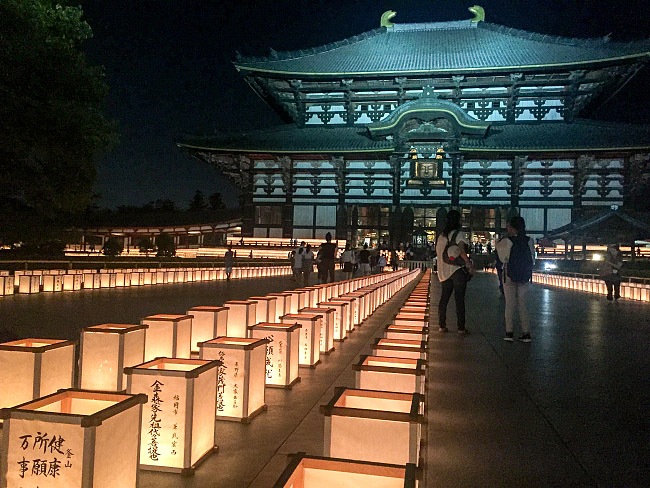 #2: The Setouchi Triennale Art Festival
I was thrilled this year to have the opportunity to report on one of Japan's more recent and utterly captivating art events, the Setouchi Triennale. The massive contemporary art festival began in 2010 and has been held once every three years across a number of sites on different twelve islands in the Seto Inland Sea (as well as the ports of Takamatsu and Uno). The festival showcases a huge variety of artwork and installations, many of which have become permanent, and spotlights the island charm of the often tiny fishing villages that play host to the exhibitions.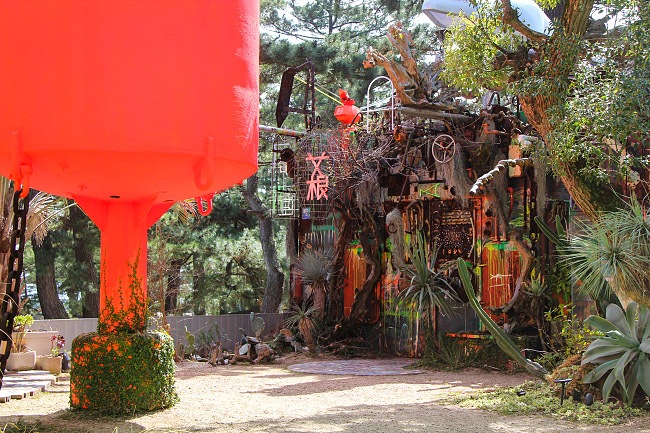 #1: Climbing Mount Tsurugi
While I was lucky to have many incredible travel experiences this year, a moment that was a personal highlight for me this year was finally climbing to the summit of Toyama Prefecture's Mount Tsurugi. While thousands of visitors make the ascent to the top of the popular Tateyama Kurobe Alpine Route each year, for alpine hiking fans (like myself), one of Japan's most sought-after peaks lies just a half-day's hike beyond the route's Murodo area.
The 2999-meter-tall peak is considered one of the country's most challenging non-technical hikes, involving some vertigo-inducing, near-vertical ascents and descents requiring chains and ladders, and is probably not for first-time trekkers. But I can happily say the climb and the stunning views are worth the effort.