Itsukushima Shrine
Famous shrine with floating torii gate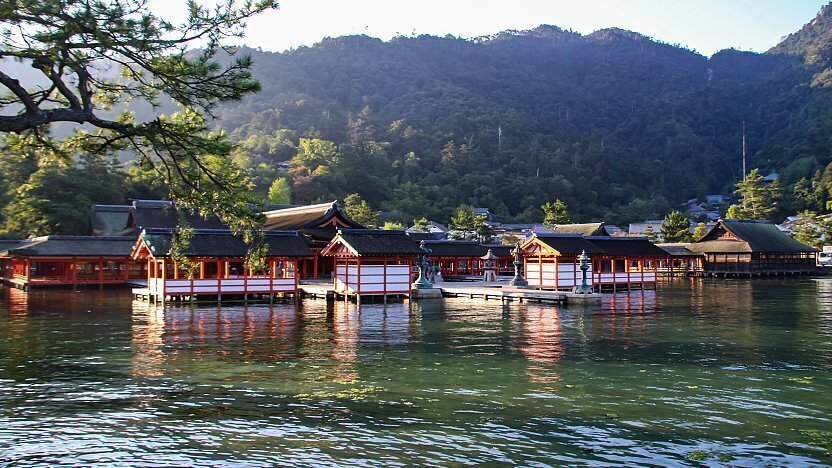 The centuries-old Itsukushima Shrine (厳島神社, Itsukushima Jinja) on Miyajima is the source of both the island's fame and its name. Formally named Itsukushima, the island is more popularly known as "Miyajima", literally "shrine island" in Japanese, thanks to its star attraction. The shrine is known worldwide for its iconic "floating" torii gate.
The shrine and its torii gate are unique for being built over water, seemingly floating in the sea during high tide. The shrine consists of multiple buildings, including a prayer hall, main hall and noh theater stage, which are connected by boardwalks and supported by pillars above the sea.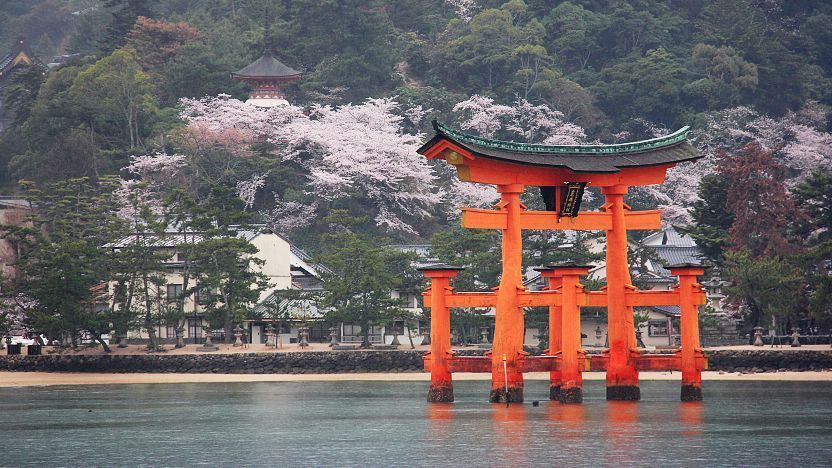 Miyajima Island has a long history as a holy site of Shinto. The island's highest peak, Mount Misen, was worshiped by local people as early as the 6th century. In 1168, Taira no Kiyomori, the most powerful man in Japan during the end of the Heian Period, selected the island as the site of his clan's family shrine and built Itsukushima Shrine.
The shrine is located in a small inlet, while the torii gate is set out in the Seto Inland Sea. Paths lead around the inlet, and visitors enjoy walking along them while looking out onto the sea. After sunset, the shrine and the torii gate are illuminated daily until 23:00, providing a perfect backdrop for ryokan guests to enjoy an evening walk in yukata and geta sandals. It is not possible to enter the shrine after sunset, though.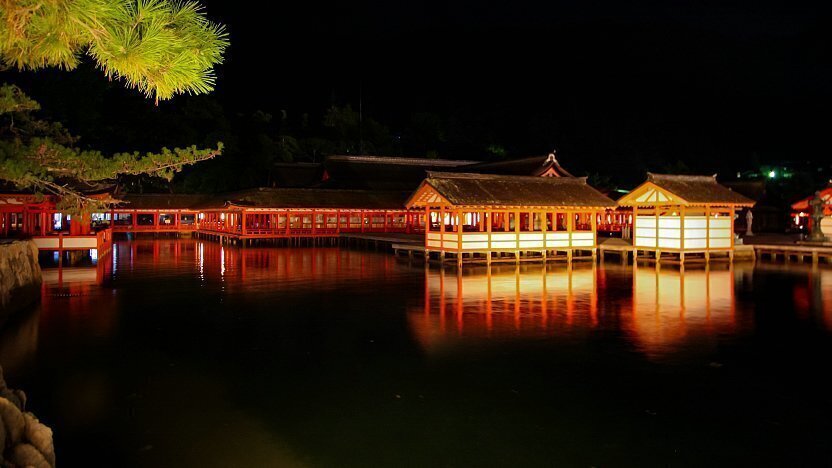 Alternatively, tourists can view the illuminated island from boat cruises. Cruises last thirty minutes, cost 1600 yen and take passengers around the bay and to the torii gate. Reservations are required and can be made through one's ryokan or at the tourist information desk.
Because the experience of Itsukushima Shrine involves the water over which it is built, it is good to be aware of the timings of the tides during one's visit. At high tide the shrine and its gate appear to float above the water, and this is certainly the time at which they are most picturesque. At low tide, the water drains out of the bay. This is when visitors can take the opportunity to walk out and see the gate from up close.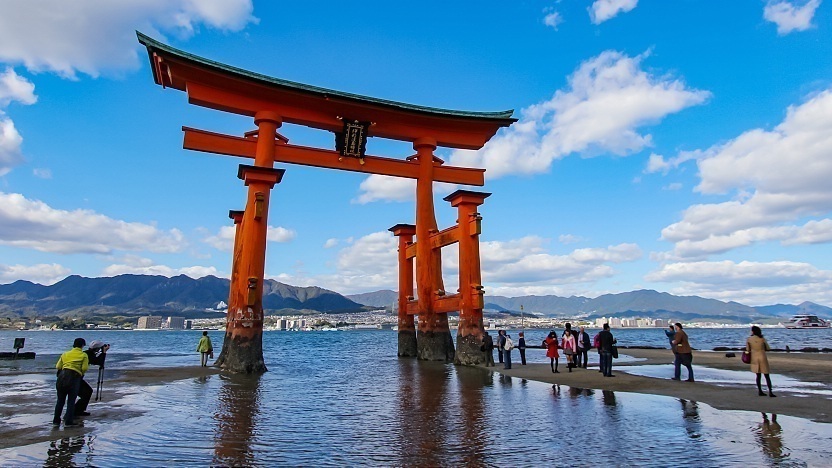 Hours
6:30 to 18:00 (March to October 14)
6:30 to 17:30 (January, February and from October 15 through November)
6:30 to 17:00 (December)
Admission
300 yen (500 yen for combined entry with Treasure Hall)
Questions? Ask in our forum.