Miyajima: Getting there and around
How to get to Miyajima
Miyajima can be reached from Hiroshima in less than an hour by train and ferry or by direct boats. See also how to get to Hiroshima.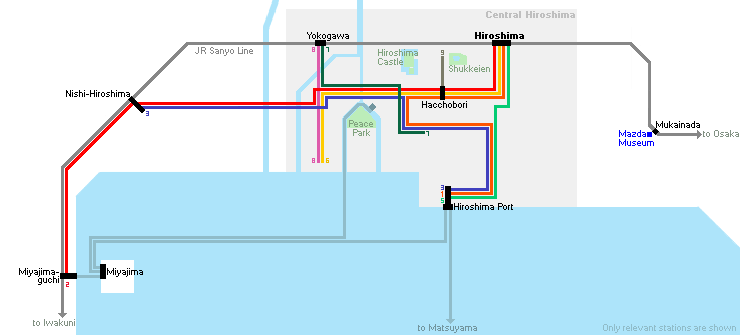 By train and ferry
To reach the ferry port from Hiroshima Station, take the JR Sanyo Line to Miyajimaguchi Station (25 minutes, 420 yen one way, covered by the Japan Rail Pass). Alternatively, you can take tram line number 2 from central Hiroshima bound for Miyajimaguchi. The tram is slower, but costs only 270 yen one way (not covered by the Japan Rail Pass).
From Miyajimaguchi Station, it is a short walk to the ferry pier, from where ferries depart frequently for Miyajima. There are two competing ferry companies operating from this port: JR and Matsudai. Both companies' ferry rides take 10 minutes and both cost 180 yen one way. The Japan Rail Pass is valid on JR ferries.
By direct boat
Boats connect Miyajima directly with Hiroshima Peace Park (45 minutes, 2200 yen one way, 4000 yen round trip, 1-2 connections/hour) and with Hiroshima Port (30 minutes, 1900 yen one way, 6-8 round trips per day). The Japan Rail Pass is not valid on these boats.
Above fees and schedules are subject to change. Be sure to check current yen exchange rates.
Getting around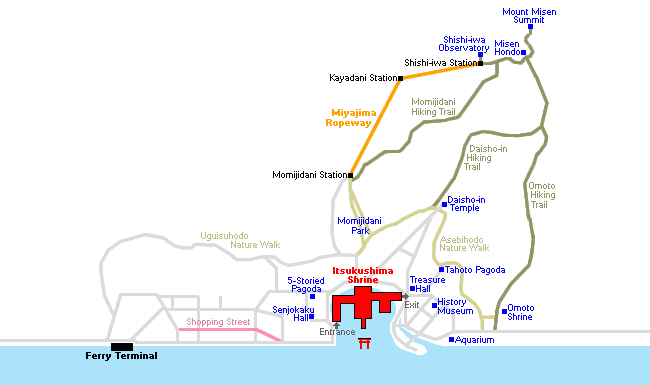 Miyajima is quite a large island, but its attractions are concentrated in two main areas: the small town around Itsukushima Shrine and Mount Misen.
Visitors to Miyajima will first arrive at the ferry terminal, from where it is a ten minute walk to Itsukushima Shrine. All the other sights are also located within walking distance from the shrine.
Mount Misen can be accessed by the Miyajima Ropeway, whose lower station is a ten minute walk from Itsukushima Shrine. There are also three hiking trails from the town to the mountain's summit.
Questions? Ask in our forum.