Turn right and walk along the seafront until you come to a gate and stone lantern, then turn left and into the shopping arcade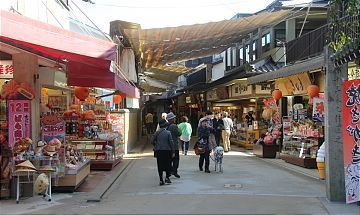 Omotesando Arcade
The busiest part of the island, here you will find shops selling souvenir crafts as well as local delicacies including grilled oysters and maple cakes.
Continue along the seafront to Itsukushima Shrine, passing the floating torii on your right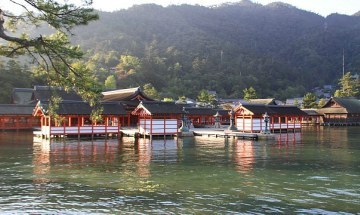 Itsukushima Shrine
Appearing to float over an inlet at the base of the sacred Mount Misen,
Itsukushima Shrine
is one of the most visually striking and culturally important shrines in the country
From the shrine's exit, cross the road and go up a flight of stone steps to the right of the treasure house. Walk around the Tahoto Pagoda, then continue along a wooded path to Daishoin Temple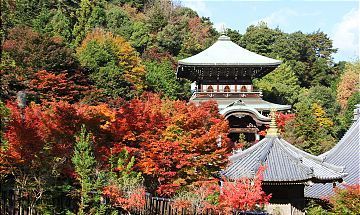 Daisho-in Temple
Founded by Kobo Daishi,
Daishoin Temple
is one of the most important temples of Shingon Buddhism and features a number of buildings, statues and religious objects. Look out for a row of spinning metal cyclinders as you make your way up the temple steps - inscribed with Buddhist sutras, just turning them is said to provide the same benefit as reading them.
Double back to the river, cross over and follow the stone steps uphill to the summit of Mount Misen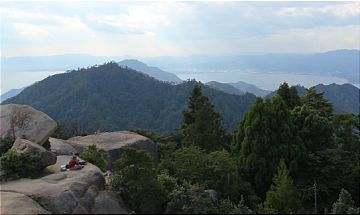 Mount Misen
At 500 meters above sea level,
Mount Misen
is the highest peak on Miyajima. On clear days, it affords spectacular views of the
Seto Inland Sea
and as far as
Hiroshima City
. There are also a number of Buddhist structures near the peak.
Make your way from the peak down to the ropeway station
Take the ropeway back down to the foot of the mountain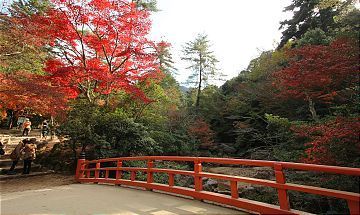 Momijidani Park
Largely untouched since the Edo Period, Momijidani Park boasts around 700 maple trees and is particularly beautiful in the autumn when their foliage erupts into reds, oranges and yellows, typically around mid November.
Walk back to Itsukushima Shrine and up the hill to the 5-storiedpagoda next to the shrine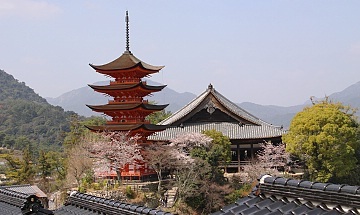 Senjokaku Pavilion
Commissioned by the great warlord Toyotomi Hideyoshi and left unfinished after his death, the
Senjokaku Pavilion
("thousand mat hall") was intended as a place for monks to copy sutras while surrounded by nature. Despite its simple exterior, the hall is famous for its views, the many paintings lining its roof beams and its iconic five storied pagoda.
Take the path to the left of the five story pagoda, turn left then immediately uphill to your right. Follow the path around, make your way through the town to the seafront, and keep going until you reach the ferry terminal.