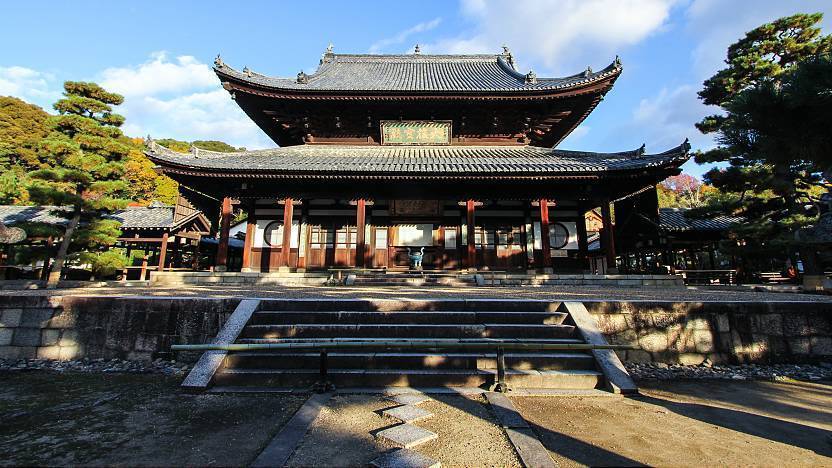 Mampukuji (δέ•ŸŽ›) is the head temple of the Zen Obaku sect, which entered Japan from China through Nagasaki in 1654. Zen Obaku was the last of Japan's three sects of Zen Buddhism to enter the country. Mampukuji was built in 1661 in Uji near Kyoto as the new sect's head temple.
Mampukuji's temple buildings, statues and gardens are heavily influenced by the architectural style of China's contemporary Ming Dynasty and retain a much more Chinese appearance than other Buddhist temples in Japan. Although difficult to appreciate by the regular tourist, the temple grounds are laid out in the shape of a dragon when viewed from above.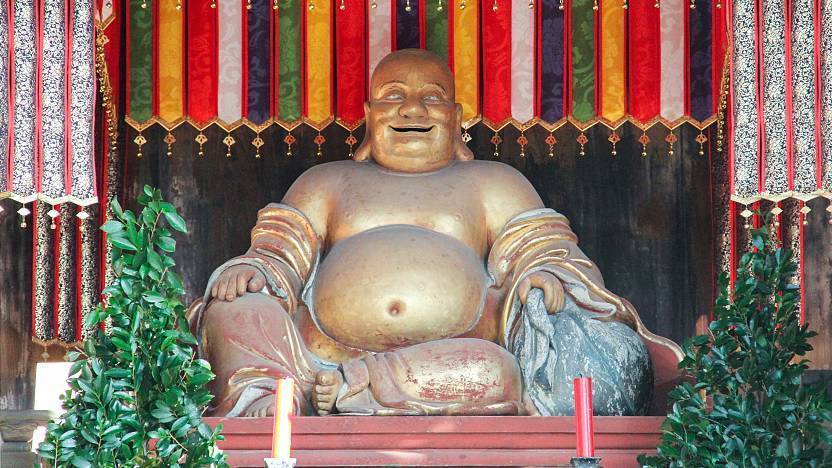 The spacious temple grounds have a courtyard like layout, whereby the main temple buildings are laid out in a straight line, connected by a stone paved path flanked by wide open space or gardens. These main buildings are connected to auxiliary temple buildings set out on both sides by long sheltered corridors.
Approaching the temple, Chinese architectural flavor is immediately spotted on the main gate with its double layered, pavilion like roof. A stone path leads to the majestic Sanmon Gate, the first of the main temple buildings. Continuing on the path takes you to the Tenno Hall, which houses an eye-catching statue of the deity Hotei in a style rarely seen in Japan. Hotei is the incarnation of Miroku Bodhisattva, also known as the Laughing Buddha. At the four corners of the hall are big statues of the Four Heavenly Kings.
The path carries on to the Daio Hoden, the main hall of the temple which houses its principle image of the Shaka Historical Buddha and the Eighteen Rakan (disciples of Buddha). In front of the hall is an incense burner with flashy colors typical of Chinese temples but rare in Japan. Beautiful Zen gardens of raked pebbles lie on both side of the path beyond the main hall, which finally leads to the lecture hall, a wide building with a low Chinese style balustrade - another characteristic unusual of Japanese temples.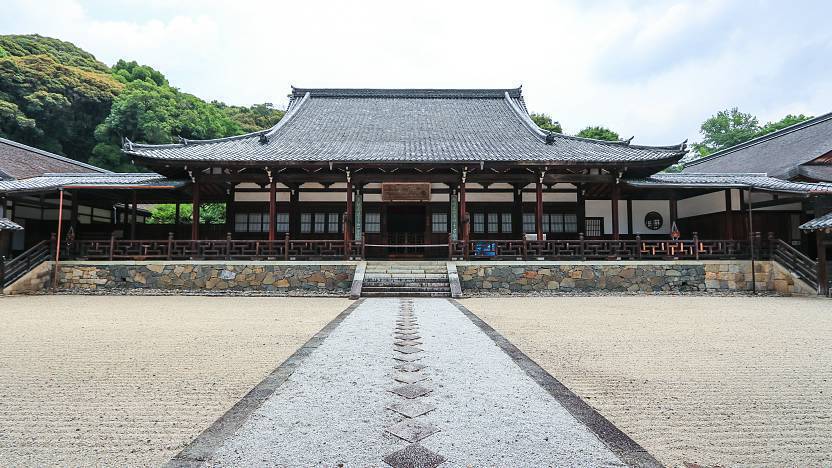 By JR
Mampukuji is a five minute walk from Obaku Station on the JR Nara Line. There are frequent local trains between Kyoto and Obaku Station (25 minutes, 240 yen one way) and between Obaku and Uji Stations (5 minutes, 150 yen one way). Note that rapid trains along the Nara Line do not stop at Obaku Station.
By Keihan Railways
Take a train along the Keihan Main Line from central Kyoto (e.g. Gion-Shijo Station) to Keihan Obaku Station. The one way trip takes about half an hour, costs around 310 yen and requires a transfer of trains at Chushojima Station. Frequent trains run between Keihan Obaku and Uji Stations (5 minutes, 160 yen). Mampukuji is a 5-10 minute walk from Keihan Obaku Station.
On foot
Good walkers can get to the temple in 30-40 minutes from Uji Bridge.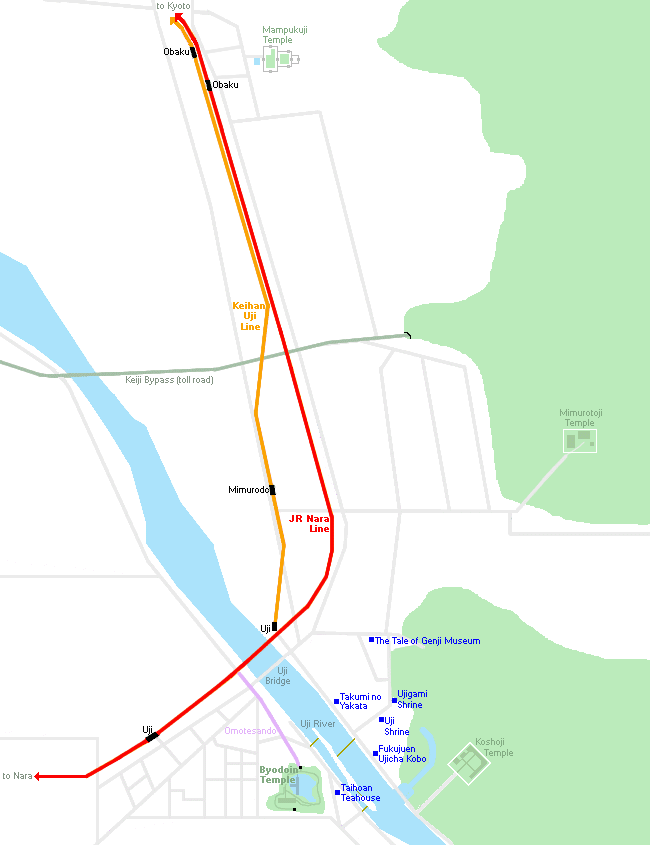 Hours
9:00 to 17:00 (admission until 16:30)
Typical Visit Duration
About 45-60 minutes
External Links and Resources