Kawachi Fujien Wisteria Garden
Garden with spectacular flower tunnels
Kawachi Wisteria Garden (河内藤園, Kawachi Fujien) is a private garden in the wooded hills south of central Kitakyushu, famous for its spectacular displays of wisteria flowers. The garden is opened to the public seasonally during the wisteria season which usually peaks around late April to early May and during the maple leaf season in autumn.
The garden's most prominent features are two, roughly 100 meter long tunnels made of wisteria trees of differing varieties and colors, ranging from white to dark purple. Furthermore, there is a collection of large wisteria trees that together form an enormous roof of drooping flowers. A viewpoint at the top of the hillside garden allows for nice views over the sea of wisteria flowers and the surrounding valley which is also know for its bamboo groves.
Kawachi Wisteria Garden has grown very popular in recent years and now attracts large numbers of domestic and international visitors during the wisteria season, which often falls into the busy Golden Week. To reduce congestion, advance reservations are required to enter the garden during the peak season in spring.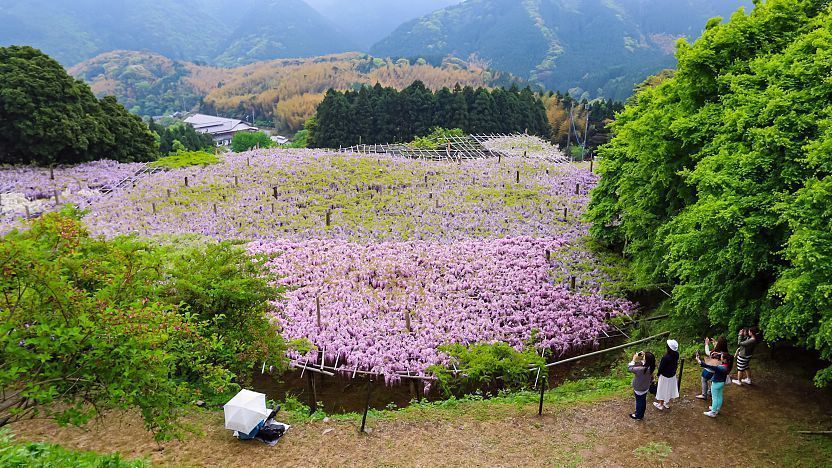 Despite its popularity, Kawachi Wisteria Garden is not properly served by public transportation. A shuttle bus used to be offered from Yahata Station to the garden in the past; however, it has not been operating in recent years.
By car
Free parking is provided near the entrance of the wisteria garden. Rental car outlets can be found around Kokura and Kurosaki stations.
By bus
Nishitetsu bus number 56 runs about once per hour from Space-World Station to Kamishigeta (上重田), the final stop along the line (25 minutes, 260 yen one way); however, from the bus stop it is still a 45-55 minute walk to the garden.
How to get to and around Kitakyushu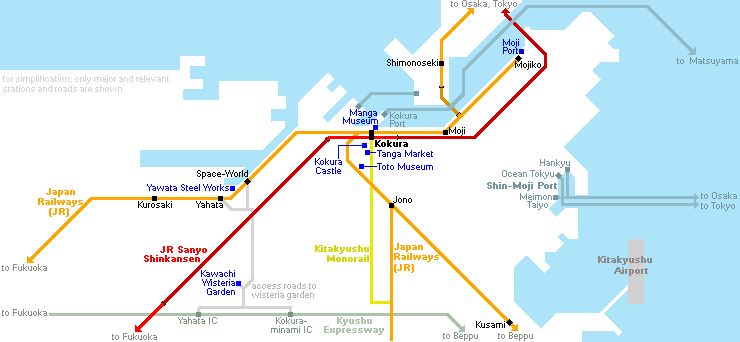 The garden is open from 8:00 to 18:00 during the wisteria season (mid/late April to early May) and from 9:00 to 17:00 during the autumn color season (mid November to early December). The admission during the wisteria season is 500 yen, 1000 yen or 1500 yen depending on the state of the season. Tickets purchased in advance always cost 500 yen, and the possible difference to the actual fee has to be paid at the garden. Admission in autumn costs 500 yen.
Important: Advance reservations are required during the peak season in spring!
During the peak of the season (expected to be April 22 to May 7, 2023), tickets for a specific date and time slot have to be purchased in advance in order to enter Kawachi Wisteria Garden. Visitors without advance reservations will not be allowed into the garden!
Tickets can be purchased through an official, bilingual website or through ticket machines at convenience stores, but note that these ticket machines often have only Japanese interfaces.
Outside of the peak season, same-day tickets can be purchased at the garden.
Questions? Ask in our forum.