Kitakyushu: Getting there and around
How to travel between Kitakyushu and Tokyo
By shinkansen
Tokyo and Kitakyushu (Kokura Station) are connected by the Tokaido/Sanyo Shinkansen. The one way trip by direct Nozomi trains takes about five hours and costs about 21,500 yen. Japan Rail Pass holders cannot use Nozomi trains, and have to ride Hikari and Sakura trains instead. This adds about one hour to the total travel time and requires a transfer of trains at Shin-Osaka Station.
By air
The Tokyo-Kitakyushu air route is served by multiple departures per day, operated by JAL, ANA and Starflyer. Flight duration is about 110 minutes. Flights between Tokyo and Kitakyushu use Tokyo's Haneda Airport.
The regular one way fare by JAL and ANA is around 42,000 yen, but discount fares are typically available for 12,500 to 26,000 yen. Starflyer is somewhat cheaper with a regular one way fare around 37,000 yen and typical discount fares around 13,500 to 27,000 yen.
By ferry
Ocean Tokyu Ferry operates daily ferries between Tokyo (Tokyo Ferry Terminal on Odaiba) and Kitakyushu (Shin-Moji Port) via Tokushima. The one way journey takes 34 hours and costs around 19,000 yen in the second class.
Above fees and schedules are subject to change. For the current yen exchange rate, click here.
Getting around
Kokura Station is the transport hub of Kitakyushu and a major station along the Sanyo Shinkansen. Kokura Station is also served by the JR Sanyo Line which connects it to Honshu, the JR Kagoshima Line which runs south towards Fukuoka and north to Moji Port, and the JR Nippo Line which runs in the direction of Oita. The Kitakyushu Monorail also departs from Kokura Station.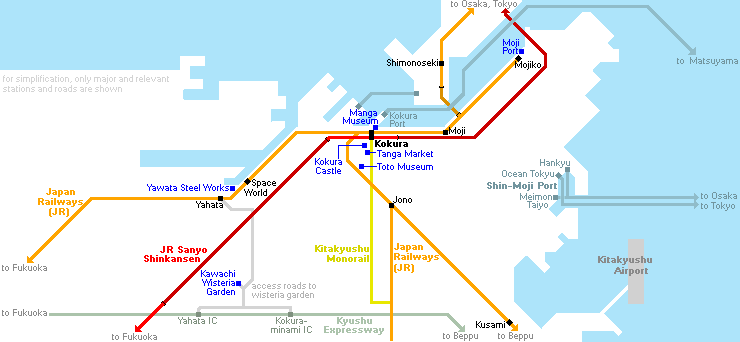 Most of Kitakyushu's main tourist attractions are located within walking distance from a JR railway station with frequent connections to Kokura Station.
Kitakyushu Airport is located on a man-made island outside the city center and connected with Kokura Station by direct buses (40 minutes, 710 yen one way, about 1 bus/hour). Alternatively, the nearest train station to Kitakyushu Airport, JR Kusami Station, can be reached in a 20 minute bus ride (420 yen one way, about 2 buses/hour). From Kusami, it takes about 25 minutes and costs 280 yen one way to travel to Kokura Station by local train.
Most long-distance ferries to/from Kitakyushu use Shin-Moji Port ("New Moji Port", not to be confused with Moji Port) far outside the city center, including the ferries to/from Osaka and Tokyo. Shin-Moji Port can be reached by shuttle buses operated by the ferry companies from Kokura Station (about 40 minutes) and Moji Station (about 20 minutes). However, the ferries to/from Matsuyama use the more central Kokura Port, which can be reached in a 15 minute walk from Kokura Station.
Questions? Ask in our forum.