How to travel between Takayama and Matsumoto
By highway bus
There are multiple highway bus round trips per day between Matsumoto and Takayama, taking 2.5 hours and costing 3250 yen one way. A round trip ticket costs 5760 yen, and the return trip has to be made within seven days of the outward journey. Note that JR East Nagano Niigata Area Pass holders can purchase a round trip ticket for only 4500 yen at Narita Airport, Haneda Airport, Tokyo Station or Matsumoto Bus Terminal.
By JR trains
Take the JR Shinano limited express from Matsumoto to Nagoya (2 hours, one train per hour) and transfer to the JR Hida limited express to Takayama (140 minutes, one train per hour). The one way fare is around 11,000 yen.
Above fees and schedules are subject to change. For the current yen exchange rate, click here.
Orientation
JR Takayama Station and the adjacent Takayama Hida Bus Center are located about a ten minute walk from Takayama's old town on the opposite side of Miyagawa River.
Most of Takayama's attractions are within easy walking distance in the city center, except for the Hida no Sato open air museum and the Matsuri no Mori festival museum, which can be accessed in longer walks or 10-15 minute bus rides from Takayama Station.
Two sightseeing buses are available: The Machinami Bus (100 yen/ride) runs hourly on a circular route between the station and the old town. And the Sarubobo Bus (210 yen/ride) runs every 20-50 minutes between the station and Hida no Sato and the Matsuri no Mori. A 1-day pass for unlimited use of both sightseeing buses on one calendar day is available for 620 yen.
Guided tours on rickshaws (jinrikisha) are available in the old town. A 30 minute tour for two persons costs 7000 yen. Shorter and longer courses for up to three persons per rickshaw are also available.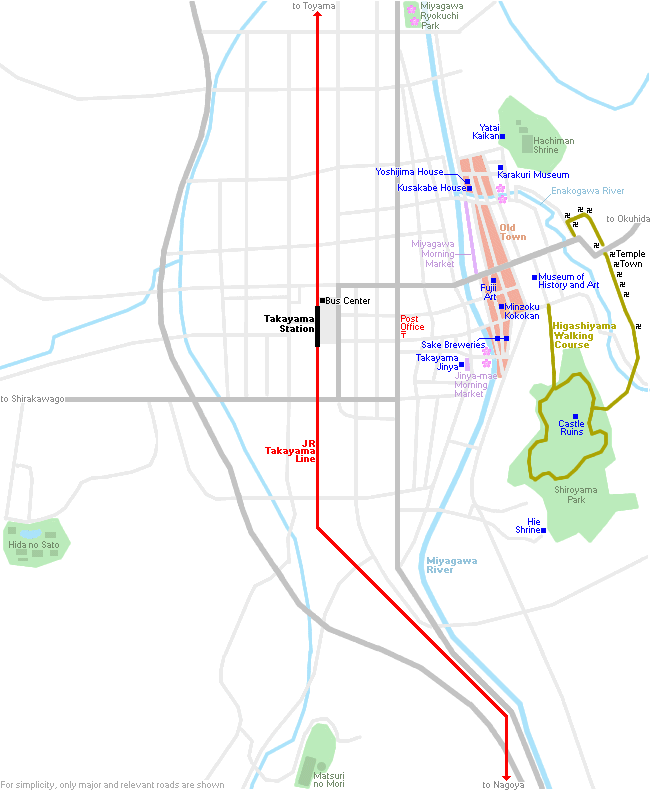 External Links and Resources