Hagi: Getting there and around
How to get to Hagi
For most travelers, access by bus from Yamaguchi City is most convenient.

By JR Bus
JR Bus operates buses every 1-2 hours between Yamaguchi Station and Hagi Station. The one way trip takes 60-80 minutes, costs 1800 yen and is covered by the Japan Rail Pass, JR Sanyo Sanin Area Pass, JR Okayama Hiroshima Yamaguchi Area Pass and JR Hiroshima Yamaguchi Area Pass.
By Super Hagi Bus
"Super Hagi" buses connect Shin-Yamaguchi Station with Higashi-Hagi Station every 1-2 hours. The one way ride takes just over an hour, costs 1600 yen and is not covered by the Japan Rail Pass (and the other JR passes).
By regular Bocho buses
Bocho Bus operates 1-2 buses per hour between Shin-Yamaguchi Station and Higashi-Hagi Station. The buses do not stop at Yamaguchi Station. The one way trip from Shin-Yamaguchi to Hagi costs 2090 yen and takes about 90 minutes. The Japan Rail Pass (and other JR passes) are not valid on these buses.
By train
Hagi can also be reached by train via the JR Sanin Line, however, service along the Sanin Line tends to be infrequent, slow and rather inconvenient:
From Shimonoseki, the trip along the JR Sanin Line by local trains takes about three hours, costs 1980 yen and usually requires one or two transfers of trains. Alternatively, from Asa Station on the Sanyo Shinkansen (only served by Kodama trains), you can get to Hagi by JR Mine and Sanin Line in about 100 minutes and for 1170 yen (to Hagi Station) or 1340 yen (to Higashi-Hagi Station). One transfer is required at Nagatoshi.
Above fees and schedules are subject to change. For the current yen exchange rate, click here.
Getting around
Although there also exists a Hagi Station, Hagi's main railway station is Higashi-Hagi Station. Higashi-Hagi Station offers more services and is located somewhat more centrally than Hagi Station.
Hagi is best toured by rental bicycles as it is just slightly too large for convenient exploration on foot, although good walkers will be able to manage. Rental bicycles are available in front of Higashi-Hagi Station and other places across the city. Rental fees are typically 200-350 yen per hour or 1000 yen per day.
Another option to get around Hagi is by the Maru Bus, a loop bus service for tourists that connects the stations with all the city's major sights. There are two lines, the West Loop and East Loop that each operate every 30 minutes between 7:00 and 18:00. One ride costs 100 yen regardless of how far you travel. A 1-day pass for unlimited use of the Maru buses on one calendar day is available for 500 yen.
Tourists intersted to visit multiple of Hagi's historic residences note that there exists a combination ticket for 310 yen that provides admission to nine of the residences across the city, including the Kido Residence and Kubota Residence (but not the Kikuya Residence) in the former castle town, the Yukawa Residence and Katsura Taro Residence in the Aiba Waterway district and the Ito Hirobumi Residences near Shoin Shrine. The combination ticket is valid on one calendar day and can be purchased at any of the covered residences.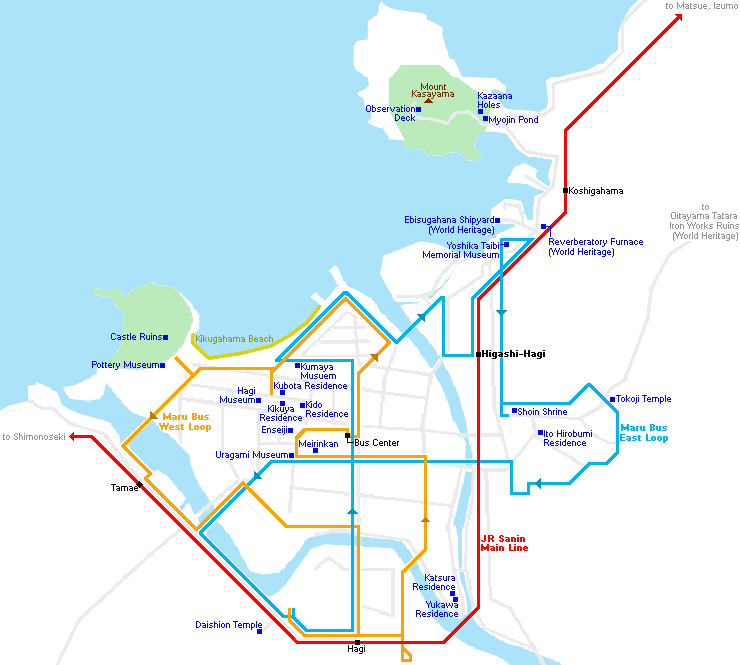 Questions? Ask in our forum.