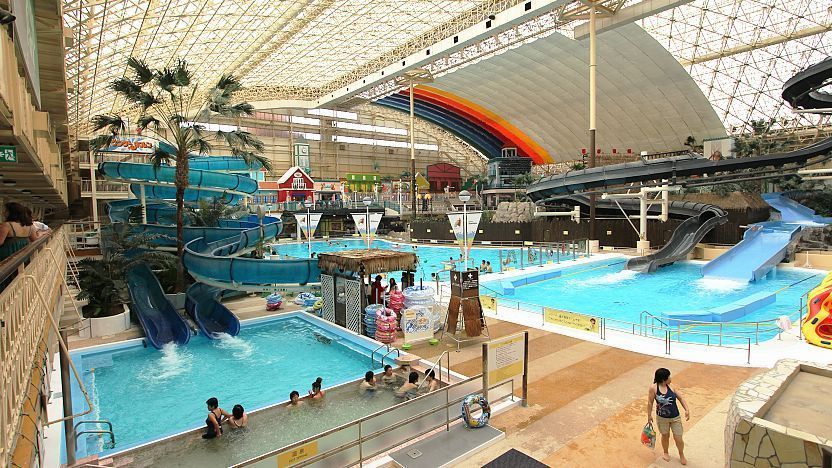 Spa Resort Hawaiians is a one-stop water park, onsen and entertainment facility with a Hawaiian theme. It is located in Iwaki, Fukushima Prefecture, and was formerly known as Joban Hawaiian Center. Inaugurated in 1966, it was the first theme park to be built in Japan. Over the years, the resort had been upgraded to meet with times, and it is still today a highly visited destination.
The most famous attraction of the resort are the Hawaiian dance performances by the Hula Girls, the dance team whose name is synonymous with the resort ever since it opened. In the 1960s, Iwaki was a coal mining town facing crisis when oil became the predominant energy source in Japan. The resort was built and the Hula Girls entertained to draw in tourists - the new source of income for the town.
In the aftermath of the 2011 earthquake and tsunami and nuclear plant accident, the Hula Girls visited numerous evacuation centers along the tsunami hit Pacific Coast to encourage their inhabitants. They also traveled all over Japan to perform and invite people to visit Iwaki. They are thus seen by many as a symbol of hope and recovery for the affected regions. The spa resort itself suffered damage from the earthquake and was fully reopened in February 2012.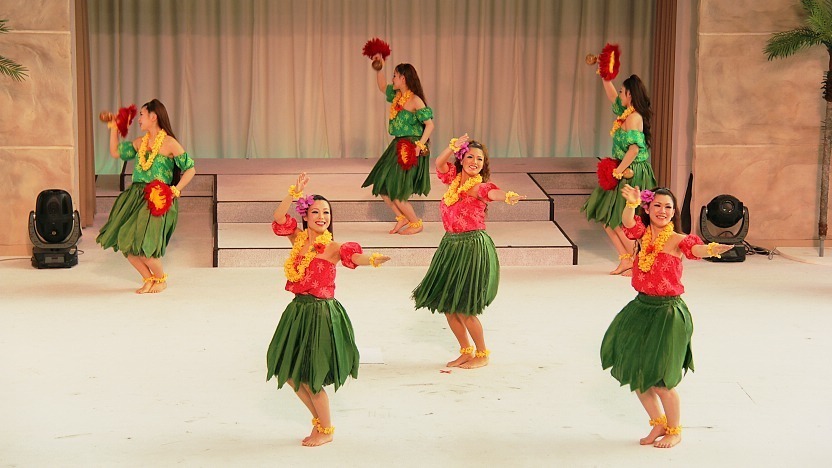 The resort is divided into multiple sections:
The Water Park is the main area where the indoor pools, water slides and the dance stage are located. Here, a Hawaiian atmosphere is recreated with pineapple plants and other tropical vegetation, and staff and hotel guests in Hawaiian outfits. Step outdoors and you will find Spa Garden Pareo, a water playground with outdoor pools, deckchairs, jacuzzis and a sauna (closed in winter).
The Spring Park is one of two hot spring areas that draw their spring water from Yumoto Onsen. It features lukewarm indoor pools where both genders can enjoy a dip in swimsuits, as well as regular, gender separated hot spring baths where swimsuits are not allowed.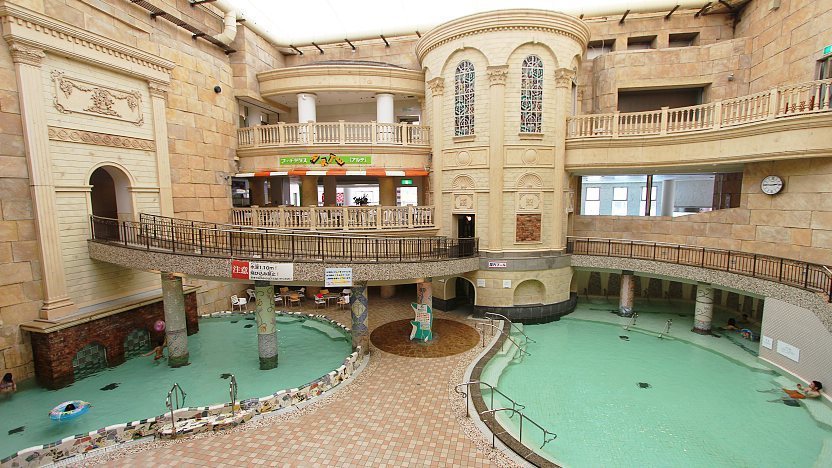 The other hot spring area is Edo Jowa Yoichi, a gender separated, large outdoor bath with an Edo Period theme, that is said to be the largest single outdoor bath in Japan. The bath and surroundings are wonderfully designed to provide an authentic onsen experience. A 15 minute shadow show (kage shibai) is performed every night that guests can enjoy whilst taking a hot bath.
Vir Port is where guests get to attend a Hawaiian dance lesson, enjoy a massage or facial, or take part in aqua exercise. Restaurants and accommodation (at Hotel Hawaiians or the newer Monolith Tower) are also available at the resort, making it a complete destination to spend a relaxing vacation.
Furthermore, the resort includes a nearby 27-hole golf course.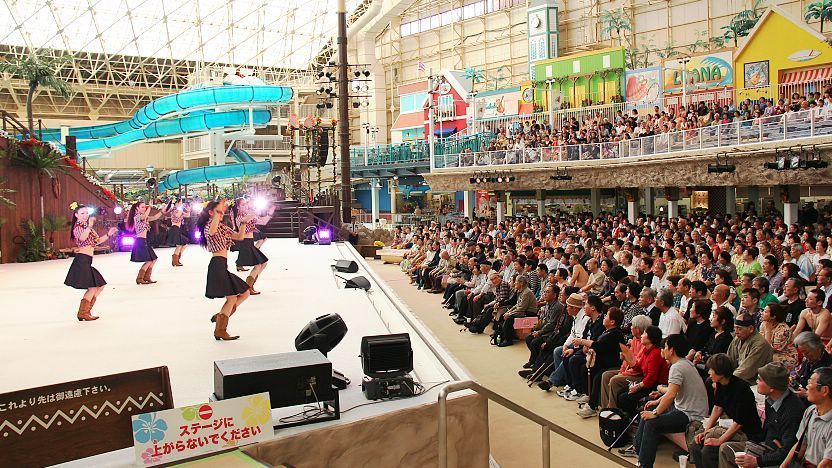 The resort runs free hourly shuttle buses to/from Yumoto Station (15 minutes). In addition, it also runs free buses for staying guests all the way to/from Tokyo (3 hours) and Yokohama (3.5 hours). Advance reservations are required for the buses to/from Tokyo and Yokohama.
How to get to and around Iwaki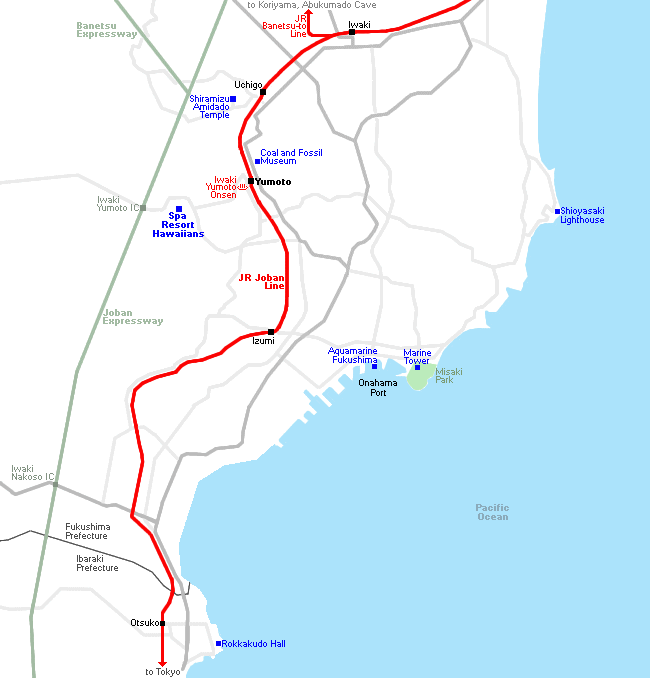 Hours
10:00 to 22:15 (from 9:00 on weekends and
national holidays
)
Longer hours during peak seasons.
Closed
One or two days a year for maintenance.
Spa Garden Pareo is closed during the winter.
Admission
3570 yen (full day)
3060 yen (entry after 15:00)
2860 yen (entry after 18:00)
Above fee includes entry to the Water Park, Spring Park, Spa Garden Pareo and Edo Jowa Yoichi, and unreserved seats for dance shows. Separate fees apply for rides in the Water Park, lessons and massage services and for reserved seats for the dance shows.
Dance Shows
Hours
13:30 to 14:15 (daytime show)
20:30 to 21:30 (evening show)
Admission
Unreserved seating is included with the admission fee. Reserved seating is available for front-row seats for 720 to 1500 yen.
Water Park
Hours
Regular water slides can be used until 19:00; Big Aloha slides until 17:00 (until 21:00 on weekends)
Admission
Use of the water park is included with the admission fee, except for the water slides (200 yen per ride for regular slides; 500 yen per ride for Big Aloha slides; discounted set tickets are available).
Edo Jowa Yoichi
Hours
Extended hours for staying guests: 6:00 to 23:00
Questions? Ask in our forum.