Abukumado Cave
Impressive limestone cave open to the public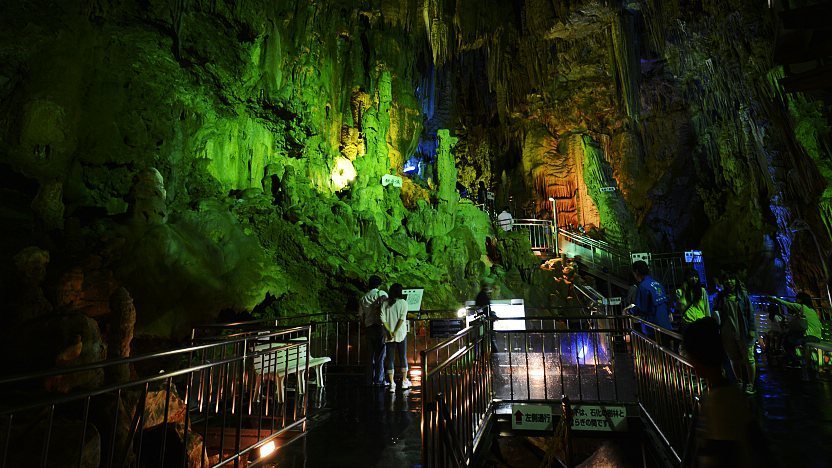 Discovered in 1969, Abukumado Cave (あぶくま洞, Abukumadō) is a 3000 meter long limestone cave network in eastern Fukushima Prefecture, about 35 kilometers northwest of Iwaki. The spacious caverns were formed over 80 million years by underground streams and contain countless stalactites and stalagmites. The cave exhibits some unique features that cannot be seen elsewhere in the country, including boxwork formations and the "Christmas Tree", a two meter high stalagmite that is said to be the largest in Japan.
About 600 meters of the caverns are opened to the public and are accessible by a series of well developed platforms, paved walkways and (often steep) staircases. It takes about an hour to explore the main walking course though the cave, and while the tunnels can be narrow at times, they are, for the most part, easily traversable. The cave uses a stage lighting system to creatively light some of its chambers including its impressive Takine Goten main hall.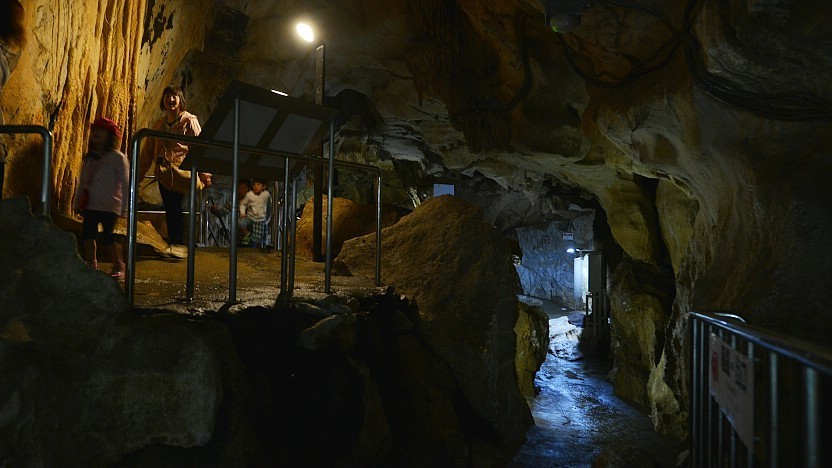 More adventurous visitors can take an optional, 120 meter long exploration course - at a small additional fee - which leads through a narrow side tunnel parallel to the main course. As expected, the exploration course is more difficult to negotiate and may require visitors to crawl through on their hands and knees at times. It rejoins the main course in the Takine Goten hall.
A few other attractions can be found around the mouth of Abukumado Cave including restaurants, souvenir shops and the Star Village Observatory and Planetarium just across the parking lot. Additionally, the hillside between the cave and the planetarium is covered in over 50,000 lavender plants which flower from mid June to early July.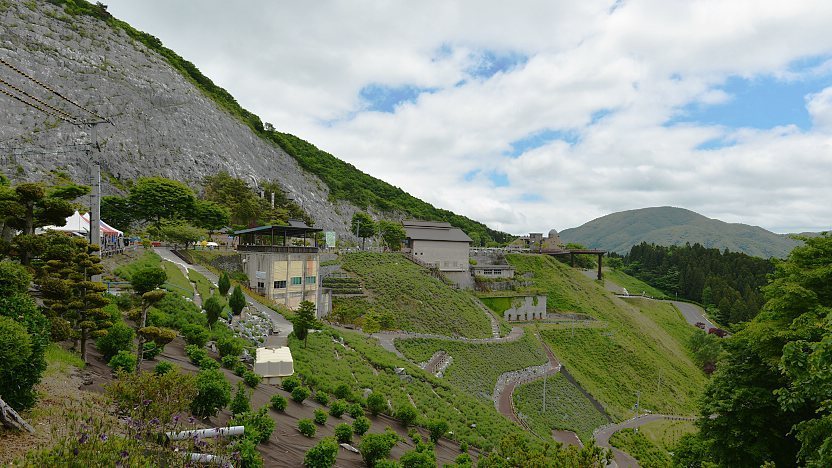 The Abukumado Cave is located about halfway between Iwaki and Koriyama, near Kanmata Station along the JR Banetsu East Line. From Kanmata Station it is about a 20 minute, 1600 yen taxi ride to the cave. Alternatively, a rental car can be more convenient for accessing the cave. Rental car outlets can be found around Iwaki, Koriyama and Fukushima stations.
From Iwaki, the train ride to Kanmata Station takes about 50 minutes and costs 990 yen one way. From Koriyama, it takes about 45 minutes and costs 770 yen. The train is covered by the Japan Rail Pass, JR East Tohoku Area Pass and JR East South Hokkaido Pass.
Hours
8:30 to 17:00 (until 16:30 from mid Nov to early March; until 17:30 from late June through September); admission ends 40 minutes before closing; the sale of exploration course tickets ends 90 minutes before closing.
Admission
1200 yen (exploration course plus 200 yen)
Questions? Ask in our forum.