Autumn Color Report 2012
Official autumn color reports by japan-guide.com
Where to see autumn leaves? - When do trees turn colors? - What trees turn colors?
Schedule of upcoming reports - Post your own report
2012/11/07 - Kyoto Report
by schauwecker
Even though the peak of Kyoto's fall foliage season is still about two weeks ahead, I visited the city for an early first autumn color report today. We plan to continue reporting from Japan's koyo capital at least once per week until the season approaches its end in about a month from now.
Unlike Eastern and Northern Japan where the summer was an exceptionally hot one, Kyoto experienced only a somewhat hotter summer than usual, while temperatures during the past month were average or even below average. Accordingly, the pace of the colors in Kyoto is only moderately delayed. Comparing today's colors with past years, it seems to me that this year's pace is more like the pace in 2010 rather than in the more heavily delayed 2011.
I started the day with a visit to Arashiyama, at the northwestern outskirts of the city. The trees in the district have noticeably started to color, but were generally still at a rather early stage of the season. A few exceptionally advanced trees delighted tourists here and there.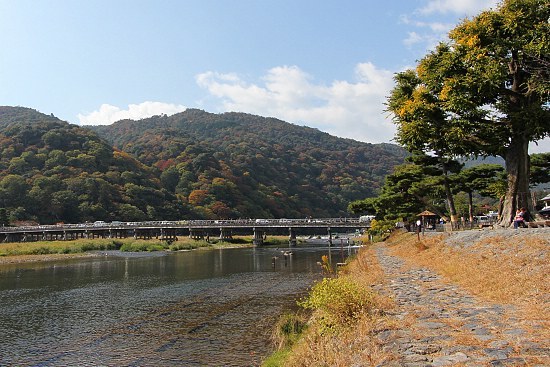 The trees behind the Togetsukyo Bridge have only just started to change colors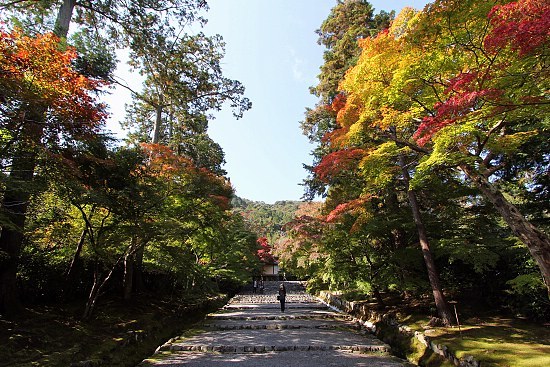 Nisonin Temple's approach starts to get colorful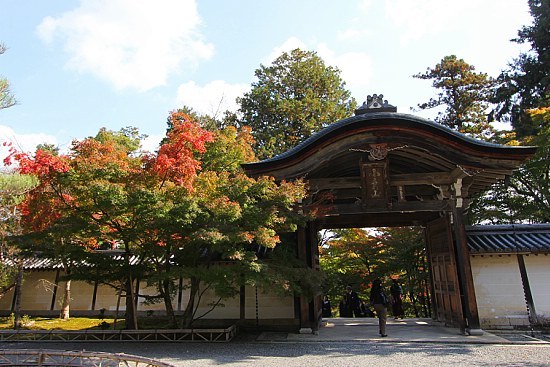 Featured in this year's advertising campaign by JR Central, Nisonin will surely grow more crowded soon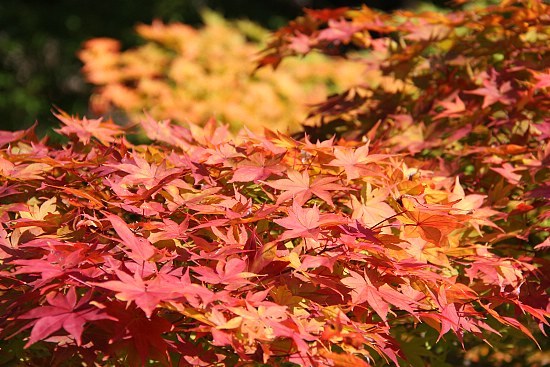 A pocket of advanced colors at Nisonin Temple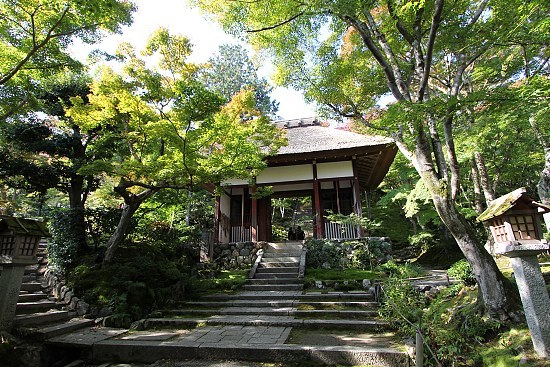 The gate of nearby Jojakkoji is still surrounded by green maple trees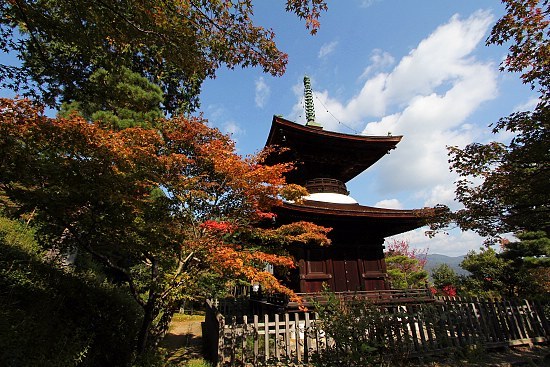 Some colors around Jojakkoji's pagoda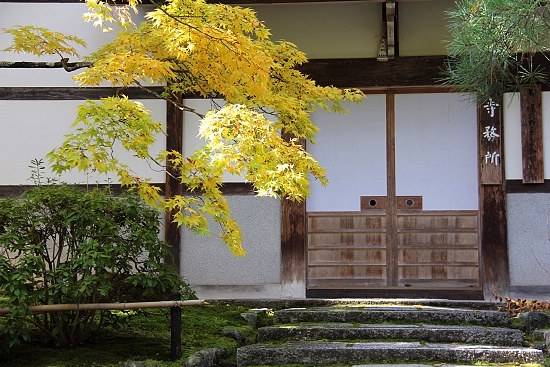 Jojakkoji Temple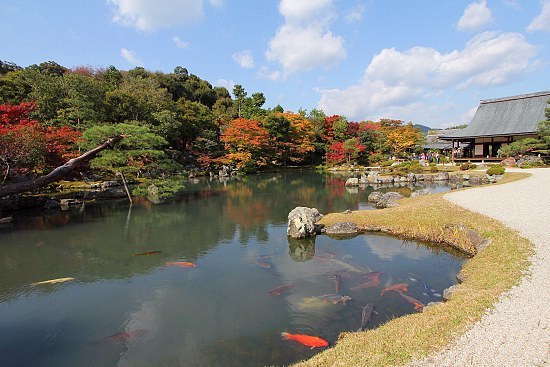 The trees in Tenryuji Temple's garden have started to change colors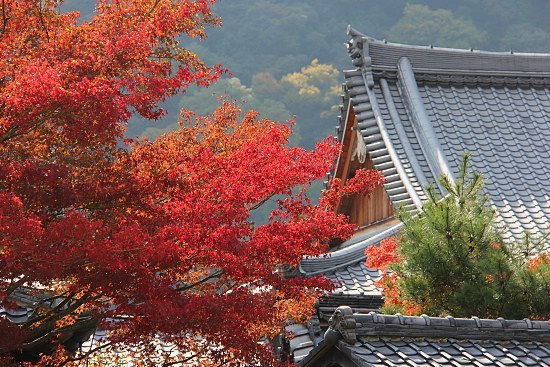 Close-up on some particularly nice colors at Tenryuji
Next I headed to Takao, a small town in a forested valley just north of the city center. Jingoji Temple is a spectacular autumn color spot, known to peak a week or so ahead of the city center. Consequently, it is a recommended destination for early koyo hunters. While still not at the peak of its autumnal beauty, Jingoji offered already some quite spectacular colors. Illuminations around Jingoji Temple are held every evening through the month of November from 17:00 to 20:00.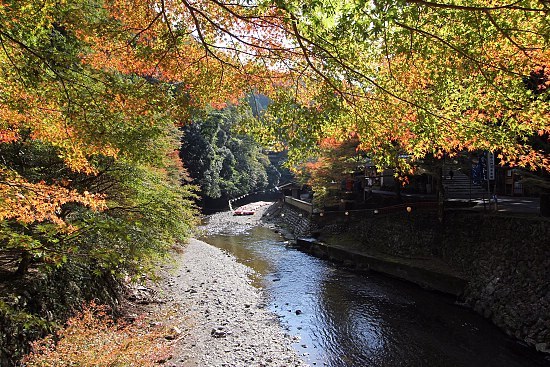 Down in the valley of Takao, the colors are still at an early stage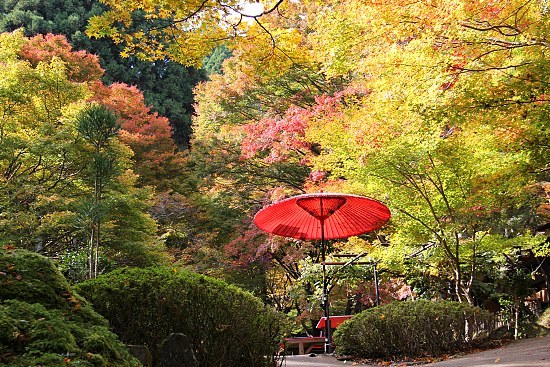 Along the steep approach to Jingoji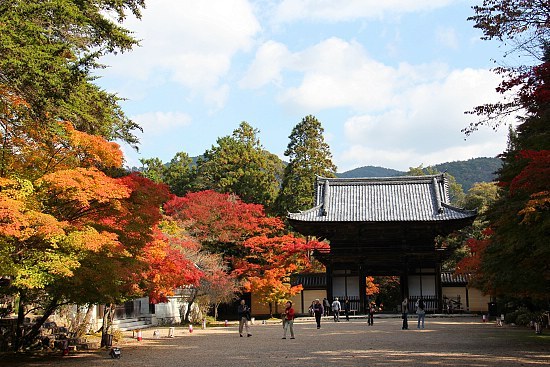 Up on Jingoji's temple grounds, some trees are already quite advanced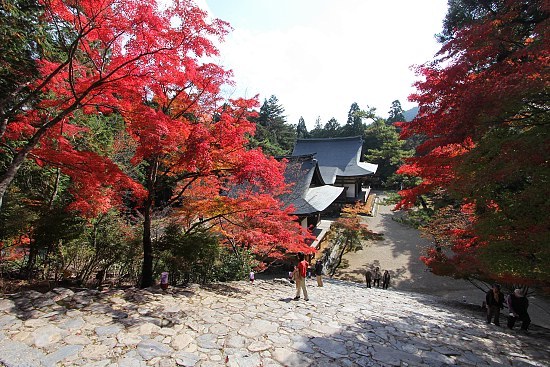 The best colors of the day at Jingoji Temple
After returning into central Kyoto, I next visited Eikando, another prime destination among Kyoto's autumn color spots. However, colors were still at an early state at the temple, which still charged the 600 yen admission fee instead of the 1000 yen it requests during the peak of the season. Seasonal illuminations will be held daily from November 11 to December 5 from 17:30 to 20:30.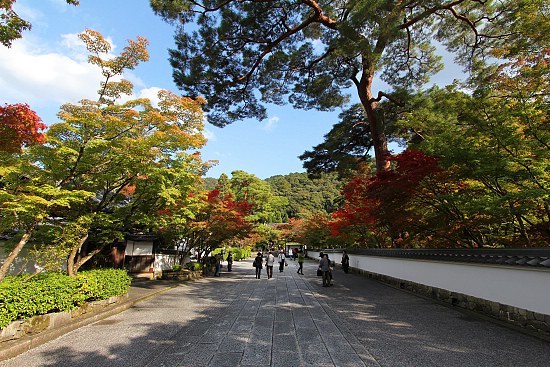 Approach to Eikando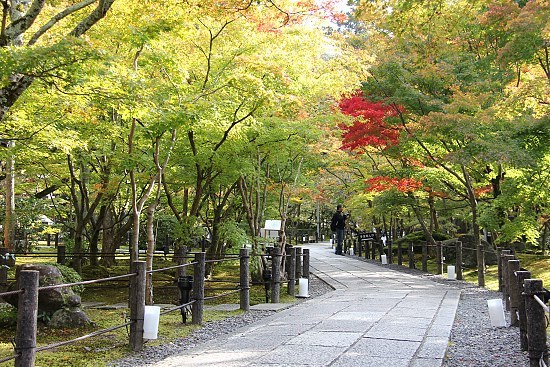 Green is still dominant at Eikando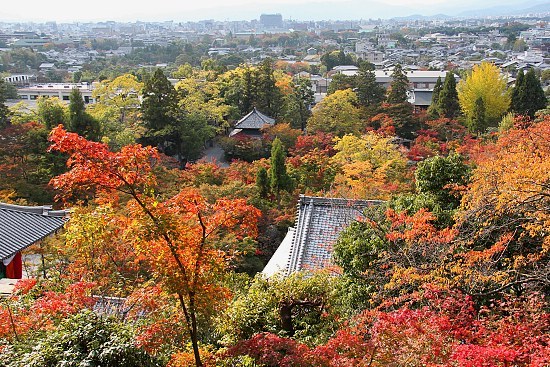 View onto Eikando's temple grounds from the pagoda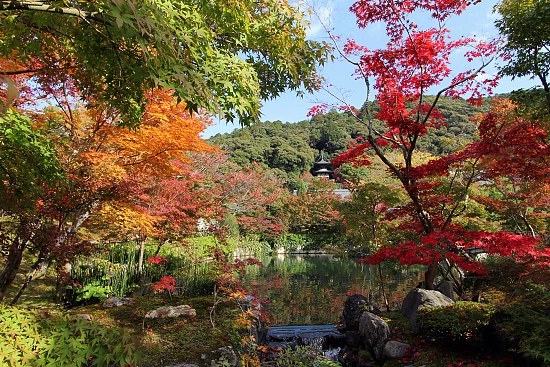 One of the more colorful perspectives at Eikando
Kiyomizudera is one of the later autumn color spots in Kyoto, not usually peaking until late November. Nevertheless, I paid a visit to the popular landmark to confirm that Kiyomizudera's temple grounds are still predominantly green. Illuminations will be held daily from November 10 to December 2 from 18:30 to 21:30.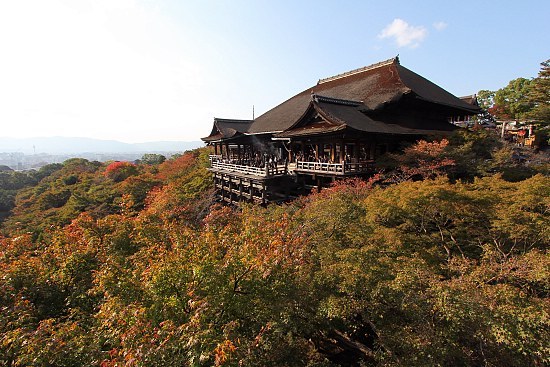 Trees have only just started to change colors at Kiyomizudera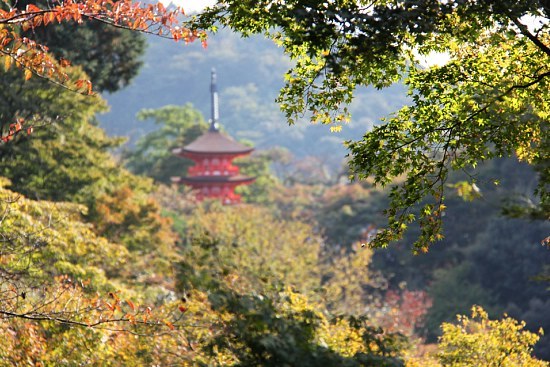 Kiyomizudera's Koyasu Pagoda has recently been uncovered after years of renovation
I concluded the day with a visit to Tofukuji, one of Japan's most outstanding koyo spots. Tofukuji is among the earlier places in central Kyoto to start coloring, but was also still at a rather early stage of the season. A few more cool nights will soon turn it much more busy.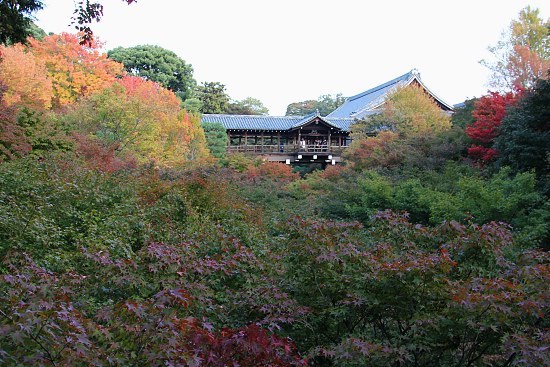 Tofukuji at an early stage of the season (and in bad light conditions in the late afternoon)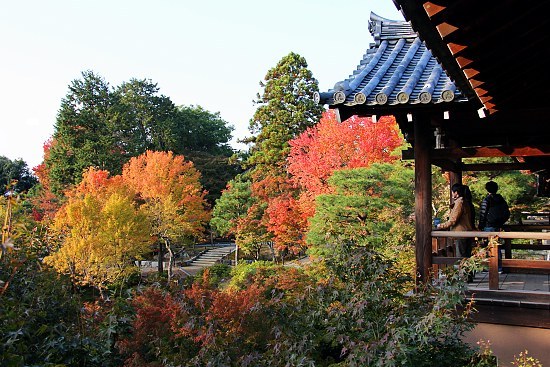 In a few days, Tofukuji's Tsutenkyo Bridge will be much more crowded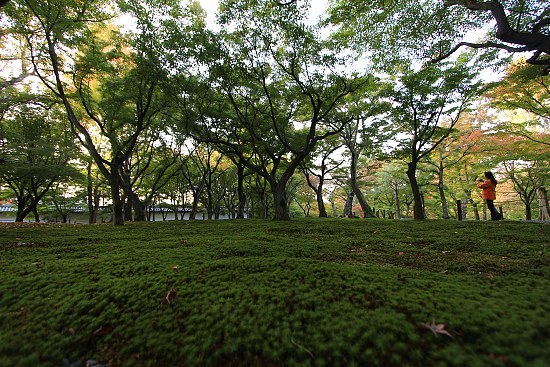 Green maple trees and moss at Tofukuji Temple