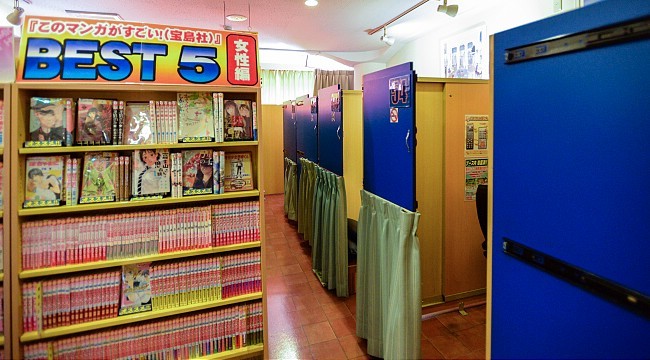 Manga cafes (まんが喫茶, manga kissa, short for manga kissaten) are establishments where visitors can read from an extensive library of manga (Japanese comics). They also provide computers with internet access, making them synonymous with internet cafes. Furthermore, manga kissa have become a popular low budget accommodation option as many of them are open 24 hours and offer amenities such as showers and free drinks for as little as 1500 yen per night. Some manga kissa offer women-only sections.
Manga kissa can be found in most cities across Japan. Many are located in side streets close to train stations. Big cities such as Tokyo and Osaka have a large number of such establishments. However, without Japanese reading skills it can be difficult to identify a manga kissa as many do not have English signs and they are not usually located at street level, but on a higher floor in a multi-storey building.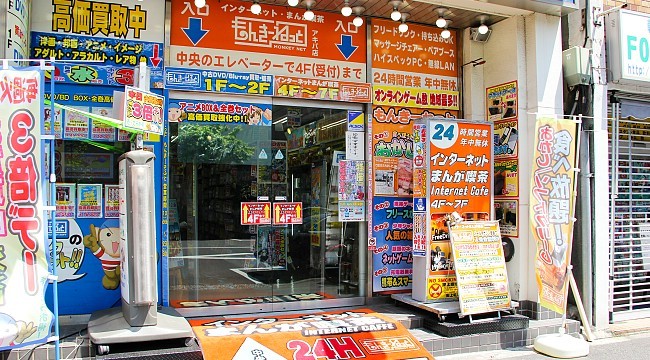 Manga kissa charge by time. Regular plans start from 30 minutes and costs about 100 to 300 yen. Additional time is charged at a rate of about 10-15 minutes for 100 yen. Longer plans are commonly available: typically three hours for 700-1000 yen, or five to eight hours for 1500-2500 yen, with additional time charged at the regular rate. Note that prices tend to be a little higher during the weekends.
There are two types of seats at a manga kissa: open and private booth. Open seats are the typical office chairs and computer desks. Private booths are narrow partitioned cubicles with just enough space for a desk and either an office chair, reclining chair, flatbed chair or futon. Some manga kissa also offer wider private booths that can accommodate two people or even larger family rooms; these tend to be comparatively more expensive.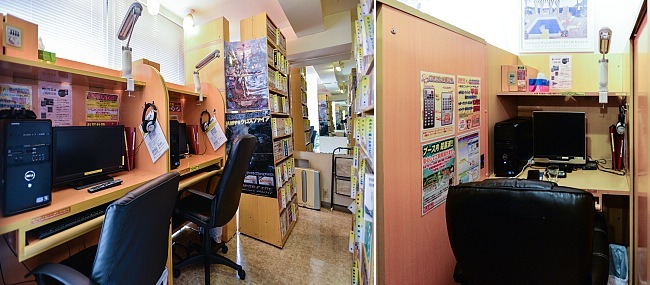 Other facilities typically available at a manga kissa, in addition to an extensive manga (comic) collection, include free Wi-Fi, unlimited soft drinks, paid showers (amenities sold separately), television, movies, console games, dedicated online gaming computers, printers, CDs and DVDs, and vending machines. Note that some of these extras require an additional fee. Manga kissa also commonly provide blankets, indoor slippers, web cameras, and phone and handheld game chargers for free. Snacks and food may also be sold at the front desk.
The procedure to use a manga kissa may seem intimidating at first, but it is essentially the same at most manga kissa across Japan. Some places even provide English check-in instructions at the counter or may have English speaking staff. It typically goes as follows:
Enter the building and take the elevator to the check-in floor.
Membership may be required to visit a manga kissa and you can sign up on the spot. The membership card costs about 100-200 yen. Photo ID, such as a passport, is usually required when filling out the membership form.
You will be asked to choose from the type of seat or booth that you want, and the time plan that you intend to stay on. There is usually a price list at the counter that you can use to help make your decision. The plan that you choose determines the length of time that you are committed to paying for. Staying longer will incur additional charges (usually around 100 yen per additional 10-15 minutes).
The staff will issue you a membership card and hand you a receipt on a small clipboard. Your name, seat or booth number and starting time will be printed on the receipt.
Proceed to your seat or booth. When seated at a booth, you can close the curtain or the door for privacy. The manga kissa is generally a quiet place and it is considered rude to make too much noise and disturb others in your vicinity. Requests for extra items should be made at the check-in counter.
When you decide to leave the manga kissa, take the receipt and pay at the check-in counter. The staff will tally the charge based on your seat or booth type, time plan and additional fees (if any).