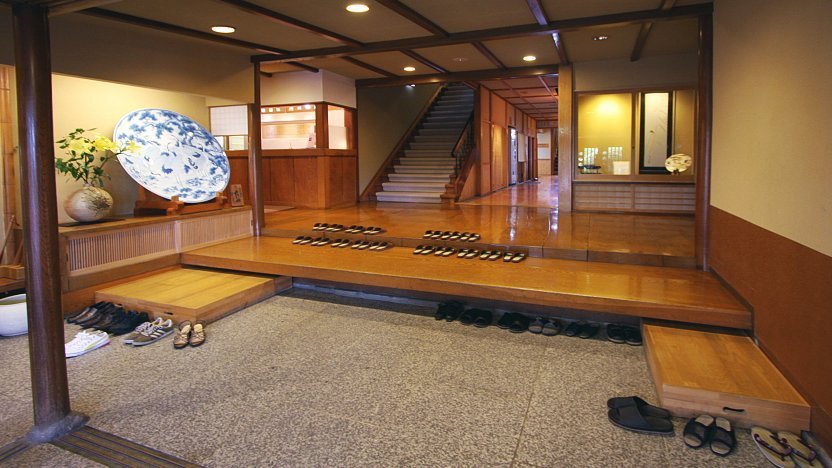 When to arrive
Check-in is typically possible from 15:00, with dinner following around 18:00 or 19:00. We recommend to arrive at least one hour before dinner to allow time to be properly welcomed and oriented, and so that you have a chance to settle in and have a bath before dinner. Some ryokan can accommodate late arrivals, either by delaying or canceling dinner, and they should be informed as early as possible.
The Genkan
Great emphasis is put on a guest's arrival into the ryokan. Staff aim to ensure that guests feel welcomed, taken care of and relaxed from the moment they step onto the property. Because a guest's first impression of a ryokan occurs upon arrival into the foyer, or genkan, special efforts are made here.
The genkan is the entryway into a Japanese home, and is typically a stone or tile floor recessed one or two steps below the level of the main floor. This physical boundary marks a separation between outside and inside world, and serves as a space for outdoor shoes to be removed and stored, as they are not worn inside Japanese houses or ryokan.
In the rare event that you have not yet been greeted, stand in the genkan's lowest level (ground level) and call out a greeting, such as "hello", or in Japanese "gomen kudasai". Upon invitation inside, guests should remove their shoes, step up to the house level, and change into the slippers provided. Your shoes can be left in the genkan and will be attended to by the staff.
Check in
Check in usually occurs in one of three ways:
Guests are led directly to their room for check in
Guests are led to a lobby lounge area for check in
Guests check in at the reception desk in the lobby, as in a hotel
In all of the above circumstances, guests are handed a form on which they are asked to fill out their name, address and phone number. Foreign travelers (except residents of Japan) will be asked to show their passport for photocopying as required by law.
Typically, the form will be offered alongside a cup of tea and a small snack. This is the case especially when check in occurs in the room or lobby lounge. If tea and snacks are not offered, they will likely be already laid out in your room. Besides welcoming guests to the ryokan, some tea and a snack help guests avoid lightheadedness in the bath.
During check in your attendant will provide a series of explanations with regards to the ryokan facilities. On the way to your room, the public baths and their opening times will be pointed out, the location and times of meals will be explained, and your first drink order for dinner may be taken. Once in your room, you will be shown where to find the yukata, air conditioning and heating controls and other amenities.
In many ryokan you will be attended to by one person for your entire stay. Your attendant will be the one to check you in, serve your meals, prepare your room and bid farewell as you depart. While such personal service tends to be the rule at smaller and better ryokan, many other places will distribute the various duties among different staff members.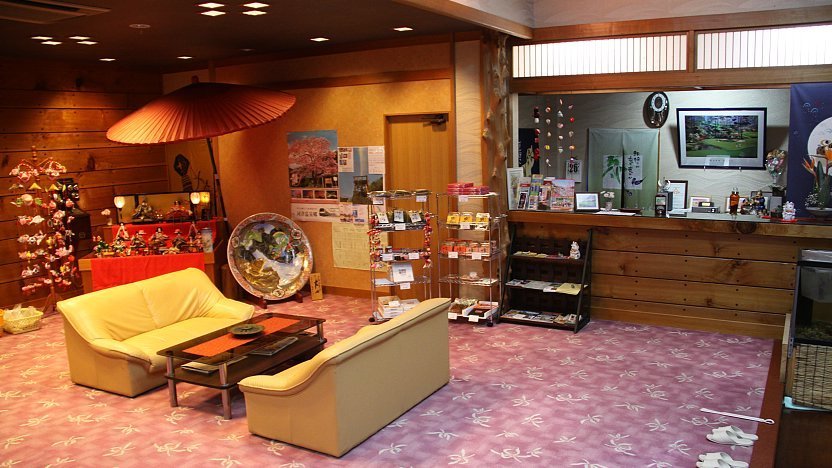 Questions? Ask in our forum.