Ryokan Guide: Things To Do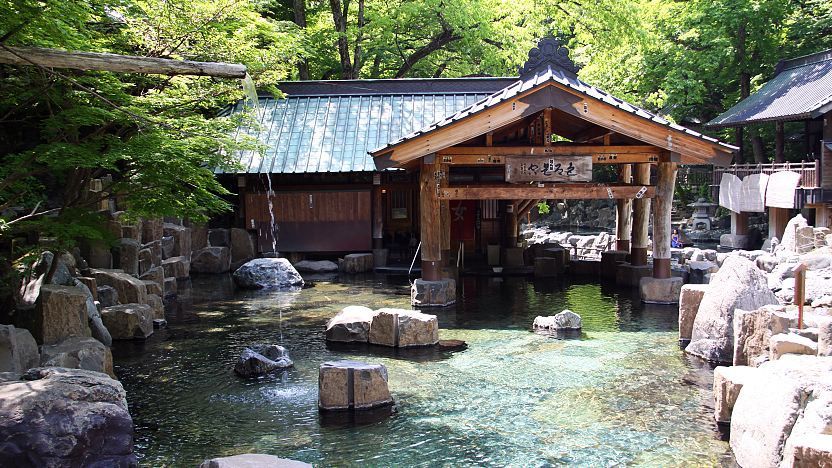 People often visit ryokan with the aim of relaxing in a peaceful and comfortable atmosphere. Ryokan go to great lengths to create beautiful gardens, baths and other common areas for their guests to enjoy. Be sure to take advantage of the various facilities during your stay.
Bath
One of the most popular things to do at a ryokan is indulge in a hot bath, and ryokan often take great pride in their beautiful bathing facilities and spas. Usually the ryokan's baths are supplied by a hot spring (onsen), although ryokan tend to have nice large baths even if they are not supplied by a hot spring. For more information on Japanese baths, see our page on how to take a bath.
Ryokan baths are usually gender segregated communal facilities with typically at least one indoor bath per gender. Many ryokan have a whole range of indoor and outdoor baths, sometimes found in separate locations across the ryokan. Occasionally there are some mixed gender baths as well.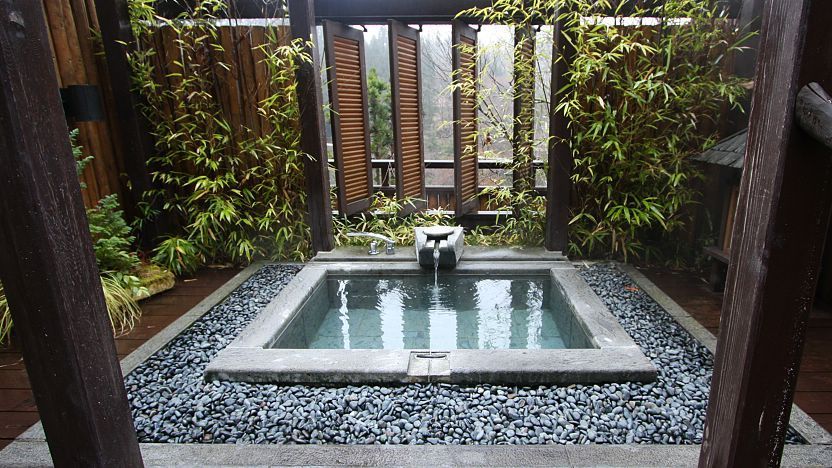 Some ryokan also have private baths for families and couples who wish to bathe together, although private baths tend to be smaller than the public bath and may require reservations. Some ryokan, mainly high end places, might also have private hot spring baths in some of their guest rooms.
Ryokan guests typically take a bath before dinner, after dinner or before breakfast, and it is not uncommon to bathe more than once during one's stay. Most ryokan baths are open during afternoons, evenings and mornings, and some may be open 24 hours a day.
Baths are identified by the curtains that hang outside the changing room door (see below). Usually blue curtains are used for the men's bath and red for the women's bath, although this is not universal. Also be aware that many ryokan switch the gender of the baths (usually around dinner time) so that everyone has a chance to try out all of the different baths. Your attendant should inform you of opening times and switching times at check in.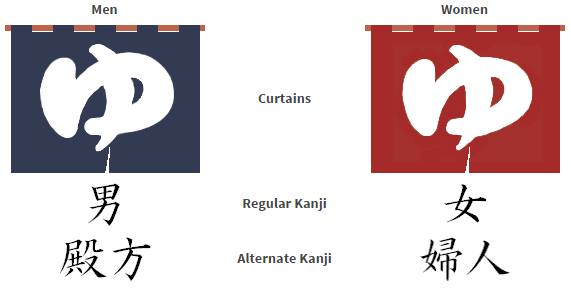 Small towels are provided in the guest rooms and should be brought with you to the bath. Larger bath towels can be found either in the guest rooms or in the changing room. Some ryokan open their baths to non staying guest during the day for an entrance fee of typically between 500 and 1500 yen per person. Day visitors can usually rent or buy towels for a small fee.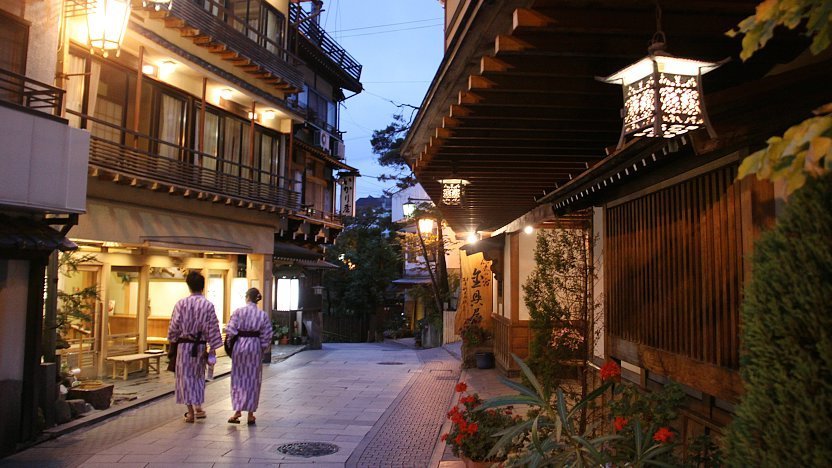 Other activities
After a visit to the bath, many people enjoy taking a walk around the ryokan's garden or neighborhood. In some old fashioned onsen resorts, such as Kusatsu, Dogo, Shibu, Kinosaki or on Miyajima, it is a common sight in the evenings to see ryokan guests strolling around town in their yukata and geta (wooden sandals) enjoying a walk, additional bath houses, shopping or old fashioned game arcades that cater to ryokan guests.
For those less inclined to quiet pursuits, larger ryokan are usually well equipped for revelers. The large mega-ryokan in particular are known for being accommodating to groups and events. They often include additional restaurants, bars, karaoke rooms, game rooms, shows and shops on their premises that operate into the night.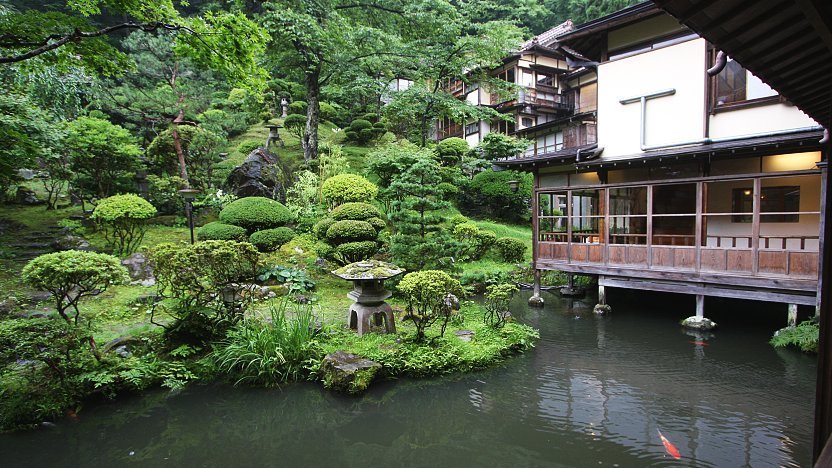 Questions? Ask in our forum.