Ryokan are Japanese style inns found throughout the country, especially in hot spring resorts. More than just a place to sleep, ryokan are an opportunity to experience the traditional Japanese lifestyle and hospitality, incorporating elements such as tatami floors, futon beds, Japanese style baths and local cuisine, making them popular with both Japanese and foreign tourists alike.
There are many different kinds of ryokan, varying greatly in terms of size, cost and style. Some ryokan are small, family-run establishments with just a few rooms, while others are large, hotel-like facilities with hundreds of rooms. Ryokan also range from no-frills, budget varieties to costly establishments catering to the very wealthy.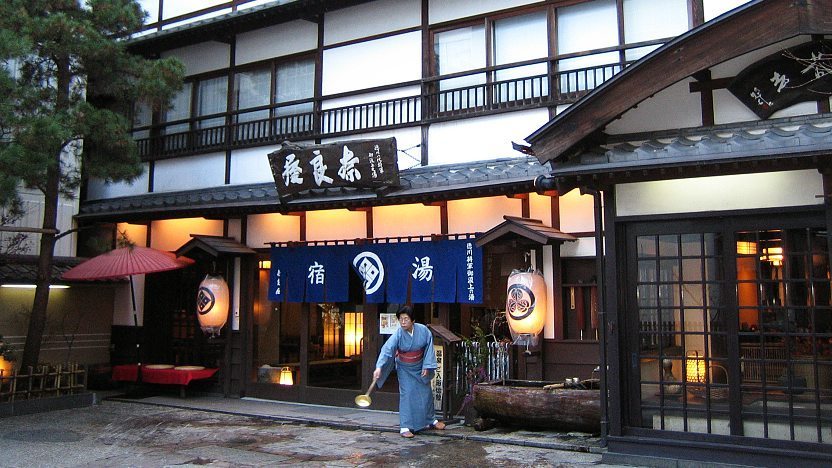 While extremes exist, the average cost of a ryokan stay is between 15,000 and 25,000 yen per person, per night. While this may be too expensive to stay at everyday, it is well worth indulging on one special night during your travels. Also keep in mind that ryokan stays usually include an elaborate dinner in the evening, followed by breakfast the next morning. Meals are typically kaiseki ryori (Japanese haute cuisine) that feature local and seasonal specialties.
Because of their emphasis on traditional style and atmosphere, ryokan may appear rigid and intimidating for the first-timer unfamiliar with the procedures and etiquette. In reality they are a special and relaxing experience that everyone should take the opportunity to try. In order to help set your mind at ease, the following pages offer an explanation of what to expect during a ryokan visit.
Questions? Ask in our forum.