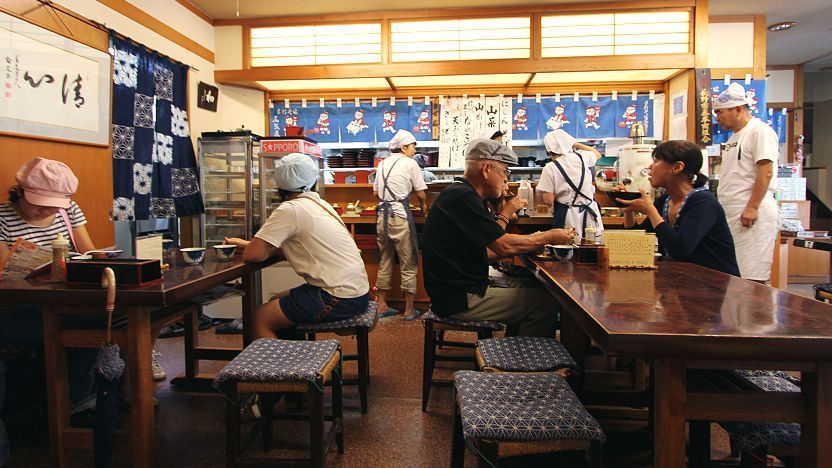 Many different types of restaurants are found in Japan. Below we introduce some of the most popular restaurant types and their typical price ranges (per person):
Specialized Japanese Restaurants
Many restaurants in Japan specialize in just one type of food: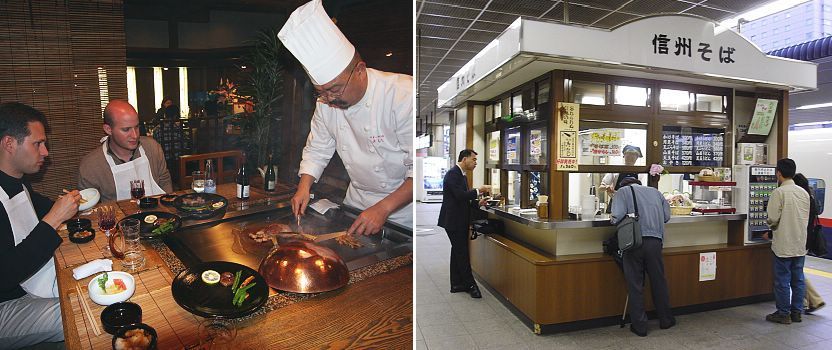 General Restaurants
The following are some restaurant types that offer a broader range of dishes than specialized restaurants:
Izakaya (1,000 to 5,000 yen)
Izakaya, like pubs, are casual drinking establishments that also serve a variety of small dishes, such as robata (grilled food), yakitori, salads and other finger foods. They are among the most popular restaurant types in Japan, and many of them are found around train stations and shopping areas. Dining at izakaya tends to be informal, with dishes shared amongst the table rather than eaten individually.
Family Restaurant (500 to 2,000 yen)
Family restaurants (famiresu), such as Gusto, Royal Host, Saizeria and Joyful, are casual dining restaurants that typically belong to a nationwide chain and offer a variety of Western, Chinese and Japanese dishes. Family restaurants are more commonly found in the countryside than in large urban centers.
Shokudo (500 to 1,500 yen)
Shokudo are casual restaurants, similar to family restaurants, but tend to be small, independently owned and feature mostly Japanese style food such as soba, udon, donburi and curry. Shokudo are commonly found around tourist sites.
Teishoku-ya (500 to 2,000 yen)
Teishoku-ya are restaurants that serve set menus (teishoku). Teishoku typically consists of a main dish such meat of fish, a bowl of cooked rice, pickles and miso soup. Teishoku-ya are especially numerous in business areas and popular during lunch time.
Kissaten and Coffee Shops (500 to 2,000 yen)
Kissaten are coffee shops that typically also serve some sweets, sandwiches or salads. Some of them also offer a few hot dishes, such as pasta. They are often found in museums, shopping areas and department stores. Chain coffee shops such as Starbucks are also numerous.
Kaiseki Ryori and Ryotei (3,000 to 20,000 yen)
Kaiseki ryori may be called "Japanese haute cuisine". It is a refined multi-course cooking style which emphasizes seasonality, simplicity and elegance. It can be enjoyed at special kaiseki ryori restaurants or at ryotei, expensive and exclusive Japanese restaurants. Many of the better ryokan also serve kaiseki ryori.
Yatai (300 to 2,000 yen)
Yatai are movable food stalls that sometimes include seating space inside a tent. They are commonly found during festivals, but they also operate year round along busy streets. Fukuoka is particularly famous for its yatai. Commonly sold items include fried chicken (karaage), okonomiyaki, takoyaki, yakisoba, oden and ramen.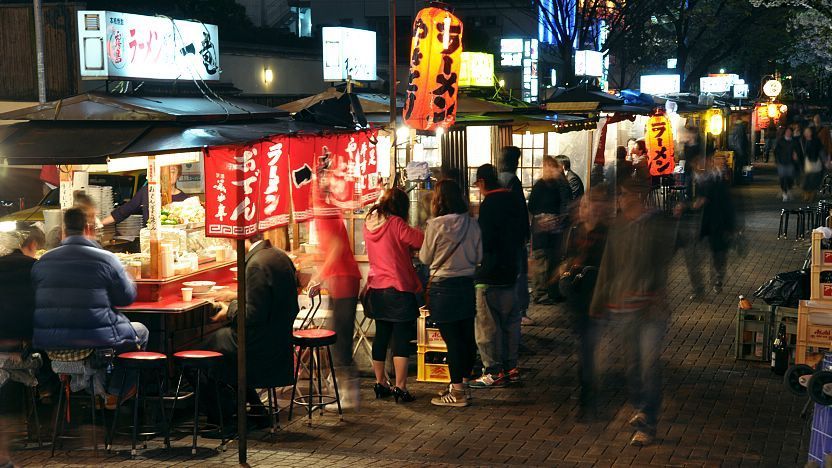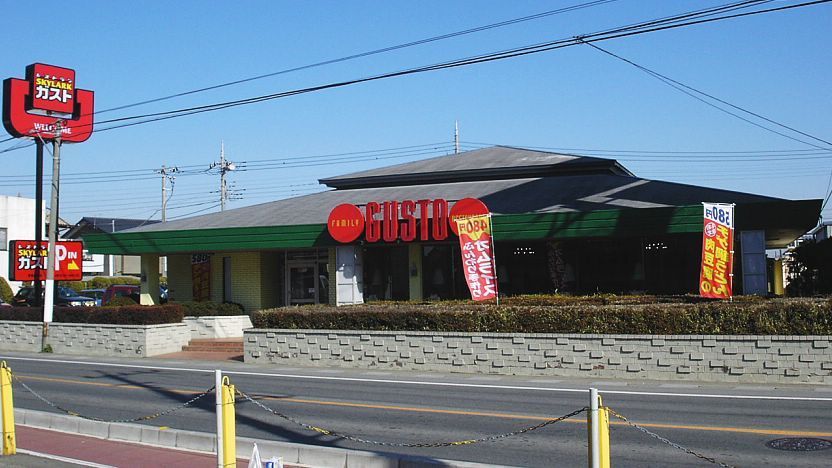 Foreign Cuisine
Many restaurants in Japan specialize in a foreign cuisine such as Korean, Chinese and Italian cooking. American style fast food also enjoys a great popularity.
Yakiniku-ya (1,500 to 7,500 yen)
Yakiniku-ya specialize in Korean style barbecue, where small pieces of meat are cooked on a grill at the table. Other popular Korean dishes such as bibimba, reimen and chige are also usually available at a yakiniku-ya.
Chinese Restaurants (700 to 5,000 yen)
There are many Chinese restaurants in Japan. Many of them serve Japanized Chinese dishes, while others offer more authentic Chinese food.
Yoshoku-ya (800 to 3,000 yen)
Yoshoku-ya specialize in yoshoku ryori, Western dishes that were introduced to Japan during the Meiji Period (1868-1912) and were subsequently Japanized. Typical dishes served at yoshoku-ya include omuraisu, hambagu and hayashiraisu.
Italian Restaurants (1,000 to 3,000 yen)
Italian cuisine is very popular, and pasta restaurants can be found across Japan. Many include some Japanized pasta dishes into their menus (for example tarako spaghetti) alongside more conventional pasta dishes.
French Restaurants (1,500 to 20,000 yen)
French restaurants are popular across Japan. They tend to be trendy and expensive, and are often found in good hotels.
Hamburger Fast Food (300 to 1,500 yen)
There are many hamburger fast food restaurants across Japan. They include major American chain stores such as McDonald's and Burger King, but also various Japanese chain stores such as Mos Burger and Lotteria.
Indian Restaurants (700 to 2,000 yen)
Indian restaurants are fairly common across Japan, especially around major train stations and shopping arcades. They serve Indian curry - as opposed to Japanese style curry - and most have some vegetarian dishes on their menus.
Ethnic Cuisine (700 to 2,000 yen)
In Japan, "ethnic cuisine" refers to South East Asian food, such as Thai, Indonesian and Vietnamese food. These restaurants are not as common as the other types listed above, but can often be found on the restaurant floors of larger department stores.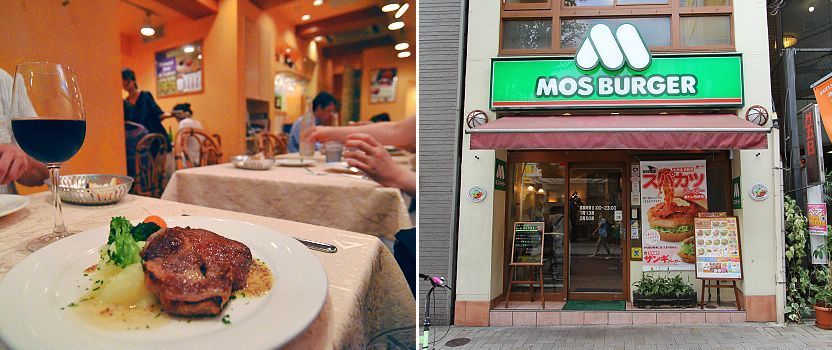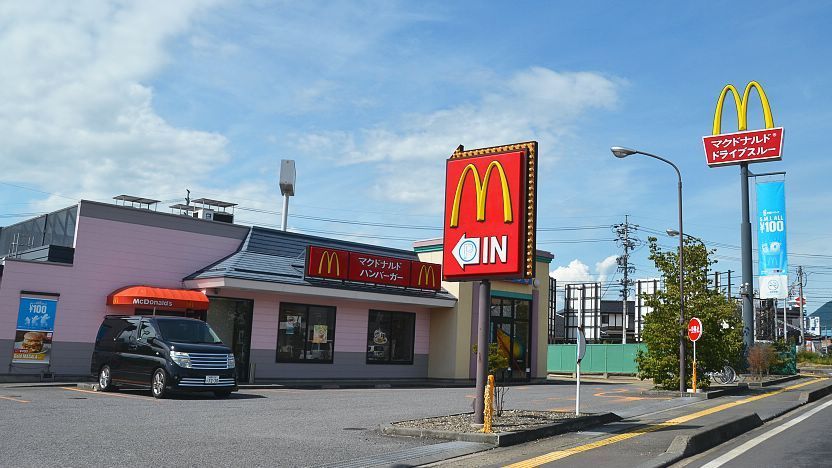 Questions? Ask in our forum.