Kaitenzushi (Conveyor Belt Sushi)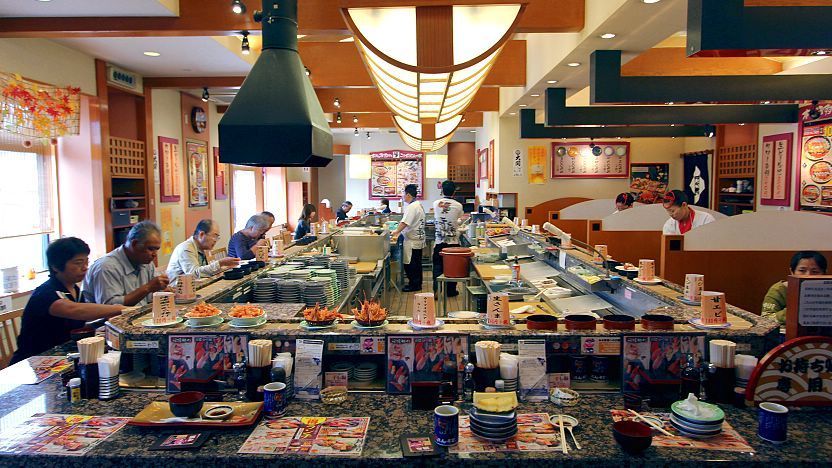 Kaitenzushi (ë˝ô]ħÄi), also known as conveyor belt sushi or sushi train, is a convenient and affordable type of sushi restaurant characterized by the conveyor belt that winds through the restaurant. The conveyor belt carries plates of sushi past the diners, who can take whatever they wish. The price per plate starts around 100 yen. Kaitenzushi tend to be considerably cheaper than conventional sushi-ya.
Kaitenzushi restaurants can be found across the country. The menu usually features seasonal ingredients in addition to standard items like maguro (tuna), shrimp, salmon and kappamaki (cucumber roll). Many also serve cooked foods, such as miso soup and chawanmushi (steamed egg custard), fried foods and desserts. Sushi pieces usually come with wasabi inside, although it can also be ordered without.
Kaitenzushi restaurants typically use plates of different colors and patterns to indicate their costs. Prices range from about 100 yen to 500 yen or more depending on the item, although some restaurants also maintain a flat rate for all plates (usually 100 yen). Plates typically come with one or two sushi pieces each. A description of the plates with their accompanying prices can be found on the menu or on signs placed around the restaurant. Seating is usually provided by counter seats along the conveyor belt, but many establishments also offer tables.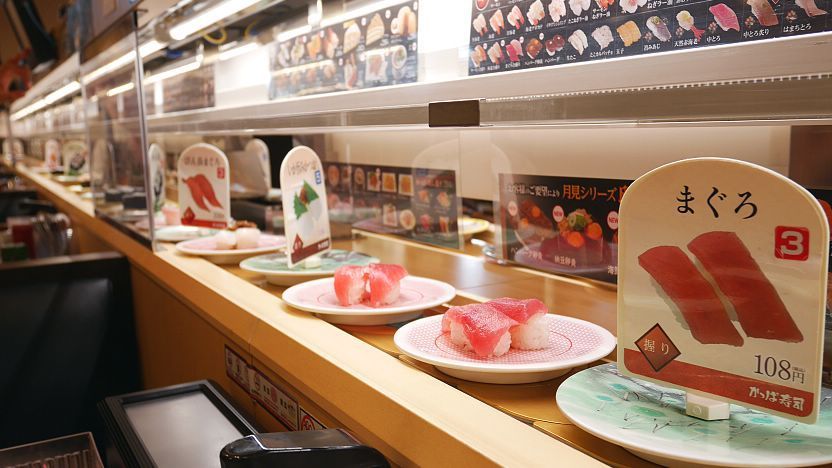 How to go to Kaitenzushi
Upon entering the restaurant, indicate whether you wish to sit at the counter or at a table (if applicable).
At each seat, there is a bottle of soy sauce, a container of pickled ginger, a stack of small dishes for the soy sauce, a box of chopsticks, a small container of green tea powder (or teabags), tea cups and a built-in hot water dispenser. Tea is usually self-serve. To make it, place some green tea powder into the cup and add hot water from the dispenser.
Once seated, you can start taking plates of food off the conveyor belt or order specific dishes directly from the sushi chef or server. Some establishments also offer touchpads to place orders electronically.
Ordered dishes are usually handed to you directly by the sushi chef or server. Alternatively, some modern establishments have automated trains running parallel to the conveyor belt that deliver orders to customers. In such establishments, customers typically have to press a button after having removed their dishes from the train for the train to return to the kitchen.
As you consume your sushi, stack the empty plates at your table. At the end of the meal, notify the server or sushi chef, and the server will calculate the bill based on the number of empty plates. You will then be handed your bill to be paid at the register near the exit.
Etiquette
| | |
| --- | --- |
| | Do not touch plates on the conveyor belt unless you intend to take them. |
| | Do not put plates back onto the conveyor belt. |
Questions? Ask in our forum.